Florence Baillie and her family have lived in North Vancouver for generations. Born and raised locally, Florence recalls a time in her childhood when Lonsdale Avenue was quiet with a number of vacant lots. From Friday night dances at Memorial Gym where she met her husband Bob, to taking the kids for lessons at Harry Jerome Community Recreation Centre (HJCRC) and concerts at Centennial Theatre, Florence says, "North Vancouver is a wonderful place to call home." Read on for a heartwarming family story that spans over one hundred years, six generations – and counting! 
Generations of embracing community
Florence Baillie (née Patterson) knows North Vancouver well. Growing up in the 1950s, Florence's father owned a candy/tobacco shop on Lonsdale Avenue, and she attended North Vancouver High School (where North Vancouver Provincial Court is located today). 
Florence eventually became a school teacher, married, and raised a family – all in North Vancouver. She loves her community and praises the many facilities and programs available here. "My family has lived in North Vancouver for several generations," says Florence. "It's a great place to live, and the community rec centres have been an important part of our lives." 
Florence's mother Dorothea Gittins (née Cockrell) was also born in North Vancouver and attended North Vancouver High during World War Two. Florence recalls her mom taking her as a little girl to Memorial Gym and pointing to names of boys on memorial plaques (classmates of her mother's) who had been lost at war. "North Vancouver was a smaller place then," says Florence, "and families knew each other well." 
Dorothea was a well-loved member in the community, always helping where she could. She volunteered at Silver Harbour Seniors Centre for years, finally retiring at age 90. "My mother was a real champion for seniors in the community," says Florence. "She passed on a few years ago, but I know she would be happy to know the new Harry Jerome facility will include space for Silver Harbour Centre."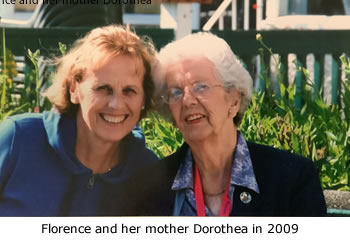 Back in the day
Florence can still recall her mother's stories about wooden sidewalks on the streets and the streetcars that serviced Lonsdale Avenue, Lynn Valley and Marine Drive. "I remember when there were few cars on Lonsdale, and now you can barely find a parking spot!" says Florence, laughing. 
Her father Don Patterson owned and operated Patterson's Tobacconist on Lonsdale at 14th. "Back then, kids would roam around freely," Florence says, describing how she used to deliver lunch to her father on Saturdays and hope for a treat. "I might get a bottle of pop or some candy – that was a big treat then!" 
Florence has fond memories of walking to school through wild, tall broom bushes that surrounded what is now called Norseman Field on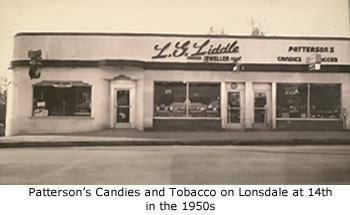 23rd Street East, between Lonsdale and St. Georges Avenue. Winding pathways opened up to a large hidden meadow, which was magical to young Florence.
Memorable times at the old Memorial Hall
"The Memorial Community Recreation Centre was known as Memorial Hall when I was in high school. During the week, it served as the gym and cafeteria for North Van High School. On the weekends, it was a hopping place," says Florence, describing the dances, wrestling matches, and other social events that took place there on Friday and Saturday nights in the 1950s and 60s. It was a gathering place for the teenagers in the area. "My girlfriends and I would go to the dances together and hang around the edges of the gym like wallflowers."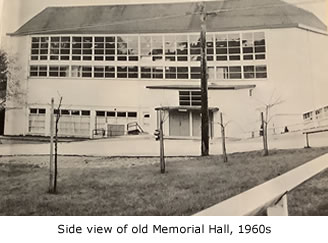 Until, one night, when a young man named Bob asked Florence to dance. Two years older, Bob attended the same school as Florence but she didn't know who he was. "In fact," Florence says with a chuckle, "I didn't take to him for a while. We had a bit of a slow start." But the two eventually fell in love and later married at St. John's Anglican Church on 13th Street. "We've been married for over 55 years now," says Florence, "and we still love to dance." 
Careers in North Vancouver
Florence was an elementary school teacher in North Vancouver, retiring in 2006 after a 30-year career. During that period, Florence and Bob raised two daughters, Jennifer and Alison. 
The love for serving community continues for a fifth generation, as Jennifer now works for North Vancouver Recreation and Culture as a Programmer at  HJCRC.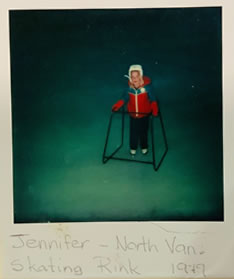 "I'm super proud of Jennifer – though, of course, I would say that as her mother!" Florence says, joking. She is genuinely pleased that her daughter is doing a job that matters. "Jennifer has always been a people-oriented person. She's a lateral thinker and a very inclusive person. Working for a community centre where she learned so many skills growing up – and now being able to bring new programs to the community – is a perfect fit for her." 
The joys of community recreation centres
"When I was a young mother," Florence says, "I used the rec centre programs a lot. It started with a weekly parent and toddler group at Memorial Gym. The kids played while the moms enjoyed a cup of tea together. It was very supportive and helpful." As her children got older, Florence took them for swimming and skating classes at Harry Jerome. While the girls were in lessons, Florence attended fitness and yoga classes to keep herself in shape. 
"The Centennial Theatre has also been a big part of our lives," Florence says, recounting the numerous events she and her family enjoyed there, including school concerts, Highland dance performances, and the last North Vancouver High reunion. 
Today, Florence still enjoys community facilities, though she mostly swims now, watches her grandkids at the pool, or picks them up at summer camps. She is happy that another generation of her family is able to benefit from the programs run by North Vancouver Recreation and Culture. "Really," Florence says, summing up, "the whole recreational complex has served my family and North Vancouver very well."
History behind the names
Florence's background as a teacher makes her a natural educator. She reminds us of the history behind some of the names of our community recreation centres. For example, Mickey McDougall Gym was named after the Principal of North Vancouver High School (1935-61). Harry Jerome CRC was named after the world-class track and field athlete who attended North Vancouver High School. Harry Jerome was the bronze medalist for 100m at the 1964 Olympics, and won gold medals at the 1966 Commonwealth Games and the 1997 Pan American Games. "I went to school at the same time as Harry's sister Val Jerome who was an excellent athlete too," says Florence. "These are some of the people who have lived and contributed to our community." 
Taking change as it comes
Florence marvels at how much North Vancouver has changed over the decades. She says in her grandparents' generation in the early 1900s, the community only had The Horticultural Centre, a single building that hosted dances, meetings, and other community events. "It's remarkable that that one building was the meeting place for the whole community. That small building was where Harry Jerome is today. And now there are plans for a brand-new Harry Jerome facility for the future." 
Reflecting on the many changes that have come through North Vancouver, Florence takes the long view. "Change is hard sometimes but also important. I miss some things from the past, but I'm happy to see improvements too – like greater diversity and Truth and Reconciliation. I hope that the community can all come together a lot more."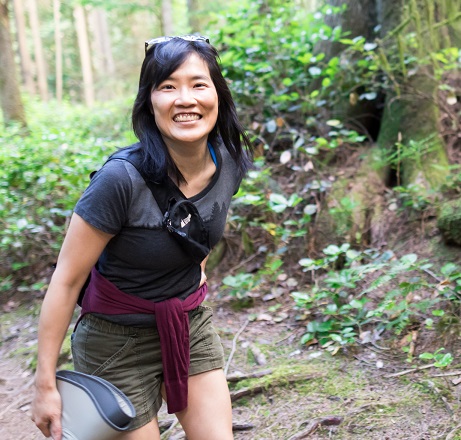 Wiley Ho.
A long-time North Vancouver resident, Wiley works as a technical writer and is the current newsletter editor for the North Shore Writers' Association. She spends her free time reading, hiking and discovering new things to try at North Vancouver Recreation & Culture!