Blogger Michelle tries out a new exercise class.
I felt conspicuous as I stared down at my mismatched socks.   I hadn't expected to take my shoes off, let alone be standing at the front of the room – the only spot available when I arrived to a full house for the 11:30am Essentrics class at Cardinal Hall in Lynn Valley.  
My discomfort was quickly erased by the warm welcome from instructor Loreen Barnett.  As she started to move, encouraging us to do the same, she explained the importance of being aware of one's body, offering subtle prompts to ensure alignment.  Before long I was swaying with my classmates, focused on Loreen's soothing voice as she guided us through the gentle, purposeful movements of Essentrics.  
I wasn't sure what to expect from Essentrics  - a relatively new exercise phenomenon offered by North Vancouver Recreation & Culture (NVRC).  I was told it was sort of a combination of Pilates, Tai Chi and Yoga, but quickly discovered it is so much more than that.  The workouts aim to increase mobility, improve flexibility and build strength.  By the end of the first class I felt limber and strong as I walked to my car.
A gentler, more graceful approach to exercise
A "recovering" triathlete, Loreen discovered Essentrics in 2014 when her sister gave her the book Aging Backwards, by Miranda Esmonde White.  After years of training and competition Loreen's sixty-something body was breaking down.  A frozen shoulder, aching knees and weight gain were among the many physical challenges she faced.  She needed a new approach to fitness and health.
"My sister believed we needed a gentler, more graceful approach to exercise," Loreen said.  "I wasn't so sure.  I was always a jock and she wasn't sporty at all.  But when I read the book I wanted to know more.  So we did some research, found an instructor and arranged for a workshop."
Always a serious athlete, Loreen found a new passion in Essentrics, and soon took on the rigorous challenge of becoming a certified instructor.  The body has 650 muscles and every Essentrics session focuses on stretching and strengthening each and every one of them.  Loreen's training required her to understand and choreograph 30 different movements into a cohesive sequence so students flow gracefully from exercise to exercise.  Certification requires years of time and commitment and there are only a handful of certified instructors in BC.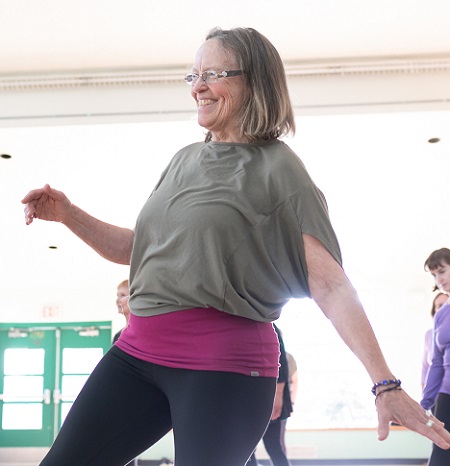 Living proof of the benefits 
Loreen's career included ten years as the principle of Lynn Valley Elementary School, followed by 18 years as the Executive Director of the International Triathlon Union.   She became a triathlete in the early '80s and played a key role in the sport's evolution to become an Olympic event, starting with the 2000 Summer Olympic Games in Sydney, Australia, where she served as a technical delegate.
She drew upon this experience as she researched the science behind Essentrics and discovered the strong evidence proving its benefits, including relief from chronic pain and stiffness, restored movement in joints, a stronger immune system and improved balance as well as increased energy and metabolism.
"I'm living proof of the benefits of Essentrics," Loreen explained.  "I am pain free, can move my shoulders, have lost weight and gained back more than a half-inch of height."
Essentrics also helped Loreen through her journey with cancer, when she was diagnosed in 2015.  "A strong body and an understanding of proper breathing helped me cope with diagnostic procedures and treatment.  I was able to relax and recover," she said.
Inspiring students of all ages
Loreen achieved her Level 1 Essentrics certification in the fall of 2018 and is currently working towards her Level 2.  At 71 years young, she inspires students of all ages.  Some are drawn to the class for help with chronic pain, others because they, like Loreen, are looking for a gentler approach to staying fit.  One student, Pam Hope is in the final stages of becoming a certified Level 1 Essentrics instructor and speaks enthusiastically of how her own health and fitness has improved.
"I like being able to isolate and feel my muscles," Pam explained.  "Essentrics builds awareness of your body and how it moves and how it works.  I feel stronger and more balanced – even my feet feel stronger.  I've also lost weight and gained height."
Hope for a pain-free future
Pam also shared, "While I'm still early on in my Essentrics training, I know I will stick with it.  I'm inspired by Loreen and others who have gained back mobility and eliminated pain.  It gives me hope for my sore knee and lower back pain – conditions I felt doomed to live with for the rest of my life."
Loreen looks forward to continuing to learn more and share her knowledge and experience with others. Most of her students have been with her since she started and they have inspired her to keep going.  She feels proud of their graceful, coordinated movements and is amazed at what they have all accomplished together. 
As for me, I'll start with matching socks and see where they take me.  
The next Essentrics registered fitness program runs on Mondays, 11:30am-12:30pm from January 6 to March 9, 2020 in Cardinal Hall at NVRC's Lynn Valley Community Recreation Centre.  Registration begins on Wednesday, November 20, 2019.  Learn more.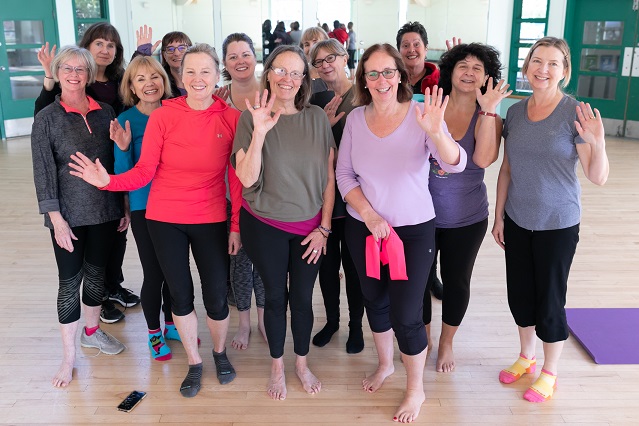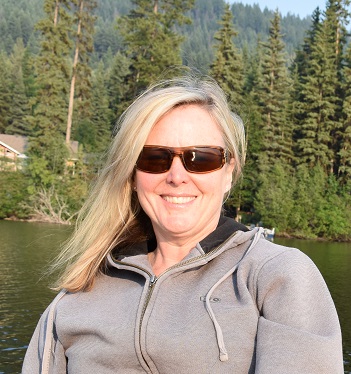 Michelle Perrault
A North Shore girl at heart, Michelle has fond memories of Saturday night skates at the NVRC ice rink (now Harry Jerome) and swimming lessons at William Griffin (now Delbrook) pool. More recently, she enjoys hiking and biking the trails of Mount Fromme and the Seymour watershed. She lives in Lynn Valley with her two adult children, two dogs and wonderful friends and neighbours.