Urban farming on the North Shore has taken off in recent years. Much of the credit for this growing movement goes to The Edible Garden Project (EGP) based within North Shore Neighbourhood House (NSNH). The Project's vision to "grow, teach, and share" has transformed yards, parks, boulevards, rooftops and schoolyards into edible landscapes that grow fresh produce accessible to everyone in the community. 
What is The Edible Garden Project?
As with all powerful projects, EGP started as a passionate idea. In 2006, Heather Johnstone and a small group of community-minded folks led the vision to transform private and public spaces into a network of edible gardens to benefit the community. EGP became a department of the NSNH, linking it across NSNH's range of programs that support vulnerable members of our community.
Today, EGP boasts a network of local gardens across the North Shore, including the self-sustaining Loutet Farm and Sutherland Schoolyard, five Sharing Gardens that raise produce for donation to those in need in our community, numerous vegetable beds at schools and childcare facilities, and countless home gardens. With the focus on food security and sustainability, EGP offers education programs for schools, workshops for the general public, and hands-on volunteer learning opportunities. 
At the core of the Project are the passionate people who make it work, including a Program Manager, Farmer, School Coordinator, and Market Coordinator. EGP relies on volunteers, interns and students to keep its many programs running. 
Farms and Community Markets
By now, most North Shore residents have visited the lush Loutet Farm at Rufus Avenue and East 14th Street. The first urban farm of its kind in Canada, Loutet Farm transformed empty public space into a productive in-ground farm that grows thousands of pounds of produce each year. It has become a hub for the community to gather, learn, socialize, and recreate. 
The second market farm is the Sutherland Schoolyard with its beautiful rows of raised vegetable beds, a place of learning and volunteer opportunities for students at nearby schools.
Together, Loutet and Sutherland farms grow organic vegetables, fruits and flowers for sale to the public at the Community Markets that take place on Wednesdays and Saturdays from May to October. All sales proceeds go to sustain the Project's ongoing farm operations and programs.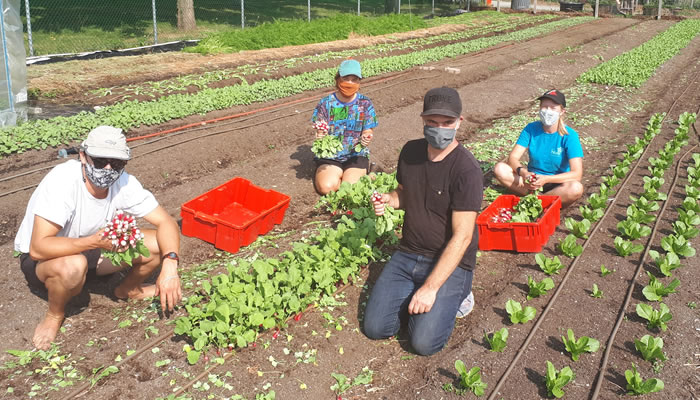 Sharing gardens and donating to those in need
Across North Vancouver, five community gardens located on private land are cultivated by community volunteers with support and expertise from Loutet Farm. Last year, 4,300 pounds of produce were donated for vulnerable people in our community, including Food Bank and NSNH clients. 
Lisa Hubbard, Executive Director of North Shore Neighbourhood House, is awed by those who work in the Sharing Gardens. She says, "Our volunteers are true heroes. Some of them work at the garden almost every day, labouring and growing food for others in need."
The connection between The Edible Garden Project and North Shore Neighbourhood House makes a lot of sense, since the two organizations share in the same values and goals to nurture our community. As Lisa explains, "The Edible Garden Project works across the whole North Shore Neighbourhood House mandate, and partners with schools, childcare facilities, seniors' centres and the Food Bank. The Project perfectly links people of all ages, needs and skills to the greater community for greater wellness."
Spreading the love to schools and daycares
Through education programs and farm tours, EGP has spread the joy of edible gardens across North Shore schools. Many schools and daycare facilities now have vegetable gardens onsite that are teaching a new generation about urban farming. Being involved in the growing process gives children a huge appreciation for healthy food.
"If kids grow carrots, they eat carrots," Lisa notes. "The teaching gardens encourage quality eating and helps kids to learn about sustainability. Kids are so happy in the gardens, and they grow along with their gardens."
Events for 2021
Public health and safety precautions are in place at all EGP sites, including masking and social distancing. 
The following events and activities are planned for 2021:
Virtual gardening workshops in partnership with Lynn Canyon Ecology Centre:   Register for free 
Community Markets: Wednesdays and Saturdays 10am – 2pm, May 29 through October 
Loutet Farm Seedling and Compost Sale: May 29 from 10am – 2pm
Farm Fresh Flowers and Market Vendors
Education programs
Youth Drop-Ins 
Volunteer opportunities 
For the latest updates, check: EGP Facebook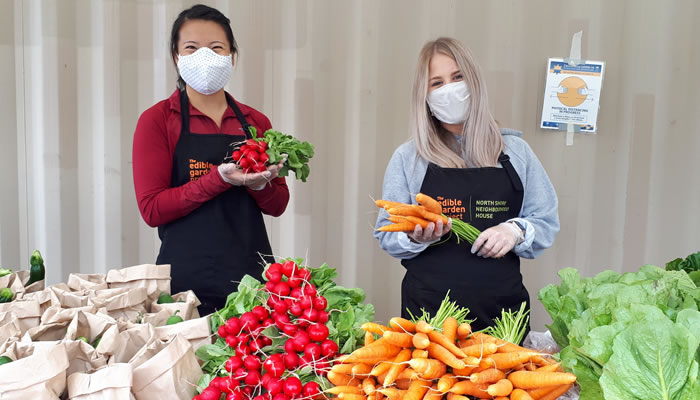 Volunteer opportunities
If you'd like to learn more about urban farming or get involved in the community, the best way is to volunteer. The EGP and NSNH welcome people of diverse abilities. There are many different jobs for different interests and abilities, from gardening to education programs.
"There is so much diversity at The Edible Garden Project," comments Trish Alsop, Manager of Communications, Community and Resource Development at NSNH. "People of all ages and backgrounds bring their time and energy. It's really a community hub. At Loutet Farm, for example, on any given day, there will be dog walkers at the perimeter of the farm, and the majority of them stop to chat with the farmer and gardeners. So much connection happens in these outdoors spaces. The Project feels like an extension of the Neighbourhood House. In fact, Neighbourhood House doesn't even need walls."
Contacts for volunteering:
Loutet Farm: orientation required; next session planned for May
Sixteen years on, from a brilliant seed of an idea to a thriving community of local farmers growing, sharing, and teaching, it's clear the dream of The Edible Garden Project is in full bloom. 
Sources:
EGP in action (3-minute video)
Websites: Edible Garden Project and North Shore Neighbourhood House
Facebook: Edible Garden Project | Facebook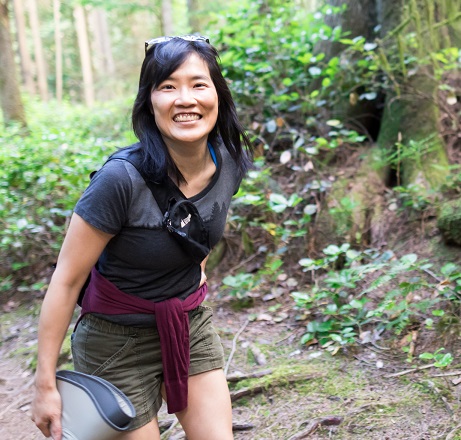 Wiley Ho.
A long-time North Vancouver resident, Wiley works as a technical writer and is the current newsletter editor for the North Shore Writers' Association. She spends her free time reading, hiking and discovering new things to try at North Vancouver Recreation & Culture!