After a 35-year career as a clinical and research psychiatrist, Pierre Leichner became a full-time artist. Incorporating a fascination with both science and art, he bridges the two in innovative ways, from painted doors that study gravitational forces to art installations that reuse waste materials. A passionate social activist, he also facilitates engaged art in the community. Read on for Pierre's free workshops in North Vancouver this fall! 
Free Art Workshops in North Vancouver
Pierre Leichner is one of the artists in the NVRC Artist Residency Program this year. The program aims to offer opportunities for artists to inspire and co-create art in the community. This fall, Pierre will be offering several art workshops, including outdoor art installations and block printing.
"Ephemeral Art" in Victoria Park – September 18 and October 9, 1 to 3PM
Using natural local materials, this art project is for anyone interested in creating temporary art installations in Victoria Park (East). The artworks will be enjoyed by local walkers and visitors to the park. 
The project's goal is to encourage people to look around, take notice, and reconnect with their environment. "In this (digital) age where everyone is looking down at their phones," says Pierre, "I hope to invite more embodied experiences back to our lives." 
As workshop facilitator, Pierre will provide examples of possible patterns and point out spots for participants to create their unique works. Participants will be encouraged to create whatever inspires them. "It's amazing how creative people are," Pierre says, "Even those who don't consider themselves artists will come up with interesting and beautiful art. Pattern-making is very intuitive to every human being."
Register early! The workshops are free and limited to a maximum of 12 participants so advance registration is required. Register online: Workshop - September 18, Workshop - October 9. The workshops run rain or shine. Materials provided. Meet at Victoria Park (East) near the Cenotaph. 
"Resilience for One and All" – Block printing at Delbrook Nov 17 and Dec 21
Block printing is a relief printing technique that uses carved material to transfer ink onto fabric or paper. This workshop will explore the concept of resilience, taking it from conceptual to visual form. Participants will work together for a visual piece that represents resilience in print form. Register online for the November 17 series.
Bio of an Artist Researcher
Pierre Leichner studied Biochemistry for his first degree. Fascinated by the mind, he pursued research in Neurochemistry and went on to attain his Masters. Finding the laboratories too sterile, Pierre decided to become a physician, specializing in Psychiatry. Over 35 years, he has occupied teaching, research, clinical and administrative posts at the University of Manitoba, McGill, Queen's and the University of British Columbia. 
In 2002, Pierre turned his focus to the arts. Studying part-time at The Emily Carr Institute of Arts and Design, he earned his BFA in 2007, followed by an MFA from Concordia University in 2011.
"I've always enjoyed variety in my life," Pierre says, laughing. 
Pierre refers to himself as an "Artist Researcher," explaining that he is constantly learning and exploring. "Artists are researchers in a way. They share the same traits as scientists. At the core, both are exploring the world with curiosity and asking questions. Science might look for repeatable results while artists pursue the response of the individual. Both are searching to understand the world and ourselves."
These days, Pierre is a mixed media artist (art installation, painting, sculpture, performance, photography, and video), mentor to other artists, and community activist. In just over a decade, he has created an impressive array of works that have been exhibited throughout Metro Vancouver. His thought-provoking themes range from environmental responsibility and the politics of food, to mental health and what constitutes beauty. Pierre enjoys taking discarded "garbage" and repurposing the materials into artworks that provoke and challenge.
Check out Pierre's current exhibits in Vancouver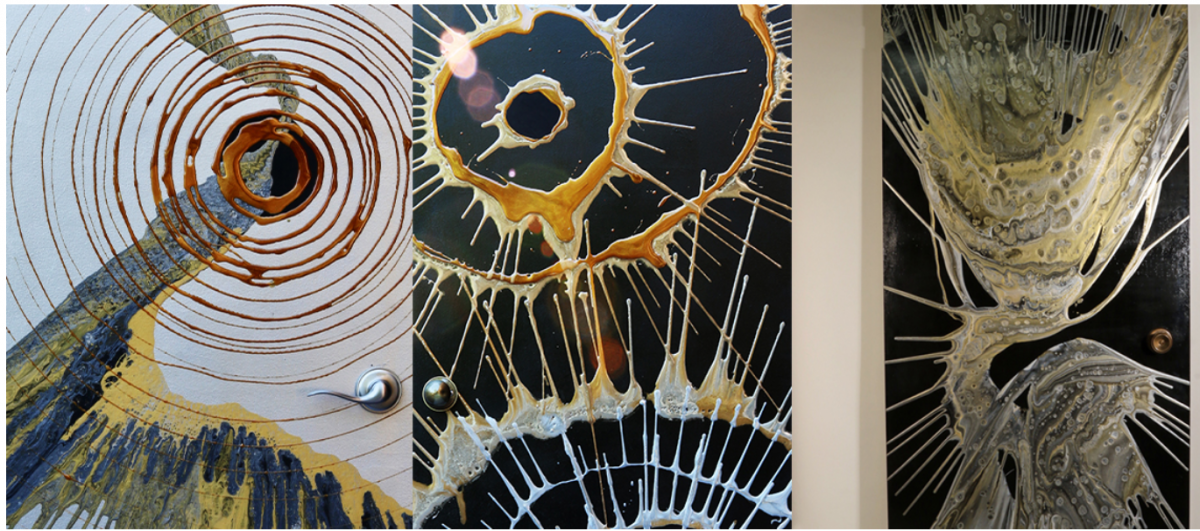 Gravitational Doors
at Le Centre culturel francophone de Vancouver, 1551 West 7th Avenue, until Sept 16. 
And at HR MacMillan Space Centre, 1100 Chestnut Street, from mid-September. 
Free admission.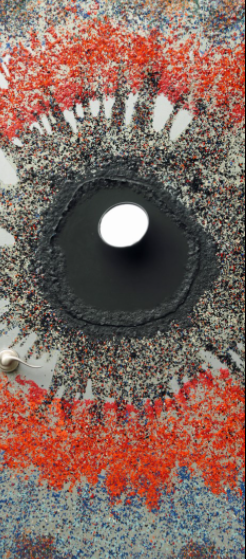 Representing Pierre's love for blending science and art, this collection of richly painted doors invites the viewer to experience gravity in the body, to appreciate the visible patterns created by invisible forces. A portal, if you will, into a different dimension. "Gravitational Doors" was on display at Delbrook Community Recreation Centre in 2019.
Pierre says he hopes the project will challenge people to think about gravity and black holes, "by conveying a gut level experience where science and art collide to create more than an intellectual response." The doors in the exhibit are actual doors, as Pierre likes to work with recycled materials. Besides helping to conserve our environment, he says recycled materials collect unique imperfections and character through their own lived history. 
Ceaselessly curious and creative, Pierre's next project involves "bio art" where he is collaborating with earthworms to highlight the need for organic farming practices. Paintings as well as live worm artworks will bring attention to the detrimental effects of chemicals and pesticides on our soils and the earth. Pierre is currently looking for a venue to exhibit this work. No worms are harmed!
Art for mental health, community, everybody 
In addition to being a prolific artist, Pierre is passionate about community engagement through public art projects: "I believe everyone is an artist. Creativity is a human trait." Art, he believes, can and should be made by everyone. "Engaged art is process, not necessarily what's on the wall or 'legacy art.' That process is what gives the participant rewards." 
Pierre regards the process of making art healing and good for mental health. He has helped to organize numerous spaces, such as Connection Salon at Lost + Found Café, and at Gallery Gachet, in Downtown East Side Vancouver to promote better community and mental wellness through art. "It's a way for me to link my previous career and my love of art." 
He is also the artistic director for Vancouver Outsider Arts Festival, which promotes inclusion and connection. Supported by the Community Arts Council of Vancouver, this year's festival will be held Oct 15-17, 2021 at the Roundhouse Community Centre. Over 50 artists and performers will share their art. There will also be free workshops. For details, go to www.cacv.ca.
Even though Pierre admits life can get overly busy sometimes with so many projects, the alternative he says is unthinkable: "It's not a choice for me. Art can involve sacrifices but it does fuel life. It is very rewarding and there is a lot of enjoyment." www.leichner.ca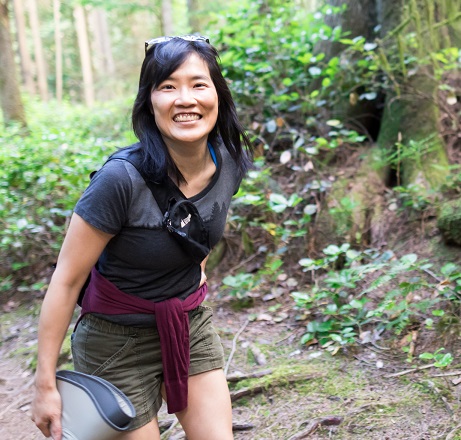 Wiley Ho.
A long-time North Vancouver resident, Wiley works as a technical writer and is the current newsletter editor for the North Shore Writers' Association. She spends her free time reading, hiking and discovering new things to try at North Vancouver Recreation & Culture!