How this active New Zealand native broke through and improved her fitness.
You might think that Carmen is a highly motivated person. After all, in 2015 she travelled to Vancouver from her home in Auckland, New Zealand in order to spend two years improving her mountain biking skills and exploring BC. While here, Carmen has pursued her love of outdoor fitness by running hiking, snowboarding and kayaking. "One of my first days in Vancouver was spent hiking Quarry Rock in Deep Cove in the morning and then snowboarding in the afternoon. It doesn't get much better than that!" said Carmen.
She Sounds Motivated, Right?
Well, yes and no. Yes, she is motivated to do sports with others outside, but when it came to working out in the gym alone, Carmen just couldn't find her motivation. "Weights are just not my thing.  I just never knew what to do in the gym," said Carmen.  And yet, she wanted to improve her fitness, strength and conditioning and needed to find a way to get comfortable in the weight room.  So, she went with a different strategy. In July of this year she signed up for personal training sessions at Ron Andrews Community Recreation Centre because as she said, "I needed a kick-start to get me motivated." 
Personal Training Benefits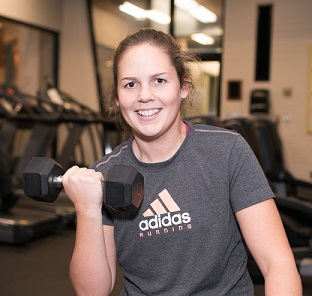 "It was awesome to have someone to work out with. It motivated me to work out on my own in between sessions using the program my trainer created for me. And it even motivated me to eat healthier. "
When asked what she liked most, Carmen said, "I liked it because it's like being on a team. I felt I was accountable to my trainers and their expectations helped motivate me – it's what I needed. I knew I had more in me which I couldn't seem to access on my own, but my personal trainer made me go further to achieve the next level in my fitness."  
Her advice for others is to "Definitely try personal training.  You have nothing to lose.  It can give you the motivation and confidence to work out on your own."
You Can't Put a Price on Health
When asked about the cost of personal training, Carmen was quick to respond, "The value for the money here [at NVRC] is amazing. It was under $50 a session for a full hour each time. You can't put a price on health."  Carmen maximized her personal training by working with two different trainers each with their own unique style. "It was so valuable. They both catered to what I like to do and gave me the sporting-style workout I wanted. One provided power training sessions working heavily with weights while the other targeted lots of muscle groups that I didn't even know needed strengthening." 
Finding Belonging
As a newcomer to North Vancouver, Carmen found a home-away-from home at the Ron Andrews Community Recreation Centre.  She loved that the staff new her by name and said "Hi" when she arrived and she appreciated getting to know all the really friendly clients and staff in the fitness centre. "There's a community here," said Carmen. "I need to have people around me. It helps me to keep on track. It's a wonderful supportive environment, not competitive."
What's Next For Carmen?
Just two days after our interview, Carmen was flying back to Auckland and was looking forward to exploring New Zealand with the same passion she had exploring BC these past two years.
Trained as a kindergarten teacher, she's now going to pursue entrepreneurial opportunities in the mortgage industry plus she's launching a coffee cart business on the side. And when it comes to fitness, she plans to continue to work the program designed by her NVRC personal trainers. "I now have the confidence to do my fitness on my own at a higher level."  
Now that's motivation!