I was really excited to learn about NVRC's Yoga in the Park (Panorama Park, Deep Cove) – offered for free in the summer! It combines two things I love – yoga and the outdoors. Not being much of a morning person, I must confess I was daunted by the 6:15am start time. But I decided to give it a try and was wowed by the experience. What an invigorating and inspiring way to start the day!
Up with the birds
There is something delicious about getting up early on a summer morning. The grass glistens with dew and gentle light shines through the trees. The birds sing for you and there is a noticeable absence of person-made sounds and traffic noise. It feels like the world is on holiday.
I arrive at Panorama Park before the sun has had a chance to peek above the mountains. The waters of Deep Cove are glassy calm and the village is utterly peaceful. 
Shortly after six o'clock, morning yogis begin to arrive in the parking lot. Regulars hug and everyone exchanges "Good morning" and friendly chatter. We all comment on the beauty of the seaside park. Strolling the short distance from the parking lot to the raised stage, we unroll our mats onto the rubberized surface of the stage. It has a grand view over the waters and mountains. Sparrows and seagulls fly overhead for a look at us.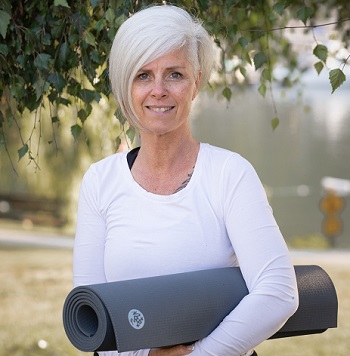 Awakening all the senses
Annie McCollough is the yoga instructor on Thursday mornings. She is a seasoned practitioner with over 20 years' experience in Hatha and Vinyasa yoga. She starts the class on our backs with our eyes closed, focusing on our breath. This helps to ground us and to arrive in the moment. 
Since breath is a huge part of yoga, it is immensely pleasurable to inhale richly oxygenated air deep into the lungs. A slight breeze brings a salty tinge off the ocean, and the birds chirp a symphony from the nearby trees. 
Annie warms us up with standing flows and down dogs before guiding us into standing warriors and balancing asanas. Stretching and flowing as a group is an immersion experience – connection to each other and nature all around us. It is calming and invigorating at the same time.
Sun salutation – literally 
Halfway through our practice, the sun crests over the ridge and completes the magical spell. When we move through a sun salutation, I am aware of how much I am enjoying standing in mountain pose surrounded by trees, and then sweeping my arms up to salute the sun.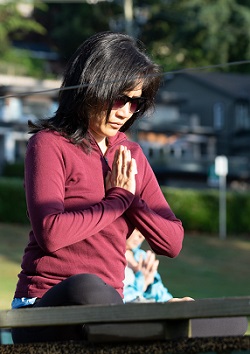 Gratitude and compassion
As we close our practice, Annie invites us to think about something we are grateful for and someone who could use our caring thoughts. 
Surrounded by beauty and infused with calm, I am filled with deep gratitude and joy. It seems to me that waking up to compassion and gratitude is the perfect way to begin the day.
Free outdoor yoga classes 
If you have yet to try outdoor yoga, please do! NVRC is offering free, drop-in classes through August, 2019. Bring your own mat, water bottle and sunglasses! 
Some prior yoga experience is recommended, as class sizes vary and instructors provide hands-off guidance for individual practice.
Yoga in the Park – Tuesday and Thursday mornings, Panorama Park Stage (Deep Cove)
Classes are from 06:15 to – 07:15am. If there is rain, class will be held at Parkgate Community Centre in the large, multi-purpose room. For more information, click here.
Seaside Yoga – Monday evenings at Cates Deck in front of Polygon Art Gallery (Lonsdale)
Classes are from 6:00 – 7:00pm. For more information, click here.
Yoga Fusion in the Park – Wednesday evenings at Cates Park (beside Wally's Burgers stand)
Classes are from 6:30 – 7:30pm. If there is liquid sunshine, class will be held at Ron Andrews Community Recreation Centre. For more information, click here.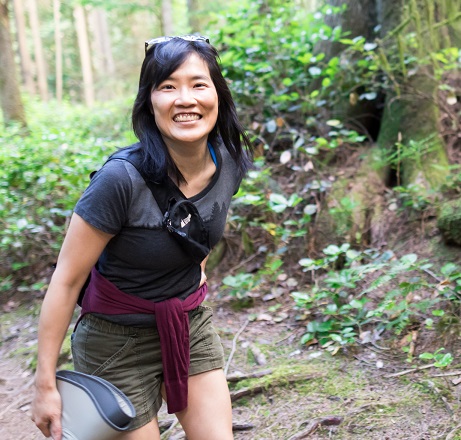 Wiley H.
Wiley is a long-time North Vancouver resident. She works as a technical writer and is the current newsletter editor for the North Shore Writers' Association. She spends her free time feeding her twin passions of creative writing and hiking. She recently discovered a potential third passion - the pottery studio at the Delbrook Community Recreation Centre.