Have you heard of Friluftsliv? It's the Scandinavian term for "open-air living," a way to enjoy the outdoors whatever the weather. While it doesn't come naturally for everyone, outdoor activity is exactly what's needed to stay healthy, balanced, and connected – especially right now. Fortunately, with mountains and ocean nearby, North Vancouverites have abundant options for outdoor recreation. Here are a few ideas to get you out the door. 
Hit the Slopes
Head to one of the three North Shore mountains to ski, snowboard, or snowshoe. Mount Seymour, Grouse Mountain, and Cypress Mountain  have each adapted their facilities for enhanced COVID safety, including increased capacity limits, indoor mask requirements, and vaccine passport protocols for indoor dining and the Grouse Mountain Skyride. Tickets and passes must be purchased in advance, online.
Try Snowshoeing
Snowshoeing is a family-friendly winter activity. It is also easy to learn. You can rent snowshoes at Cypress Mountain, Grouse Mountain, or Mount Seymour, and check out their easy snowshoe trails or sign up for a tour. Be sure to book rentals or tours in advance and read Tips for snowshoe beginners before you go. 
If you are heading into backcountry trails at Mount Seymour (e.g., Dog Mountain), you will need a Day Use Pass. Free booking up to two days in advance, through March 31, 2022. BC Parks - Day Use Pass
Learn to Cross-Country Ski
Experience the quiet magic of gliding through the forest on cross-country skies. It's beautiful and a great workout too! Cypress Mountain Nordic Ski Area offers rentals and lessons in small groups. Note: Advance booking required for all lessons, rentals, and passes. 
Go Sledding
Head to Grouse Mountain's Sliding Zone or Mount Seymour's Toboggan Park for some sledding fun. If you want a bit more thrill, ride the tubes at Gnarly's Tube Park at Cypress Mountain or Mount Seymour's Snow Tube Park – both have tube-tows to do the uphill work for you. Book tickets in advance online.
Skate at Shipyards 
Open from 1-8pm daily until the end of February, the Shipyard Commons outdoor skate plaza offers 12,000 square feet of ice for free skating.  Capacity is currently capped at 50% (150 skaters) and masks are mandatory on the ice. Bring your own skates or rent them (debit or credit only, limited quantities) at $7 for adults, $5 for kids. The busiest times are evenings and weekends. If you find yourself waiting, go for a coffee or browse the nearby shops and show them some love!
Take a Hike
It's always a good time for a hike. Find a good low-elevation trail and use the family-friendly list to plan your trip. 
If you're looking to join a regular group of experienced hikers, check out the Trail Trekkers! They head out on Monday evenings, Wednesday mornings, and Friday mornings. 
Tips: 
Bring micro-spikes, in case you encounter icy patches on the trail.
Dress in layers, including waterproof jacket, mitts and toque, and carry a day pack for extra layers as you warm up. View a full list of essentials to pack.
Bring a thermos of hot chocolate or tea and some cookies, and make a toast to your outdoor spirit. 
Walk the North Shore Spirit Trail
Take a scenic walk along the waterfront of North and West Vancouver along the North Shore Spirit Trail, a mostly flat walk/bike greenway that will eventually connect Deep Cove to Horseshoe Bay. 
Check out the full map of completed and planned segments of the trail.
Be in Nature
Use a phone app like Seek by iNaturalist, or bring a plant identification book to learn about different species. Start with your local park or head to a North Shore birding destination like Maplewood Flats or the ponds and beaches at Ambleside Park. 
The North Shore is dotted with great local parks to reconnect you with nature and to soak up essential natural light, which helps to combat the winter blahs and improve sleep. Even if it's pouring out, grab a good umbrella and step outside for half an hour – you'll be glad you did!
Whatever activity you choose, here's to enjoying some Filuftsliv in the beautiful outdoors.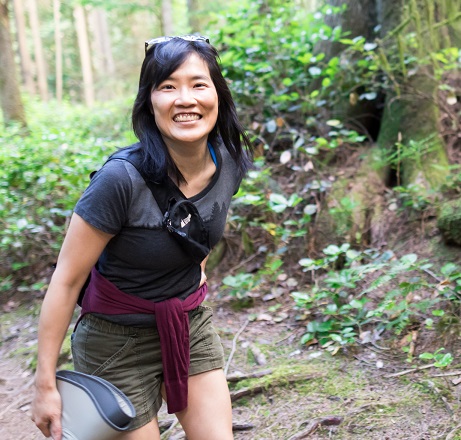 Wiley Ho.
A long-time North Vancouver resident, Wiley works as a technical writer and is the current newsletter editor for the North Shore Writers' Association. She spends her free time reading, hiking and discovering new things to try at North Vancouver Recreation & Culture!