With the days lengthening and the birds chattering, spring has returned in earnest. It's a great time to head out into the garden and also start some seeds indoors. No matter if you are a natural green thumb or would like to cultivate one, here are some ideas to get you growing!
Gardening as natural therapy and exercise
The actress Audrey Hepburn once said, "To plant a garden is to believe in tomorrow." I couldn't agree more. A year into a global pandemic, we are all in need of hope and ways to manage ongoing stress. A very good way to take care of our mental health is to dig in the garden and watch life grow. 
Akin to meditation or prayer, gardening is a quiet pleasure that gently focuses our attention. With just a bit of encouragement, sunlight and water, the work you put into your garden will nourish you with beauty and peacefulness.
To watch a plant grow is to nourish the spirit. Study after study show that time spent in a garden lowers anxiety, strengthens the immune system, and improves sleep. If you garden outdoors, it also provides light therapy and physical activity. In fact, the Centers for Disease Control and Prevention (CDC) calls yard work exercise (see Physical Activity for a Healthy Weight | Healthy Weight, Nutrition, and Physical Activity | CDC).
For more on the benefits of gardening on your health, read 5 Health Benefits of Gardening.
Get your garden ready
Grab your gardening gloves and step into your rubber boots! Spring is the time to rake and remove leaves, trim and prune shrubs and trees, clean pots and tools, and refresh your soil. Here's a helpful garden prep checklist from West Coast Gardens.
Join a garden group
With people staying close to home, gardening has enjoyed a big resurgence. As a result, the cost of seeds and plants has increased substantially. If you are watching your budget, there are local gardening groups for members to share or trade locally grown climate-adapted plants, and swap gardening tips. Check out Gardeners Of The North Shore + on Facebook
Start from seed 
All garden centres and some grocery stores carry seeds. Or, you can sign up for the North Vancouver City Library - Seed library. Free of charge, in partnership with the Edible Garden Project and North Shore Neighbourhood House, the City Library "lends seeds" to encourage the community to grow their own food. At harvest time, members can "return (new) seeds" and share their bounty and knowledge.
Small space gardening
If you live in an apartment or small space, you can still grow an amazing container garden. All you need is a patio or balcony. Here is a wonderful website for "small spaces, big results" from Brian Minter: Container Gardens | Minter Country Garden.
Micro gardening
With just a plastic container, seeds and water, you can grow a tiny edible garden on your windowsill (think Chia Pet from the 1980s)! I recently tried just that, using a tablespoon of soaked chia seeds spread over a paper towel placed inside a Tupperware container. I misted the seeds every day and watched them grow. The seeds sprouted, grew tiny leaves, greened up, and were ready for harvest – all in one week!

Not only is it fun to watch my seed tray grow every day, the sprouts are packed with nutrients, including brain-benefitting Omega 3s. Simply trim a handful of the microgreens for sprinkling on your sandwich, soup, or salad. Delightful and delicious!
Community gardens
Chances are you've walked past some beautiful community gardens in your neighbourhood. They are run by the North Shore Community Garden Society (NSCGS) that oversees the use and management of community gardens on the North Shore. Community members can lease a plot to grow flowers or vegetables (prices from $15-60 for one year, depending on size). Currently, all plots have been leased, but you can join a waitlist at North Shore Community Gardens.
Gardens to inspire and teach
If you're looking for a garden oasis or need some inspiration for your own garden, head to the Park and Tilford Gardens at 333 Brooksbank Avenue, a beautiful 1.5-acre botanic garden that is free and open daily to the public.
For more gardening expertise and ways to contribute to a community food security and sustainability, stay tuned for the next blog, which will feature the Edible Garden Project!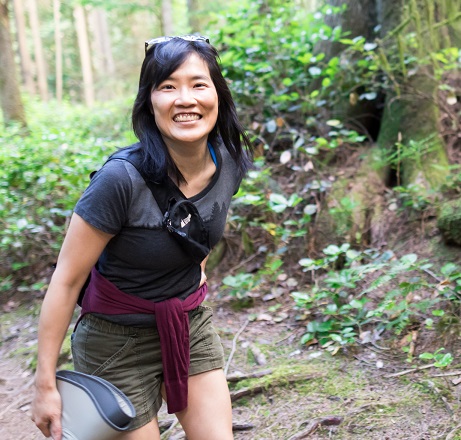 Wiley Ho.
A long-time North Vancouver resident, Wiley works as a technical writer and is the current newsletter editor for the North Shore Writers' Association. She spends her free time reading, hiking and discovering new things to try at North Vancouver Recreation & Culture!