Proper preparation, fitness, and realistic goals the keys to success on "The Grind".
Two and a half kilometres of staircases straight up a mountain in the woods. It might not sound appealing, but every day hundreds (and many days—thousands) of people take on one of world's most famous hiking trails—the Grouse Grind. For some, it's a daily or weekly routine; for others it's worth doing once so they can say they "Survived the Grind". 
An immediate disclaimer and valuable advice: If you have any serious health issues, e.g. high blood pressure, heart problems, or breathing problems such as asthma, the Grouse Grind Trail is not for you. The North Shore is blessed with dozens of other great trails that are less strenuous.  Check out NVRC's North Vancouver Guide to 20 Great Walks & Trails.
The Grind, or BCMC?
The Grouse Grind is the most popular and most celebrated route up the mountain. But on many summer days (especially weekends) it can be full of tourists and first-timers, so many locals (including this one) opt for the British Columbia Mountaineering Club (BCMC) trail. 
The BCMC runs mostly parallel to the Grind and ends in the same area—so the elevation gain is the same. But it is a rougher trail (more dirt and roots, less rock steps), slightly longer (approximately 300 metres longer), more switchbacks, and not as well marked (follow the orange/red tree markers). And still plenty tough!
The Grind is uphill-only. No dogs are permitted. The BCMC can be done uphill and downhill, and does allow dogs, but you can't take dogs onto Grouse Mountain Resort property at the top, and they aren't permitted on the gondola—so you'll have to return via a very tough downhill hike. My recommendation is to leave your dogs at home for this hike.
Uphill is Free – Downhill Gondola is Not
The Grouse Mountain gondola costs $15 to ride down (single tickets can be bought at Guest Services). Or purchase a Locals Annual Pass for $129, which also gives you year-round access to resort features, and snowshoeing in the winter. 
"I beat my best time!" vs. "I'm just happy to finish!"
Both are worthy goals. A hike this strenuous can be a physical and mental test, so start with a clear and realistic objective. Also, understand your fitness level and pace yourself accordingly—avoid going too fast at the start as you'll likely have nothing left for later ("hitting the wall" is a term used by runners, but it applies here too). Your heart and lungs will have to adjust to the uphill climb.   
Time yourself if you want to test your fitness level, but don't worry if you're not as fast as others. No matter if you can do it in under an hour, or need 2+ hours, congratulations on reaching the top!
Start Hydrated, Stay Hydrated
"Bring water" is essential advice for any hike, but for the "Grind" it is even more important. You will be sweating—a lot—and replenishing fluids (with water, or sports drinks) can help you avoid cramps and dehydration. How much to bring is different for everyone, depending on your fitness level. Bring more than you expect to need--either in a re-usable water bottle, or a hydration-pack (back-pack equipped with a water bladder).
I also recommend you start hydrating well before your hike. Drink a glass of water before breakfast, and before heading to the mountain. Don't forget to use the washroom at the base before starting the Grind, as there are no washroom facilities along the trail. 
Footwear: Traction for Safety and Speed
No matter if you are trying to beat your personal-best time, or satisfied with just making it up the mountain, proper footwear is important. I've witnessed people heading up in flip-flops and dress shoes (there are legendary stories of people in high heels, but fortunately I've never witnessed that!). What you wear will depend on weather and trail conditions, and also your personal preferences.
For those wanting speed and traction--specialty trail-runners with extra tread (lugs); or light hiking shoes with good tread (if you need a little more support). Flat-soled running shoes are not recommended, as they lack the grip for the tricky terrain. 
Clothes: Avoid Cotton
As mentioned, you will be sweating, so avoid cotton clothing and socks, which absorb perspiration and stay wet and heavy. Light polyester or merino wool base-layers allow sweat to evaporate more quickly. It is often cooler at the top, so if you think you'll need it, bring a light jacket or fleece to stay warm after you're done. 
Stretch—Before and After!
Your muscles will be happy you did. Most popular are quad stretches and calf stretches—anything to limber-up your legs. And repeat stretching at the top to help with your recovery later. 
For updates on Grouse Grind opening and closing times, check the Metro Vancouver website.  
Mike H.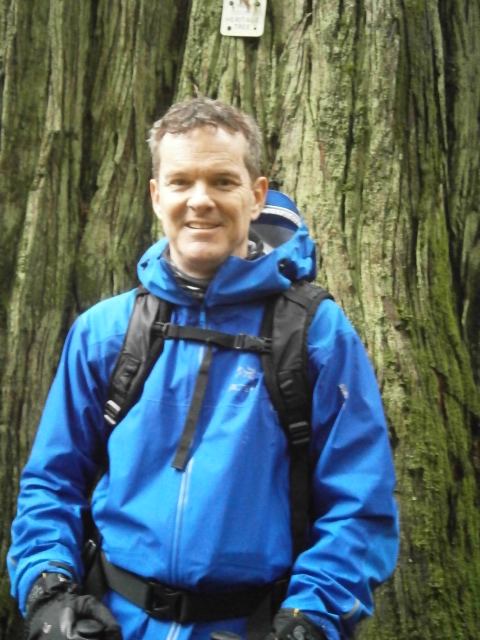 Mike Hanafin is an avid hiker and snowshoer with a passion for old-growth trees, and discovering hidden gems in the North Shore forests.
Read Mike's other hiking blogs:
Giant Trees - A Guide to Hiking to Old-Growth Trees in North Vancouver
Beat the Winter Blahs on North Vancouver's Snowshoe Trails
Great Cardio Hikes That Aren't the Grouse Grind!