Get ready, the wet months are coming. This doesn't have to mean the end to your outdoor workouts. The best way to brave the elements is to be prepared with good gear and encouraging self-talk. Here are a few tips to make the most of training in the rain. 
Outdoor training is great if you have the right gear
The benefits of exercising outdoors are many, including fresh air, change in perspective, boost in creativity and a shot of endorphins. When it rains, there are a few surprising added bonuses, such as: 
You burn more calories when exercising in the rain.
Humidity is good for your skin.
The smell of rain or "petrichor" (the earthy scent produced when rain falls on soil) has a soothing effect on the nervous system. 
Gearing up
Whether walking or running outdoors, having the right gear and mental attitude can make all the difference! Here's a checklist of what will keep you comfortable: 
Hat – a cap is great for keeping the rain off your face and eyes. 
Gloves – keeping your fingers warm will keep you much happier.
Rain jacket – invest in a good waterproof and windproof jacket, preferably in a visible colour.
Breathable and quick-dry layer – warm, base layer underneath the rain jacket is best.
Headlamp – if you like working out pre-dawn or after-dusk, put on a headlamp and/or a visi-vest!
Good socks – save the cotton for summer. Good wool or wool blend socks are much better for keeping the toes warm even when wet.
Shoes – rainboots or Gore-Tex shoes are a great investment for keeping the feet dry.
Umbrella for walking – nothing beats a portable roof for walking on a wet day!
Self Talk
Positive self-talk is powerful – and underrated! Research shows positive self-talk helps to improve your outlook on life, keeps you motivated, and leads to greater life satisfaction and improved immune function. Remember that the first person to hear you is you, so be compassionate and kind!  
Tell yourself:
Yes, I can! 
The first 5 minutes will be the hardest and then I'll be fine. 
I will feel so good afterwards.
A hot shower is waiting for me at the end.
A warm drink is waiting afterwards. 
This is for ME.
Schedule it
According to fitness specialists, the best way to stay on track with exercise is to keep it regular. This means putting your workouts/runs/walks into your calendar or phone. Have your workout clothes out and ready beforehand. When the time comes, go. This is time reserved just for you. 
Don't let our west coast weather stop you from enjoying a run or walk in the rain. Suit up and step outside. Once you get going, you'll be glad you did!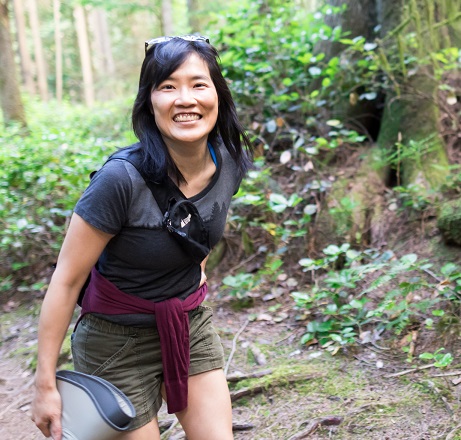 Wiley H.
A long-time North Vancouver resident, Wiley works as a technical writer and is the current newsletter editor for the North Shore Writers' Association. She spends her free time reading, hiking and discovering new things to try at North Vancouver Recreation & Culture!