North Vancouver is blessed with some of the largest trees in the world.  Many are within sight and can be found with a modest amount of effort.  Some old-growth giants are visible along popular hiking trails, while some are hidden a little farther off the most-beaten paths—but still easily found.
Giant Trees
The giant trees you do find are lucky survivors from North Vancouver's logging era. People who now take the local forests for granted don't realize that almost the entire North Shore was logged in the late 1800s and early 1900s. Thousands of trees were cut down (mostly cedars), and the wood was used to build our cities and homes- and also to help build our early resource economy. Local full-scale commercial logging ended around 100 years ago, but some pockets were still being cut down into the 1950s. 
However, there are some remnants of the old-growth forests, if you know where to look! Loggers left behind a few giant cedars—usually because the trees had some kind of flaw that made their timber less valuable. There are also numerous giant Douglas fir trees that were spared—likely because loggers were more interested in the more profitable cedars.
Quarry Rock
Many people hiking to Quarry Rock on the Baden Powell Trail pass right by one of these giants without even noticing. A massive Douglas fir—close to two metres in diameter and over 600 years old--is located on the east side of the trail about half-way between the Deep Cove trailhead and Quarry Rock. The tree has been tagged with a white marker: "DNV Parks—Heritage Tree", part of a past registry of old-growth trees.
Raindancer Trail
There's another dozen "Heritage Trees" (mostly Douglas firs) up-slope from the Baden Powell Trail in the Cove Forest, on a lesser-used trail called "Raindancer", which runs roughly parallel to the Baden Powell. You'll also see numerous cedar stumps along all the trails, giving you a hint of what the original forest looked like before logging. Once the cedars were cut down, fir tree saplings suddenly had sunlight reaching the forest floor, and a new forest developed over the last 100 years.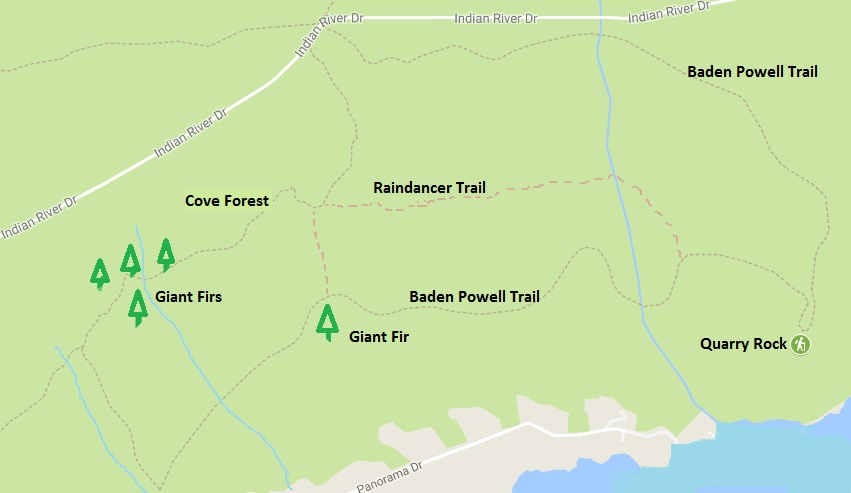 Mosquito Creek
One other reachable grove of "Heritage Trees" is located along Mosquito Creek, just north of the Baden Powell Trail (the BP Trail extends all the way across the North Shore from Deep Cove to Horseshoe Bay). The most direct access to this grove is at the end of Prospect Drive, with a quick walk into the forest and connecting trails on each side of the sturdy bridge over Mosquito Creek. Short but steep trails take you to giant western red cedars and Douglas firs—especially on the west side of the creek.
Capilano River Regional Park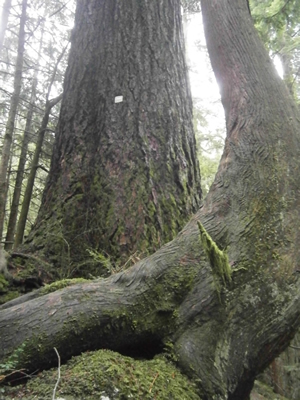 The last excursion in search of giant trees takes you to Capilano River Regional Park and a visit to "Grandpa Capilano"--and many other fabulous sights. Park at (or take transit to) Cleveland Dam. After enjoying the views while crossing the top of the dam, head down into the west side of the canyon.  
A downhill gravel road takes you to a staircase on the left.  Within minutes you reach a huge Douglas fir tree—"Grandpa Capilano"--over 800 years old and 2.5 metres in diameter. Continue left along the same trail to reach two more giant firs.  
If you have time to explore the canyon, it is worth it. On the east side—over the Cable Pool Bridge and near the access road to the lower parking lot—is an extremely tall fir tree towering over other trees in the area. The base of the tall tree is worth finding. At 80 metres and still growing, it is documented as one of the tallest Douglas fir trees in all of B.C. Next to it is a massive cedar stump over 4 metres in diameter.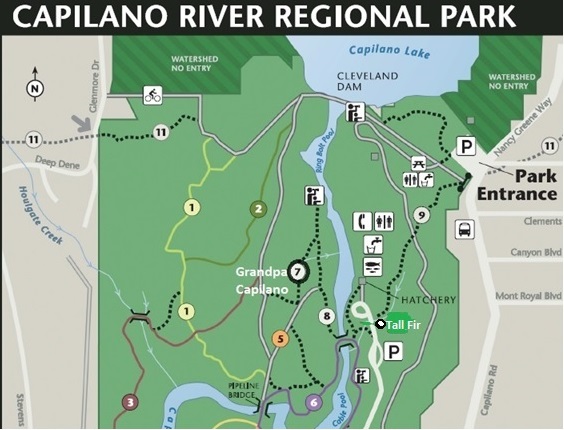 (Map: Metro Vancouver) 
Other Resources
Did you know?  NVRC offers guided walks and hikes on the North Shore the Trail Trekkers program.  You can explore trails and pathways with Trail Trekkers - free for fitness members or pay a fitness membership drop-in fee. 
The District of North Vancouver has a wide variety of hiking and walking trails throughout its parks.  Visit their website for more info.
You can also find more information on trails on Vancouver's North Shore website.
Vancouver Trails website also features a number of great walking and hiking trails on the North SHore.
Mike H.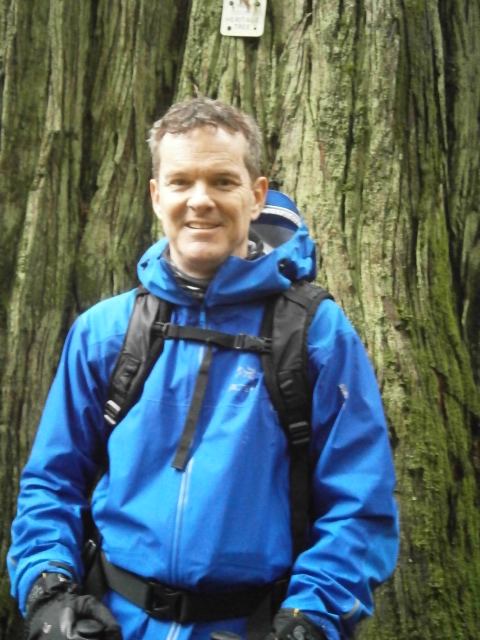 Mike Hanafin is an avid hiker and snowshoer with a passion for old-growth trees, and discovering hidden gems in the North Shore forests.