Since the 2015 release of the Final Report of the Truth and Reconciliation Commission of Canada, Canadians have had a lot of new and difficult truths to learn. It is vital that we continue to learn the full history of Canada in order to move collectively towards Truth and Reconciliation. One tireless educator about our true history and way forward is Tsnomot (Brad) Baker of the Squamish Nation. "We all need to keep learning and talking about this," he says, reminding us that "Truth and Reconciliation is not an event, it's a journey."
NVRC's commitment to diversity and inclusivity
On the North Shore, we live and work on the traditional and unceded territories of the Sḵwx̱wú7mesh (Squamish), and səl̓ílwətaʔɬ/Selilwitulh (Tsleil Waututh) Nations. As part of its commitment to diversity and inclusivity, NVRC has been engaging in anti-racism and anti-discrimination initiatives, including programs to learn more about Indigenous histories, Indigenous relations and our local First Nations. 
At a recent NVRC workshop for staff, Tsnomot (Brad) Baker from the Squamish Nation and District Principal for Safe and Caring Schools and Aboriginal Education with the North Vancouver School District, shared his story and teachings.
Meet Tsnomot (Brad) Baker
Born at Lions Gate Hospital, Brad Baker grew up in Eslha7an or Mission Reserve No. 1, near what is now Lonsdale Quay. A member of the Squamish Nation and the Tsleil-Waututh Nation, Brad grew up playing soccer, rugby and lacrosse at Harry Jerome, Community Rec Centre. He still works and lives nearby, joking that in his 50 years he has not moved more than a 1-mile radius of the reserve: "This is home for me and it always will be."
Brad and his brother attended Queen Mary Elementary School followed by Sutherland High School. In the 1980s, they were the only Indigenous students at Sutherland. He excelled at sports and made friends easily, three of whom are still his best friends today. At the time, however, due to pervasive racism, Brad hid his true identity from his friends for a long time. When his friends assumed he was of Italian ancestry, Brad went along with it. "I remember coming home from school, asking my parents for the atlas, locating Italy and then finding a small town to tell my best friends where I came from. For many nights after that, I cried myself to sleep." 
It wasn't until Brad was 13, when he was about to receive his Squamish name Tsnomot, that he summoned up the courage to reveal his Indigenous identity to his friends by inviting them to his naming ceremony. Brad says he hid the truth of himself because of negative stereotyping about kids from reserves as well as intergenerational trauma. His father, now 82, is a survivor of the Indian Residential School (IRS) system where he suffered sexual and emotional abuse. As with so many families haunted by the legacy of the residential school system, Brad says his family is no exception. "We are a dysfunctional family, but we love each other." 
After high school, Brad went on to earn his teaching degree from Simon Fraser University and then his Masters in Education. He taught at Carson Graham Secondary for 12 years, where he introduced a new Squamish language program and a woodcarving class. He also helped to create and coach Carson Graham's now-famous women's rugby program. As North Vancouver's first Indigenous teacher, Brad gained national recognition for advancing First Nations cultures in schools and was awarded the Indigenous Educator Award in Leadership in 2014. In the same year, Brad turned his talents to administration and began working for the North Vancouver School District, where he continues to champion teaching First Nations histories in the school curriculum. In addition to his full-time work and community involvement, Brad is presently pursuing a PhD at University of British Columbia in Education Leadership and Policy. 
A passion to teach the Indigenous perspective
A successful educator and community champion Brad has a foot in two worlds, as part of the mainstream education system and his First Nations traditions. "It's absolutely important to know who you are and where you come from," says Brad, adding that it is education that will push us forward. "We must continually challenge what we know in order to move forward. It's important for every Canadian to know Canada's true history, so that we can proceed with Truth and Reconciliation."
Brad points out that he is the first generation not to have gone to an Indian Residential School but that every Indigenous person alive today has a connection to it – through a parent, aunt, uncle or grandparent. With the recent finding of 215 children buried in unmarked graves in Kamloops, the trauma is not yet over as First Nations across Canada work toward locating all missing children. In North Vancouver, the Squamish Nation has plans to search for unmarked graves at the former St. Paul's Indian Residential School, which was in operation for 50 years before shutting in 1958. The Gordon Residential School in Punnichy, Saskatachwan was the last residential school to close in 1996. "When non-Indigenous peoples ask us why we talk about residential schools so much, it's because we are still dealing with that legacy today," says Brad.
Brad believes Indigenous and non-Indigenous Canadians are all on the journey of Truth and Reconciliation together, and says the best way for us to keep learning is to keep talking. "There is a lot to learn. The first place is to start asking ourselves questions about what we don't know and to learn the truth."
Good starting points to engage with the Indigenous perspective and become better allies of Indigenous Peoples in Canada include:
Building bridges and repairing relationships 
Settlers and immigrants to this country have benefited from the long oppression of Indigenous Peoples here. To anyone who says they have nothing to do with the oppressive history or residential school system, Brad has this reminder: "In North Vancouver, we are on the unceded territories of the Squamish and Tsleil Waututh Nations and we have an obligation to learn about local First Nations. Part of that learning is to understand the multiple generations of oppression that First Nations have had to go through by the government of Canada. Even as a Squamish person, I can say I wasn't around either when the residential school system was first started, but we live with the legacy of the residential school system." 
"Ultimately, feeling bad and hand-wringing is not enough," says Brad. "As citizens of this country, we must learn our true history and respect the laws and peoples of this country. Now that we know the truth we cannot look away. We must figure out how to heal ourselves as a country. Reconciliation is up to every member of our society."
Brad has much to teach about how we can move forward through Truth and Reconciliation. Here are some of his key suggestions:
Acknowledge that we all carry biases and assumptions. 
Challenge our own privilege and understand how it changes in different contexts. 
Call out racism whenever we see and hear it.
Review the TRC Report and 94 Calls to Action. 
Understand Indigenous self-determination, which was formally recognized by the UN Declaration on the Rights of Indigenous Peoples and which British Columbia passed into law in 2019. 
Recognize western dominance in political systems and legal processes. Move away from the "white saviour" model. 
Embrace more Indigenous-centric perspectives in education.
Tell your own story, not the story of others.
Remember that trust is needed for repairing relationships and that it is earned slowly.
Be patient. This is going to take time, respect, and reflection. This is a process, not an event.
There is some good news and progress being made. Brad says he is heartened by the inclusion of Canada's true history in the public education system as well as greater general awareness by society. Looking to the future, Brad hopes for "all citizens of North Vancouver to acknowledge the importance of a strong, shared relationship with local First Nations, to become equal partners on this land so that we can all become better."
Building bridges and repairing relationships is our labour towards Truth and Reconciliation. "This is hard work," admits Brad. "It is emotional work and can make us feel vulnerable, but it is this vulnerability that makes us open to learning and sharing. We are trying to change the narrative for this country. It is a great country and we have the chance to finally make a better future for everyone in it. So, let's go forth with courage and open hearts and minds."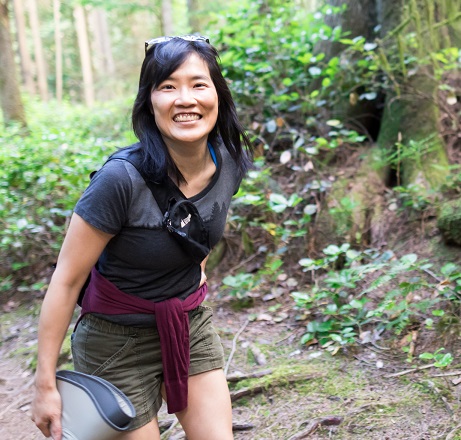 Wiley Ho.
A long-time North Vancouver resident, Wiley works as a technical writer and is the current newsletter editor for the North Shore Writers' Association. She spends her free time reading, hiking and discovering new things to try at North Vancouver Recreation & Culture!