How a group of friends ended up swimming across Okanagan Lake.
Some called her a bully in a bathing cap.  Others were kinder and just called her relentless.  Either way her name is Shelley Weal and her friends are still wondering how exactly she was able to talk them into swimming across Okanagan Lake this summer.  But they all agree, they're glad she did.
Shelley is one of group of approximately 15 North Shore women who call themselves the Cork Dorks (CDs).  I became the most recent addition when I joined their book club a few years ago.  I never knew reading could be so physically challenging! 
Inspired to keep moving
All of us have more than five decades to our credit, some have passed the sixty-year mark.  We stay healthy and active, inspired by each other and by our unofficial leader, Tammy Mulder, who organizes bike trips and other activities to keep us moving.  Thanks to Tammy's planning and encouragement, the group has trained for and competed in several challenges in recent years, on bikes, in the trails and on the water.  But in the water?  Not a chance.  Tammy doesn't like to swim.  
The CDs come by their name honestly, as book club involves sharing good wine as well as good literature.  Shelley presented the idea of the Across The Lake Swim at the September 2018 book club meeting, waiting until enough wine had flowed to broach her idea.  It was 100% rejected.  No way were the Dorks diving in.  So Shelley tried a different approach.
Photo (left to right): Sue McKeachie, Shelley Weal, Sandy Olsen, Sandra Luscombe, Patty Hopper
Easing into the water
"Why don't we just start with swimming lengths at Delbrook Pool and see how it goes?" Shelley's suggestion caught on slowly, with Patty Hopper being the first to agree.  She was recovering from back surgery and hoped the pool might offer a new challenge and opportunity to stay fit, now that running was out for a while.
"The pool was a place where I felt whole.  I could work through any pain and always felt better afterwards," Patty said.  
Sandra Luscombe, who ran with Patty in several marathons, also signed up for the race.  She was a good swimmer and liked the idea of another group challenge.  Sandy Olsen signed up too, happy to do any activity that involved her CD buddies. "Challenges like this (race) give you a reason to get out of bed and make you feel good about yourself.  I like having a goal." she said.
It wasn't long before several of the CDs were heading to Delbrook Pool 2-3 days a week to swim.  They added a stretch class before the pool and a hot tub after the swim, a perfect combination for staying fit and relaxed.  Even Tammy went swimming a few times before finally accepting that swimming was just not her "thing."
For Christmas, Shelley gave out bathing caps, goggles and NVRC gift certificates.  "Game on," she teased.
Positive peer pressure 
Sue McKeachie signed-up for the race because she didn't want to miss out.  "I really didn't want to do it at all, as I am not a swimmer.  I took lessons as a kid, but that's it," She said.  "Peer pressure made me say yes.  I also knew it would be a good way to stay fit throughout the year."
Sue and Patty would motivate each other to head to the pool to train. The race was a 2.1 kilometre swim across Okanagan Lake.  They knew they needed to prepare for it.
 "I never wanted to go, especially on those rainy winter nights," Patty recalls.  "But, Sue and I had a system.  If one didn't want to go the other would encourage them.  It kept us both going back."
As the group trained at Delbrook through the winter, the race loomed large on their summer horizon.  All of a sudden July 20th was not that far away.  Training shifted from the pool to Kalamalka Lake, near Vernon, where several of the CDs vacationed.  They soon realized that swimming in open lake water is much different from the calm and structured pool environment.  
Even Shelley admitted to having apprehensions.  "I'm not sure about having no black lines to follow or pool bottom to put down my feet if I get a cramp," she said.  
A personal journey
While they trained together and encouraged each other leading up to the event, race day was a different story.    
"Once you hit the water you're on your own," said Sandra.  I wasn't racing against anyone, I was swimming for myself"
Hundreds of people, all ages, sizes and abilities swam in the Race Across the Lake that day.  The participating Cork Dorks all finished within ten minutes of each other.  As they celebrated, the CDs agreed that it was the months of fun and camaraderie training together that made it meaningful.  
"The race was just the reason to get in the water and train," said Patty, who in the end, did not feel comfortable in the lake and decided not to compete in the race. "I'm so glad I signed up."
Whether they felt pressured or inspired to participate, all the CDs are happy that Shelley pushed them to get in the pool. Next up for the Cork Dorks:  Conquering Pickle ball at Delbrook.  Game on!
Michelle Perrault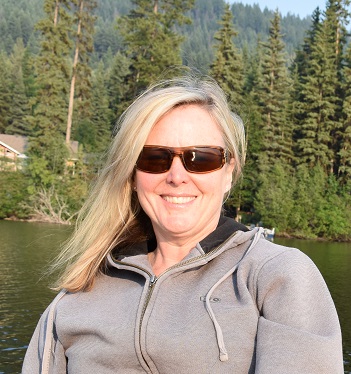 A North Shore girl at heart, Michelle has fond memories of Saturday night skates at the NVRC ice rink (now Harry Jerome) and swimming lessons at William Griffin (now Delbrook) pool. More recently, she enjoys hiking and biking the trails of Mount Fromme and the Seymour watershed. She lives in Lynn Valley with her two adult children, two dogs and wonderful friends and neighbours.