Searching for something fun to do with the kids this Easter?
I was in the same boat, until I made this happy discovery; North Vancouver boasts a great range of free or very affordable events and activities to enjoy. There seems to be a boundless list of reasons why North Vancouver is the perfect place to live, particularly for families. Of course, it's beautiful - chock full of stunning scenery and never-ending nature, but there's also a vibrant, palpable sense of community and culture in this city of ours, and never a shortage of inspiring things for citizens to do. So it comes as no surprise that organizations across North Vancouver have pulled out all the stops to offer a wide range of community-enriching Easter activities. 
Here are just a few of the events worth checking out. Hop to it! 
Easter Bunny Hop
When: Saturday April 8th, 9:30 - 11:00 am
Where: John Braithwaite Community Centre Gym,145 W 1st Street, North Vancouver, 
Phone: (604) 987-Play (7529)
Cost: $2/person (best suited for children aged 2-6 years old)  Barcode: 364596
The details: The much-celebrated event is on again this year, with games, crafts, Easter egg hunts, and a visit from the Easter Bunny!
How to hop to it: Register at nvrc.ca
Heywood Park Easter Egg Hunt
When: Saturday, April 15th, 10:30am sharp
Where: Heywood Park, 1633 MacKay Avenue, North Vancouver
Cost: FREE
The details: Watch the kids delight in this truly egg-cellent classic outdoor Easter egg hunt! There will be a variety of activities and the very social Easter Bunny will make an appearance. WHILE SUPPLIES LAST. Best suited for kids 9 and under.
How to hop to it: Show up dressed for the weather and bring your best Easter basket!
Easter in Lynn Valley Village 
When: Saturday, April 15th, 1-3 pm
Where: Lynn Valley Village Plaza, 1233 - 1277 Lynn Valley Rd, North Vancouver,
Cost: FREE
The details: After the smashing success of 2016's first run, this fun community event is back for round two! Expect a scavenger hunt - no eggs or candy, which is good news for those with allergies or food sensitivities. Instead of edible finds, participants will obtain a "Passport" which they will then present to each merchant in the plaza in exchange for a stamp. At the end of the hunt, children will submit their passports and receive their treasure! There will be two craft stations, various activities, and, once again, (say it with me now), a visit from the busybody Easter Bunny! He sure is getting around this year!
How to hop to it: Show up with a smile.
For more information on Easter events, visit NVRC's Community Events Calendar.
Happy Easter, and I hope to see you all at these amazing Easter events!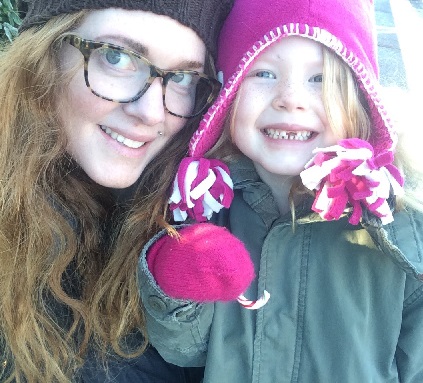 Stephanie E.
Stephanie  is a professional writer and photographer residing in North Vancouver with her husband and five-year-old daughter. She grew up in Ontario, but considers British Columbia to be her true home. Having attended the journalism program at George Brown college in Toronto, Stephanie's writing career has included music journalism works with the likes of Canadian Musician Magazine and Professional Sound Magazine, and she has written blogs and content/copywriting for various fashion, beauty and lifestyle publications and brands around the world.
Stephanie owns The Imperative Image, an affordable photography service for professionals. As a wellness advocate and a proud North Shore resident, Stephanie is thrilled to contribute to the NVRC Active Living Blog.