New blogger, who's this?
Hello! I am North Vancouver Recreation and Culture's newest guest blogger for Active Living. My name is Andy and I use a lot of terms to identify myself. Trans is probably the most important one for me (short for transgender), but I like the terms non-binary, genderqueer,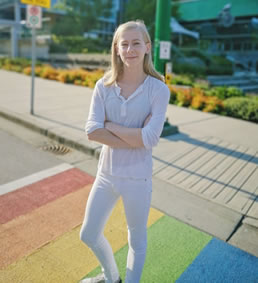 agender, genderfluid, and transfeminine to describe my gender. Aside from that I am an arts administrator by day and a spoken word poet by night.
I use multiple sets of pronouns; mostly she/her/hers. In English, there are feminine sets of pronouns (she/her/hers) and masculine sets (he/him/his), but there's a large number of people, like me, who use they/them/their pronouns as a gender-neutral option too. 
The first thing I want to say is: it's okay if you're straight or cisgender*. I accept you! Considering we experience the world in very different ways though, the queer and trans communities really need some active allyship from straight and cis people.
*Visit the Centre for Diversity & Innovation's website to learn about key terminology for understanding diversity
Learning about pride
I want people to learn about pride in all its forms and know that it is so much more than a celebration. Pride is both global and local, and it is for everyone in the community to participate. It is a recognition of our queer and trans elders or ancestors' fight for progress. It is a call to action and a call for change to protect marginalized people and future generations. 
When is pride?
Pride is year-round! Although June is international pride month, pride events are usually held at the end of July in Vancouver toward the August statutory holiday. There are a few reasons for that. You may know about the (in) famous Stonewall Riots that erupted in June 1969. Since then, we've been commemorating the fight for our rights every June, but we have been fighting for millennia. So Toronto celebrates in June. But Vancouver celebrates in July. Montreal in August. This calendar allows queer and trans performers, artists, and workshop facilitators like myself to travel between pride festivals and work more year-round. 
Why pride and allyship is important: Community Safety
Most people are surprised when they learn that more than 20% of 2SLGBTQ+ students reported physical violence in Canadian schools in 2011. Egale Canada notes that number almost doubles when you consider the rates of physical violence against trans kids alone. While SOGI (Sexual Orientation & Gender Identity) Education has since been widely accepted, I still hear experiences of homophobia and transphobia from youth in North Vancouver schools. This is not worth celebrating. And, hopefully you know this already but, it's really ignorant to say our rates of violence are "better than the US". We know that when you consider the intersectional experiences of racialized queer and trans people (intersectional, meaning they experience various systems of oppression), for example, the rates of violence increase and the call to action intensifies, especially here.
Having grown up across the North Shore, I can promise you that our region is not the safe space cis/straight people think it is. Our experience says otherwise. And if you're thinking things were worse "back then", please know that I am 24 years old now, facilitating workshops in schools, and I am still meeting queer and trans kids in North Vancouver's School District who fight slurs, harassment, and violence in schools, as well as at home. 
What is active allyship?
Active Allyship is a term that essentially means allyship, but it emphasizes taking action. Acknowledging that we each have different capacities to take action, I want to share a few personal ways you can support queer and trans people this summer
There are so many actions you can take year-round too. I think education is probably the most important action you can take to support queer and trans people: educating yourself, your family, and your workplace on the violence we still face and the safer spaces we're trying to create.
Community resources
To learn more about what 2SLGBTQ+ letters mean, you can use google right now, or join me at an upcoming virtual Questions & Answers Webinar hosted by North Van Arts staff Joyelle Goldbard, Leo Dittmer, and yours truly, July 28th at 7PM. 
You can read and watch 2SLGBTQ+ content shared by North Vancouver District Library and North Vancouver City Library. 
Vancouver Pride Society's theme for this year is Choose Your Pride - to celebrate safely and in your favourite way. North Shore Pride Alliance's theme is Show Your Pride. 
Donating to support 2SLGBTQ+ youth
Pride is a celebration, yes, but it is also a call to action for all of us. If you are looking to support pride and want to make a meaningful charitable donation, you can donate to the Raincity Housing organization which provides support and housing for 2SLGBTQ+ youth in our region. 
What actions will you take to celebrate pride and support and protect 2SLGBTQ+ lives this year?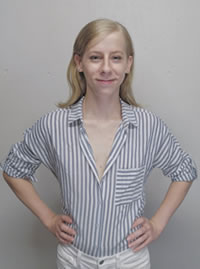 Andy Warner is a genderqueer writer/performer who loves to let you know how weird you are. She's a former national poetry champion who has performed everywhere from the Vogue Theatre in Vancouver to Harlem Stage in New York. Check out Andy's upcoming residency with North Vancouver Recreation and Culture!
Follow @AndrewWarnerPoetry on Instagram, Facebook, and YouTube, or at @AndrewWarnerPoe on Twitter.