It was with great trepidation that I climbed onto my bike and followed my husband on our way to the Tsawwassen Ferry Terminal and ultimately, Vancouver Island this summer.  We parked at a friend's, only a short ride from the ferry and my anxiety grew as we started a journey that would take us from Swartz Bay to Sooke and back.  Over four days and varying terrain we would travel approximately 150kms, most of it on a separated bike path repurposed from the Galloping Goose Railway.
The last time we embarked on such an adventure was 2010 on the old Kettle Valley Rail line in the Okanagan – a family vacation our children have yet to forgive.  I recalled the whining and tears, the chocolate bribes and cajoling to travel the required 50k a day.  But this was different, I assured myself.  Our kids are grown and off on their own adventures.  Which meant if there was any whining to be done, it would likely be me.  I swallowed hard, gripped my handlebars and tried to ignore the giant trucks whipping past on their way to the ferry.
Together again for the first time…
This was to be an epic journey on many levels.  A healthy adventure, an opportunity to tour a spectacular section of our province and the first family vacation without the family – just my husband and I.  Not even the dog.  The next four days would test my fitness and launch our 25 year marriage to a whole new level.  We were no longer defined or confined by our parenting responsibilities.  It was all about us.  I peddled faster to catch-up.
We made it to the ferry with moments to spare and enjoyed the hour and a half crossing to Swartz Bay.  After a few moments of confusion we were on our way along the Lochside Trail (which actually is a road at the start) that took us through Sydney, North Saanich and ultimately connected us to the "Goose" as we came to call it.
A new appreciation
A Lynn Valley resident, I've always enjoyed the trails and hills of the North Shore.  I was pleasantly surprised to be travelling along flat, compact gravel paths that took us through farmland, alongside the ocean, through neighbourhoods and into forests.  Each section of trail providing its own brand of breathtaking beauty.
After two hours and approximately 30k we stopped for lunch at a little café.  The Nest offered good sandwiches, cold drinks and comfortable seats – something I came to appreciate deeply over the next few days.  Thirty minutes later we were back in the saddle and on our way to Sooke.
Ignorance is bliss
My husband did an amazing job planning the trip.  I contributed little, other than helping to carry our gear.  As a result, I was blissfully unaware of how far we would actually ride that first day.  If he'd told me up front that it was approximately 80k, it would have taken a lot more than chocolate to get me on my bike.  However, by the time I realized how far we had come we were almost there.  The 50k ride back to Victoria seemed like a piece of cake after that!
We stayed two nights in Sooke, and one night in Victoria before heading back to the ferry on day four.  It was one of the best holidays we've had.  At the end of each day we reviewed our adventures over great meals, knowing we'd earned every calorie.  We're already planning our next bike trip.
I'm taking my training indoors this fall, with a spin class at Delbrook Community Recreation Centre.  This time I'll connect with my daughter who inspired me to sign-up.  Who knows where this adventure will take me!
Want to cycle?  North Vancouver Recreation & Culture offers a number of registered and drop-in spin cycle classes.  View the online leisure guide for a full listing.
Michelle Perrault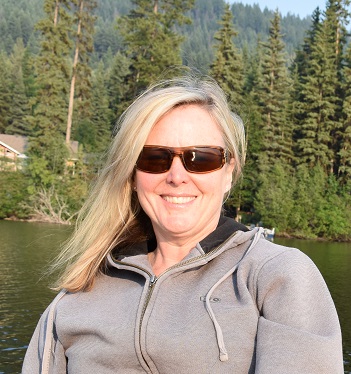 Michelle Perrault grew-up in North Vancouver and loves living in Lynn Valley with her husband, son and daughter.  She once grew a 60 pound pumpkin in an apple tree, by accident.  When she's not developing communications strategies for her clients, Michelle loves to write, cook and enjoy the outdoors.