There's nothing so comforting as a bowl of warm soup on a cold day. Soups are a great way to pack in a lot of nutrition in one simple pot and make use of leftovers. They are easy to prepare, freeze well, and make wonderful one-bowl meals. 
Here are 3 go-to favourites to ward off the chills. Tip: the secret to elevating a good soup to a great soup (in my humble opinion) is the extra toppings – a sprinkle of fresh herbs, a pinch of red pepper flakes, or a drizzle of oil – POP!
Thai Turkey Noodle Soup 
This is a wonderful recipe to repurpose leftover roast turkey or chicken!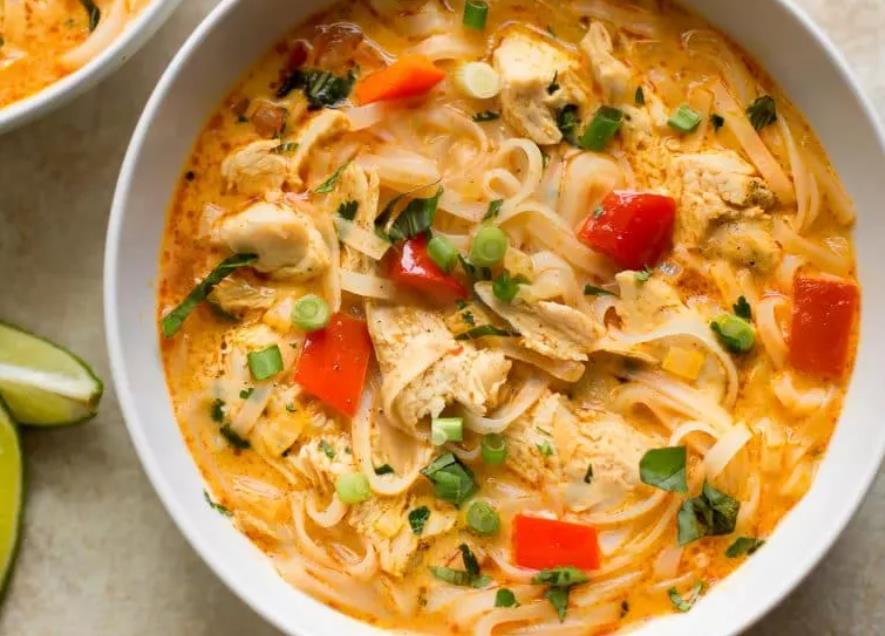 Prep: 10 minutes Cook: 20 minutes 
Servings: 4 
Ingredients:
1 tablespoon oil
½ medium onion, chopped
2-3 tablespoons of Thai red curry paste 
4 cups chicken broth
2 cups water
1 bell pepper, chopped
1 can coconut milk
½ lime for juice
2 cups cooked turkey
7 ounces (about 200 grams) rice noodles 
1-2 tablespoons fish sauce (or substitute salt) to taste
Toppings: chopped fresh cilantro or green onions, lime wedges, peanuts or cashews
Directions:
Chop the onion, red pepper and cilantro.
Sauté the onion in oil in a large soup pot for 5 minutes over medium-high heat.
Add curry paste and cook for 30 seconds.
Stir in broth, water, lime juice, turkey, rice noodles, and red pepper. Bring to a boil for 3 minutes.
Reduce heat to low, stir in coconut milk and simmer for 10 minutes.
Season with fish sauce (or salt). Taste and adjust spice (salt, more lime juice, touch of sugar).
Ladle into bowls and sprinkle with toppings. Enjoy!
Easy Tuscan Ribollita 
This is a hearty plant-based soup with beans, kale, leftover bread and parmesan cheese rinds!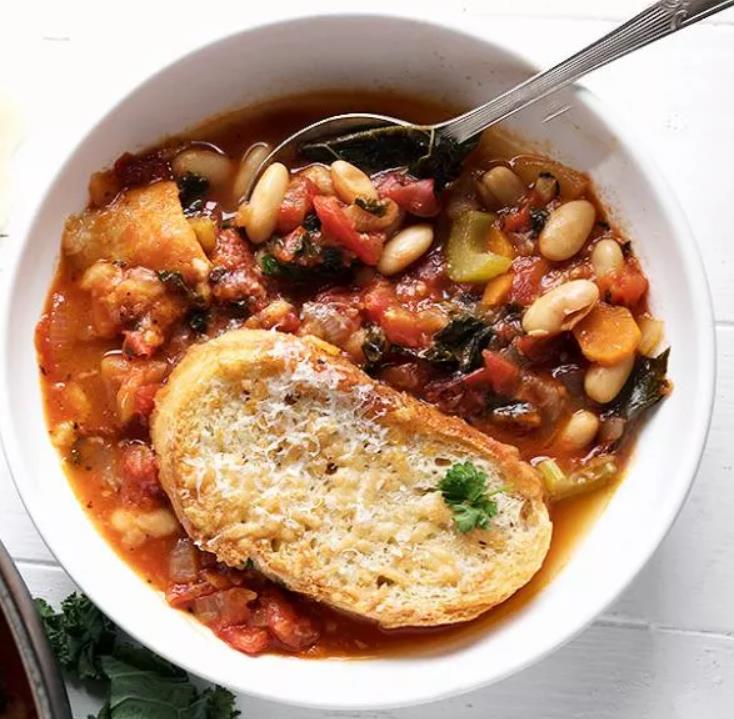 Prep: 15 minutes Cook: 45 minutes 
Servings: 6
Ingredients:
2 tablespoons olive oil
1 small onion, diced
2 carrots, diced
1 stalk celery, diced
2 cloves garlic, sliced
Half bunch of kale, chopped
Pinch red pepper flakes
28 oz. can diced tomatoes
18 oz. can cannellini beans (or white kidney beans)
4 cups vegetable broth
Parmesan rind
2 cups day-old bread (Italian or sourdough is nice)
Salt and pepper to taste
Toppings: Chopped fresh parsley, shaved parmesan cheese, drizzle olive oil
Directions:
Heat olive oil in a large pot over medium heat. Add onion, carrot and celery and cook, stirring occasionally, until softened, about 5 minutes. Add the garlic and red pepper flakes. Stir for another 30-45 seconds. Add the diced tomatoes, kidney beans, chicken broth and Parmesan rind, if using. Stir well to combine.
Bring soup to a boil, then reduce heat to medium low and simmer until the carrots and celery are tender, about 30 minutes (taste test to be sure vegetables are tender).
Cut the day-old bread into chunks. 
When vegetables are tender in the soup, taste and add a generous sprinkling of salt and some freshly ground pepper. Add the kale to the soup in two additions, stirring into the soup as they wilt. Add the bread chunks to the soup and stir to combine. Simmer a few more minutes. 
Ladle into bowls, add toppings and a drizzle of olive oil. Enjoy!
Cream of Vegetable Soup
This rich and creamy plant-forward soup is very versatile. Use up odds and ends in your fridge and create a different soup every time!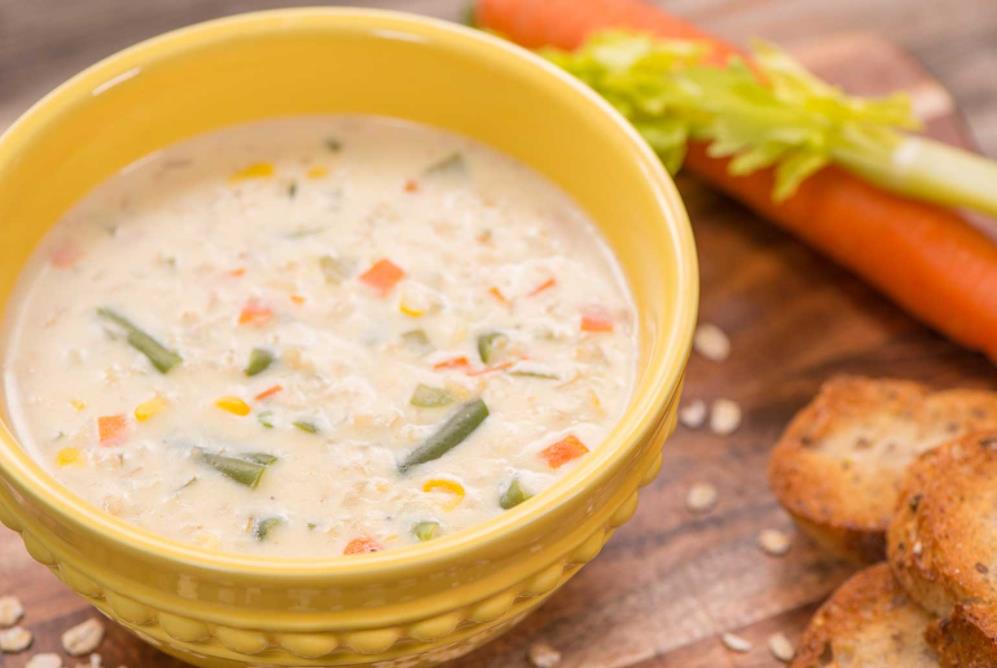 Prep: 15 minutes Cook: 20 minutes 
Servings: 4
Ingredients:
2 cups of chopped vegetables (e.g. asparagus, broccoli, carrots, cauliflower, celery, corn, leeks, mushrooms, potato, pumpkin, yam, zucchini)
3 tablespoons butter
1 small onion, finely chopped
3 tablespoons all-purpose flour
2 cups milk
1 cup chicken or vegetable broth
salt and pepper to taste
Toppings: Minced parsley, red pepper flakes, pumpkin seeds
Directions:
Melt butter in a large pot. Add chopped onion and sauté for about 5 minutes. Add chopped veggies and cook with lid on until tender (check frequently as different veggies vary in cooking times!)
Sprinkle in the flour and stir for about 3 minutes. 
Add milk and broth, stirring constantly until well-blended and slightly thickened. Do NOT boil or milk will separate.
Salt and pepper to taste.
Ladle into bowls, sprinkle with toppings, and serve with a loaf of crusty bread and cheese. Enjoy!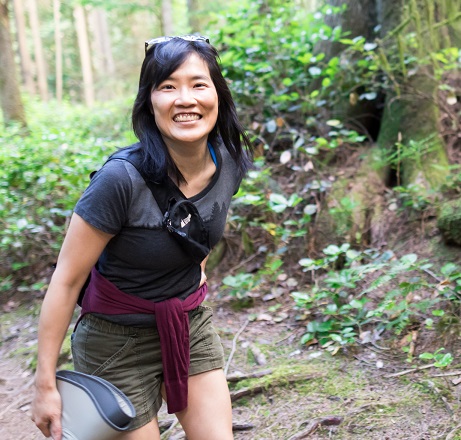 Wiley H.
A long-time North Vancouver resident, Wiley works as a technical writer and is the current newsletter editor for the North Shore Writers' Association. She spends her free time reading, hiking and discovering new things to try at North Vancouver Recreation & Culture!