Here in North Vancouver, art is all around us.  From public art pieces that surprise you to local buskers who entertain you, our community is bursting with art to explore. And one of our little treasures is the changing art exhibits at Ron Andrews Community Recreation Centre in the Seymour area.
With a variety of art pieces on display just inside the centre, the exhibit brings a small, but wonderful art show to visitors.
Here are 5 things about the art showcase that may surprise you:
It has been in the neighbourhood for over a decade.
This showcase has been contributing to the vitality of the centre, and the community, for over 10 years. In earlier times, the show featured only one local artist.  But now you can appreciate the work of two skilled artists when you visit.
It highlights local artists and diverse art forms.
There is a fabulous array of talented artists in our community. So far, the exhibit has showcased paintings, photographs, sculptures, embroidery, jewelry, wabi-sabi, and ceramic art for audiences of all ages to enjoy.
You can purchase the art!
See the perfect gift for someone (or better yet, a piece you love for yourself) at the showcase?  Simply buy your new treasure at the Community Recreation Centre's front desk. 
80% of the profits go directly back to the artist.
Purchasing locally-made art is a fantastic way to support local artists who live in our neighbourhood and invest in our community.
You have a say in the showings.
Know a local artist who would be perfect for the art showcase at Ron Andrews? Contact Programmer Sylvia Martinz (604-983-6508). She appreciates community input and is always on the lookout out for new artists and art forms to showcase.  
Art is powerful - it's important to our community and it's even good for our health. Studies show viewing art can lower our anxiety levels, help fight depression, improve our critical thinking skills and even spark happiness. So come check out this little hidden gem!
The Art Showcase is located inside Ron Andrews Community Recreation Centre at 931 Lytton Street, off Mount Seymour Parkway, in North Vancouver.  
North Vancouver Recreation and Culture is a proud supporter of Arts and Culture on the North Shore.  To learn more about North Vancouver public art including news, self-guided tours, and NVRC public art programs be sure to visit our public art page.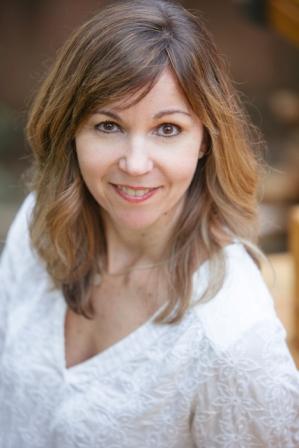 Kari is one of NVRC's bloggers and is also a busy and active North Van mom with three boys who all play hockey. 
A graduate of UBC and BCIT, she's worked in marketing and communications and now is spending more time pursuing her passion for words through storytelling and creating online content.
She is an active volunteer who loves home décor, travel, health and wellness  and watching her kids play sports.  When she's not working at her computer, she can usually be found watching Netflix or exploring the North Shore.