How the forest helped me heal.
2018 was a terrible year. Within three months I lost two of the most important people in my life.  In May, my 53 year-old husband's heart stopped suddenly while he was mountain biking, and in August my 84 year-old mother succumbed to cancer.  Even the family dog died unexpectedly.  
A tsunami of grief left me lost, lonely, and generally incapacitated.  But, with my two wonderful, young adult children living at home, and an aversion to being a victim of one's circumstances, I knew I had to move forward with my life.  I discovered this was much easier said than done.
Each day (and several times through the nights) I would be overcome with feelings of fear and anxiety.  I stopped working because I could no longer cope with the stress, and social situations sent me into a panic as I realized I no longer "fit" into the world the same way.  I also became aware of how some people reacted – with sadness and discomfort – when I showed up.  My coping strategies of alcohol and Netflix were not conducive to my goal of carrying on in a healthy and meaningful way.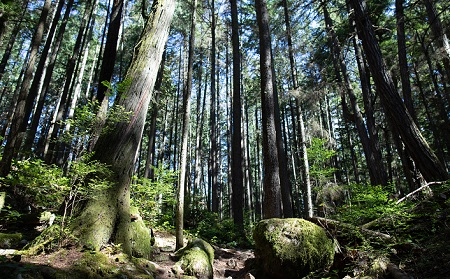 A path to recovery
It was my husband Joff who helped me move forward.  It started as a kind of pilgrimage to the place where he exited this earth, on Fromme Mountain.  We created a small memorial for him there and to visit it required a 6k round-trip hike along the beautiful trails, boardwalks and bridges, so carefully created and maintained by the awesome volunteers of the North Shore Mountain Bike Association and the District of North Vancouver.  
Within moments of entering the trail I couldn't help but start to relax.  The light shimmered green and gold, filtered through the foliage of cedar, vine maple and hemlock trees.  My lungs, too-long constricted by stress and sadness, expanded with clean, forest-scented air.  I stopped hyperventilating and found myself inhaling deeply. Without realizing it, my journey back to emotional and physical wellbeing was underway.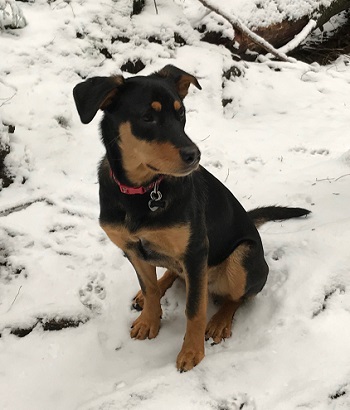 Sharing the silence
We live in Lynn Valley, where warnings of black bear and cougar sightings are common.  Having lost one parent, my kids were not thrilled at the thought of me heading off into the forest on my own.  Fortunately, my good friend and neighbour, Denise, also liked to hike.   She and my family co-adopted a rescue puppy shortly after Joff's death.  Stella, our communal dog, brought joy back into our lives and provided another good reason to head out into the forest.
Stella was high energy, and more than a match for the 13 year-old yellow lab I inherited from my mother.  So every morning, after a shorter walk with the two dogs, Denise and I would drop off Babe (the lab) and hit the trails with Stella hoping to wear her out.  In addition to sharing Stella (who alternates sleeping at each of our houses), Denise and I share an appreciation for peace and quiet, especially in the forest.  So, other than the occasional laugh at Stella's expense, we let Nature do the talking as we hiked in silence.
Natural therapy
Of course there is no such thing as silence in the forest.  The sounds of trickling water, rustling leaves, birds and other forest creatures quickly drowned out the constant tape of sadness, fear and loss that played non-stop in my head.  When I woke up in the night and struggled to get back to sleep, I would imagine the soothing sounds and smells of the forest to help me relax.  
As I travelled along the trails I could process my emotions.  The physical exertion felt good.  Denise could tell when I was angry (my pace would pick-up), stressed (I would audibly exhale), sad (I would sometimes cry) and happy (I would laugh). I could be and feel whatever I needed.  The forest doesn't judge. Fortunately, neither does Denise.
Within a few weeks, Denise, Stella and I were hiking further.  It was no longer a pilgrimage to Joff, it became more of a tribute to him and our relationship.  We explored all the trails he used to ride and talk about and soon we were hiking 10 - 15k a day.  Even winter didn't slow us down, as we strapped spikes to the bottom of our hikers and carried on through the snow and ice.
Beauty all year long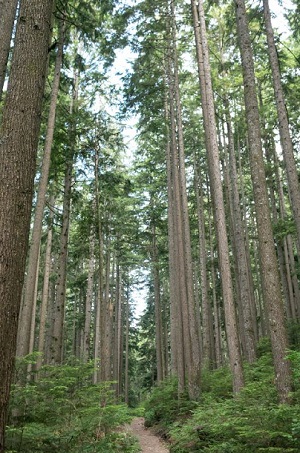 Every season brought a different type of beauty to the forest.  Incredible leaves in the fall and in the winter the ice sculptures carved by frozen creeks and drooping tree branches rivaled many of the amazing public art features that we are fortunate to have in our North Shore communities.  I couldn't help but be inspired by these amazing works of nature.
I still walk in the forest  every day and am grateful for all it continues to offer me.  Now that I'm feeling stronger, I also do other activities that help me stay healthy and connected to my broader community.  Pickle ball  and a spin class at Delbrook as well as Muscle Fusion and Essentrics classes at Cardinal Hall community centre are fun and social ways to exercise.  I've met interesting people and learned new skills.
My loss and grief will always be with me – they are part of who I am now.  But, I no longer feel defined by them as I move forward with my life in a healthy and positive way.  I think my husband and my mum are proud.  I know my kids are.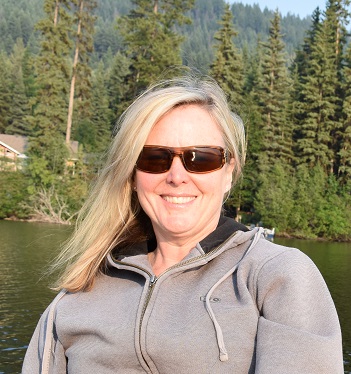 Michelle Perrault
A North Shore girl at heart, Michelle has fond memories of Saturday night skates at the NVRC ice rink (now Harry Jerome) and swimming lessons at William Griffin (now Delbrook) pool. More recently, she enjoys hiking and biking the trails of Mount Fromme and the Seymour watershed. She lives in Lynn Valley with her two adult children, two dogs and wonderful friends and neighbours.