Lesser-known gem in the rain-forest of West Van.
Never heard of Whyte Lake? Here's a short list of reasons to venture over there: Great family hike; not too tough (elevation gain 240 metres); giant old-growth trees; picturesque and tranquil Whyte Lake; and last but possibly not least--the North Shore's most luxurious outhouse! The trail to Whyte Lake is relatively short (5.5 km round trip) and in past years it has been getting busier and busier, so I recommend going early before the crowds. 
Getting There
To reach the trailhead, take the Upper Levels Highway to Exit 4 (Westport Road). Turn left at the stop sign, then follow Westport Road for a little over one kilometre as it hugs the hillside. Just after the road goes back under Highway 1, turn right into a small gravel parking lot. (There is no convenient transit access for this hike.)
As always, read North Shore Search & Rescue's list of the 10 essential items to bring hiking. Hike with others and tell someone where you plan to go and when you expect to return. 
Trailhead
The trail starts on a gravel road which passes under the highway bridge, then heads uphill. At the top of the gravel road section, look to your right for a Trans-Canada Trail (TCT) signpost marking your entrance to the forest trail.  The first section shares the TCT uphill past huge old-growth cedars and fir trees. There are interpretive information boards along the way, explaining the importance of cedar trees in Indigenous history. Cedars were referred to as the "tree of life" by First Nations peoples, who recognized their unique qualities, and used the entire cedar tree as part of their own cultural, social, and spiritual life-cycle.  
Along the Trail
The trail is easy to follow as it goes steadily uphill, with Nelson Creek Canyon to the left. Turn left at the junction for the Whyte Lake Trail. (Note: Dogs must be on leash from this point on, as the area is considered ecologically sensitive.) 
The Whyte Lake Trail is relatively new and well-marked, running parallel to Nelson Creek for a few minutes, then crossing a sturdy bridge before it heads west to follow Whyte Creek. This flatter section passes more huge trees, plus some enormous root-balls connected to trees blown-over in winter storms. Some sections also have boardwalks to protect the delicate ecosystem surrounding the trail. 
After 15 or 20 minutes you cross a bridge over Whyte Creek. Then a slightly steeper incline gets you to a sign-post marking a short side-trail to the south side of Whyte Lake, which quickly comes into sight. 
At Whyte Lake
A small boardwalk leads to a floating pier and bench. Take some pictures before you walk on the floating pier--on a windless day you can get some great photos showing a "mirror image" of the trees on the other side of the lake. And look for fish swimming around the pier.
The lake is named after Colonel Albert Whyte, a land owner and developer in the Horseshoe Bay area in the early 1900's. Around that time it was also the starting point of a logging flume that carried lumber down to near where the ferry terminal is today.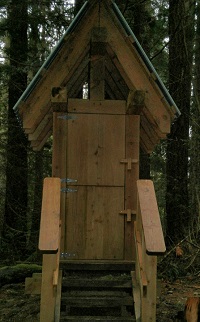 "Luxury" Outhouse
After a snack and re-hydrating, nature might be calling, so it's worth a small side trip to Whyte Lake's cedar outhouse. The wonderful smell of cedar is a natural deodorizer! 
For the return trip from Whyte Lake, retrace your steps back to the TCT, and eventually back to the gravel road and parking lot.

Mike H.

Mike Hanafin is an avid hiker and snowshoer with a passion for old-growth trees, and discovering hidden gems in the North Shore forests.
Read Mike's other hiking blogs:
Giant Trees - A Guide to Hiking to Old-Growth Trees in North Vancouver
Beat the Winter Blahs on North Vancouver's Snowshoe Trails
Great Cardio Hikes That Aren't the Grouse Grind!