Keeping up to date in the fitness industry is an ongoing effort.  This is an industry which seems to be constantly reinventing itself.  I was recently reminded of this by a colleague who had been out of the industry for 10 years, "Rob, I just don't know if I can get back into teaching fitness, everything seems to have changed".  While change may be the norm, I was also reminded recently during one of our monthly workshops at the Harry Jerome Community Recreation Centre that there are some tried and true practices that stand the test of time. 
20 Hacks to get more fitness into your life
Our workshop was titled "20 hacks to get more fitness into your life".  The list came from a website of the 20 best tips to increase your fitness.  Very few were earth shattering ideas but as my colleague and  presented to our class, one item kept coming up, and I think it's the key to ensuring a new fitness behavior sticks and doesn't become the latest exercise fad.
The suggestion that kept coming up was to make sure that the changes you make to your fitness routine are realistic and you can successfully incorporate them into your life by making them a routine.  So many of the ideas presented involved activities that we can do throughout the day - physical activities that replace inactive activities.  Riding your bike to work, taking the stairs, taking walking meetings…..  These activities do not take up lots of extra time and they are not unique events we need to plan for.  These are activities that simply create a new normal, once incorporated you will hardly notice them, they do not take ongoing coaxing. 
An activity that needs constant planning and is not done on a consistent basis is likely to eventually drop off.  A client of mine articulated this for us during the workshop, he said he made himself a rule eight years ago, he would never use an elevator if he was traveling less than five floors.  He had stuck to this new behavior and it was now natural for him, no reminders needed.  It was an easy, often time saving and consistent practice and it stuck.
Getting that extra bit more fitness into our daily lives can yield big fitness benefits.  Take some time to find a realistic activity that is easy to incorporate into your daily life and routinize it.  If you would like some advice on increasing your daily fitness our NVRC Health and Lifestyles staff are great resources, they can give you some realistic advice that will stand the test of time.  Visit our Personal Training page for more information on ways NVRC can support your fitness goals.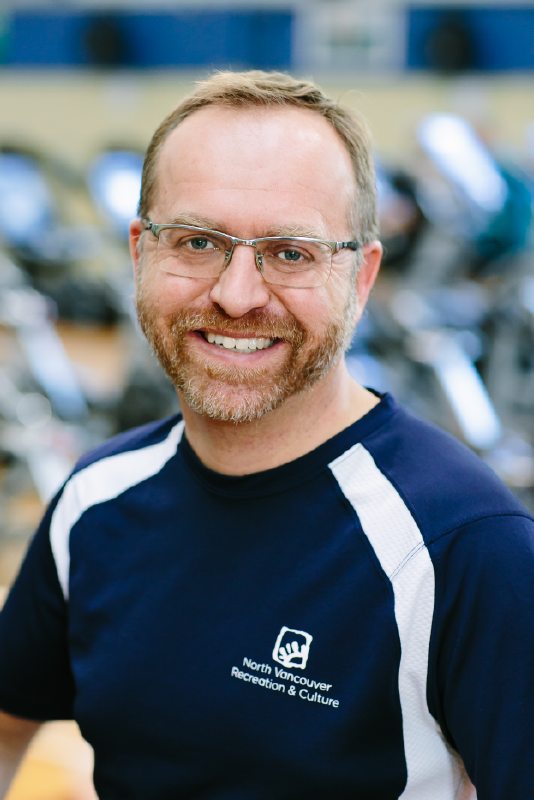 Rob W. is the NVRC's Fitness Centre Supervisor at Harry Jerome Community Recreation Centre.
He is often found cycling to work from his home on Bowen Island.