Biking is one of the most fun ways to get around. It's a great way to explore your neighbourhood or head further away to discover a new park, trail or cafe. Cycling is also an excellent way to spend time with family or friends while getting a bit of exercise. Now that the sun is out and summer is around the corner, take a bit of time to get your bike and yourself ready for a summer of adventure.
Give Your Bike a Tune-Up
If your bike has been sitting in your garage all winter, give it a quick tune-up before your first ride. You don't want to head out the door and discover your bike isn't as roadworthy as you hoped. Here are some things to do before you go:
Pump up the tires.
Check the brakes.
Adjust the seat to a comfortable height. (This is especially important for growing kids.)
Ensure that the chain runs smoothly and you can shift through all the gears.
Have kids try on their helmets to check if they still fit. (Bike helmets are required by law in BC.)
Make sure your bike lights have freshly charged batteries. (BC law requires lights after dark, but they add visibility and safety at any time of day.)
If your bike isn't running properly, take it into your local bike shop for repairs. Many shops will also help you pick out tools and supplies if you are a DIY-type.
Pack a Bag
Even if you're just going for a short ride, it's good to have supplies. It will make your ride more comfortable and keep your bike rolling along smoothly. Depending on how much you have to carry and how long you'll be riding, you could bring a backpack, a pannier or just a tiny handlebar or seat bag. Here's some gear you should bring:
Water bottle
Snacks
Mini tire pump
Patch kit or spare bike tube (Tip: Make sure your tubes are the right size for your tires!)
Tire levers for removing your tire
Bike multi-tool
Bike lock to protect your bike at stops
Sunglasses
Wallet (If you can't fix your bike yourself, you can always take the bus or a taxi.)
Rain jacket or windbreaker.
Wear Clothes That Keep You Comfortable
On a short ride in nice weather, you can bike in pretty much any clothing. For longer or more challenging rides you may want to wear quick-drying workout clothes. They wick sweat to help keep you more comfortable.
If it's a chillier day, pack a lightweight windbreaker or rain jacket. It can get really cold on a bike when the wind is blowing, especially near the ocean or when you're going fast downhill.
If you find that your butt gets sore when you cycle, consider buying some padded bike shorts. If you don't like the skin-tight spandex look, you can buy thinly padded liner shorts that go underneath your regular shorts or pants. 
Similarly, if your hands get sore, think about getting some bike gloves. Look for ones with a bit of padding. They can really help on bumpy roads or gravel trails. Choose fingerless gloves for summer riding so you don't overheat.
Ease Into More Challenging Rides
The North Shore is hilly, which can be intimidating for cyclists. Start with shorter and flatter routes, then work up to longer and steeper rides. You can use Translink's
North Shore Bike Route Map
to find bike lanes and informal bike routes in North Vancouver. If you want to avoid difficult hills, stay away from streets with the yellow steep hill icon.
Take lots of breaks. A fun idea is to pick a favourite cafe, ice cream shop or park as your destination. Once you arrive, take a snack break before heading back.
If you're really keen, you can get in cycling shape indoors before heading out on your first summer bike ride. Enroll in one of NVRC's indoor
spin cycling
classes or head to your local NVRC
fitness centre
for some quality time on the exercise bike.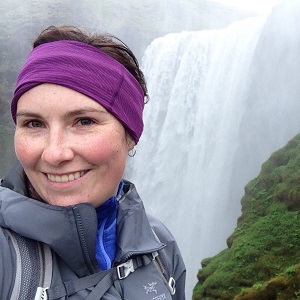 Taryn E.
Taryn Eyton is a Vancouver-based hiker, adventure traveller and blogger. You can find her on the trails of Vancouver's North Shore on weeknights and camping in the backcountry of Southwestern B.C. on weekends. Follow Taryn's adventures at HappiestOutdoors.ca.