Sacha Devoretz's journey to improved health and well-being.
Thinking about starting a fitness program? Good for you! Here's some great advice from fitness fundi and TV personality, Sacha Devoretz (Super Sacha) on how to achieve your fitness goals with a great personal trainer and a clear plan.
Sacha on getting started
I started my fitness program in September 2017 with Brian Allen at Ron Andrews Community Recreation (RA). Although I have been physically active for more than 20 years, I never really developed a fitness plan. When I met up with Brian for our first training session, we discussed what my fitness goals were and created a strategy for how we were going to get there. After our discussion, we tailor-made a clear plan with my workout goals.
This approach made it much easier for me to achieve my goals, being the very best I can be in all aspects of my life. 
Sacha on the benefits of working with a personal trainer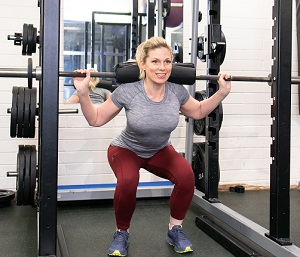 The benefit of having a trainer is that they guide you how to do a workout, move properly (think back alignment) and also act as someone that can hold you accountable. 
Because I love cardio, I am sometimes tempted to skip my weights workout and do extra cardio instead! However, I know that Brian will see one less set of check marks next to my weight training schedule and realize that I have missed the weights section of my workout, and this gives me the motivation to just keep on going.
Having Brian on this fitness journey with me has been a huge motivator. I feel like someone else believes in me and sees my vision of what I can do too.
Brian and I have also had a positive impact on others at (RA). People have told me how we've inspired them since they can see what I have accomplished and the potential for them to achieve their own goals.
Sacha's personal trainer on her fitness program
"What really makes Sacha such a great client to work with is that, when we plan what she should be doing workout-wise outside of our sessions together, she does it!" says personal trainer, Brian Allen at Ron Andrews.
"Sacha isn't afraid to work hard and takes every aspect of training seriously. From weight training workouts, to the cardio and nutrition, Sacha follows her plan diligently. She keeps a training journal and I know it's being done properly, as I see the progress when we reconnect every four weeks."
"Sacha is an inspiration to me and others. I believe that whatever the mind can conceive and believe, it will achieve. Hats off to Ms. "Super" Sacha Devoretz for making my job fun, easy and enjoyable!" concluded Allen.
Sacha on how this experience changed her life
This has been a truly transformational journey for me. In the past 14 months I have lost more than 20 pounds and feel so positive and energized which is very fulfilling. I have made great progress as a person and in my life since I started weight training and working out.
I have accomplished more physically and mentally with my career goals now than ever before. The biggest overall benefit of my training program is how it has helped me be stronger when I am running or cycling. I love that I can ride home so much faster now!
To see what I have accomplished so far and how my body and life have gone through a complete transformation keeps me motivated and inspired. I know that there is much more that I can achieve as I become much stronger in all aspects of my life.
Sacha's advice…
My advice to anyone getting back into fitness is, not to compare themselves to anyone and try one new fitness activity a week. Slowly add fitness back into your life - one day a week and then after 3 weeks add a second day. Always look forward; this is a lifelong journey. Find activities you enjoy at your local community recreation centre. You can check out the NVRC's website for lots of ideas!
Sacha on being grateful
I am grateful to the staff at Ron Andrews staff and other NVRC centres for being so kind and friendly, while providing a safe community space for everyone to be active, healthy and have fun!
Find out more about personal training, fitness and other inspiring stories on NVRC's website.