Cooking has never been my favourite activity but this summer I decided to put a bit more effort in. In the spring my family and I planted a few different things that we hoped would do well in our climate. We planted a variety of lettuce, tomatoes, and basil. Now this may not seem like a lot, but there are so many amazing meals you can use these plants in. My favourite being pesto with tomatoes tossed in. 
Now you do need a few other items from the grocery store but I know personally, that when I am using materials that I grew and take care of I am more inspired in the cooking process. 
Here is my favourite pesto recipe:
BASIL PESTO
Ingredients
2 cups fresh basil leaves, packed tightly 
1/2 cup freshly grated Romano or Parmesan-Reggiano cheese (about 2 ounces)
1/2 cup extra virgin olive oil
1/3 cup pine nuts 
5 garlic cloves, minced 
Cherry or grape tomatoes 
Salt and freshly ground black pepper to taste
Special equipment needed: A food processor
Method
Put a pot of water on the stove to boil pasta (best is spaghetti or rotini) 
Put tomatoes on a baking sheet with olive oil, 1/3 of the chopped garlic, a pinch of chopped basil, and salt and cook at 400 degrees Fahrenheit for 10 minutes or until the tomatoes start to split. While that is in the oven prepare the sauce. 
Place the basil leaves and pine nuts into the bowl of a food processor and blend for 1-2 minutes.
Add the garlic and cheese and blend another 1-2 minutes. After this step you may need to use a rubber spatula to scrape down the sides of the food processor to make sure everything mixes evenly. 
Slowly add the olive oil in a steady small stream while the food processor is still running. This will help the olive oil combine better with the other ingredients. Just like step 2, occasionally stop to scrape down the sides of the food processor.
Stir in some salt and freshly ground black pepper to taste.
Add pasta to boiling water (follow cooking directions on the box)  
Toss with pesto sauce with the pasta, and add tomatoes
On the side, I like to make a big green salad with the lettuce from my garden. I typically would put in bell peppers, sliced avocado and other vegetables and fruit that are in season and dress it with olive oil and vinegar. 
If I am feeling extra fancy I will pop a loaf of focaccia bread in the oven to have with the pasta. What's better than some delicious bread to soak up your extra pesto sauce?
This is the perfect summer meal that everyone will enjoy!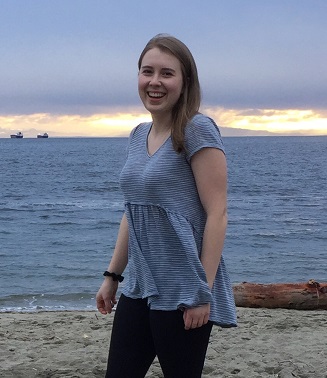 Cassie B. 
A native of North Vancouver, Cassie is in her final year of the Communications Program at Capilano University. While completing her degree, she has been working for 93.7 JRfm and 102.7 THE PEAK radio stations and been an active volunteer in her community.  Cassie loves living in Lynn Valley, surrounded by nature yet close to the City.