Working in recreation, we often come across inspiring stories of people who experience positive changes in their lives. And the story of Anoush is one that touched many of us deeply.
Here is Anoush's story...
Nine years ago, Anoosh was an active person and successful business owner.  Then suddenly his life changed at age 40 when he was diagnosed with Multiple Sclerosis.  Within a year he lost the full use of his legs and was using a wheelchair to move around.  He spent the next eight years quite isolated in his home spending most of his days sitting on the couch, dreaming of being able to walk again.  
In 2016, Vancouver Coastal Health staff met with Anoush and recommended he visit the Joint Replacement fitness class at Harry Jerome Community Recreation Centre.  Although intended for those recovering from joint replacement surgery, the class has also helped many people with other chronic conditions including arthritis and Parkinson's.
Joining the Joint Replacement Program
In the summer of 2016, Anoush started attending the class twice a week.  Though younger than many of the participants, he immediately felt comfortable with the kind group of people who teased and encouraged each other during their workouts. And the instructors helped him a lot.  NVRC staff kineseologists Jonathan and Rob worked closely with Anoush to develop a series of exercises that would begin to rebuild his muscle strength.
Taking his first steps
In December 2016, after only four months of exercising twice a week, Anoush rose from his wheelchair and took his first steps while hand in hand with his instructor Jonathan.  The other participants were overcome with emotion to see Anoush walking; many broke down in tears. Rob Wynen, the Fitness Centre Supervisor said, "It's an amazing step for Anoush and now his goal is to further build his strength and eventually be able to walk unassisted."
Anoush admits he never would have been able to have come this far without the help of the instructors and other participants in the Joint Replacement class.  "It is such a good, positive environment with good people who give lots of encouragement – I never would have been able to change like this by myself."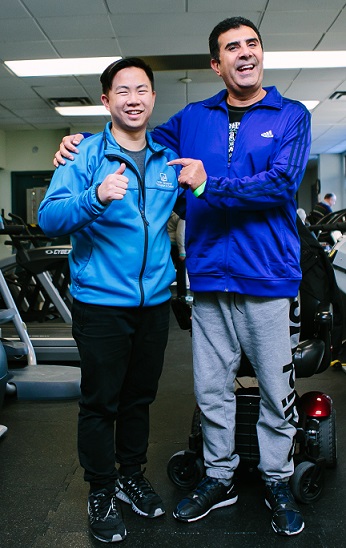 Advice for others
When asked what advice he would give others who face health challenges, Anoosh responded, "Just be positive, don't give up. Exercise and keep going,"
For Anoush, his dream to one day walk again has become a reality.   All of us at NVRC wish him all the best as he continues on his journey and we look forward to continuing to see him twice a week at Harry Jerome.
Health Management & Rehabilitation Programs
North Vancouver Recreation & Culture offers a number of health management and rehabilitation programs and services including Joint Replacement, Stroke Rehab Aquafit, Arthritis Management (land and water), Parkinson's Specific Aquafit and classes for those with Osteoporosis.  Find out more.