I am the proud parent of a highly sensitive five-year-old child. She's often referred to as a firecracker. Frequently, her explosions are joyful, colourful, and sparkling - magical to witness. On the flip side, they can be volatile and heartbreaking to watch. She experiences the full emotional spectrum. This is both a blessing and a challenge (my husband and I focus on the blessings as much as possible).
The Challenge of Structured Classes
Unsurprisingly, recreational activities have been hit or miss. We've signed her up for dance classes at her request and ended up not being able to make it past one class. Parents watching made her nervous; clothing caused her to become upset (she struggles with sensory issues); the structure was too much pressure; someone else got the coloured streamer she wanted and so on.  Extra activities proved to be just too overwhelming for her.  Plus, it's hard to kiss money goodbye on a class your child attends once. For these reasons, we took a recreational sabbatical.
Getting Ready for Kindergarten
Last summer, with kindergarten looming, I was feeling a heady mixture of dread and anticipation. Screen time seemed to be the only thing that kept my daughter calm.  But fall showed its face and something magical happened. The combination of an amazing school and a lovely, empathetic teacher added up to a BIG change in my child. The emotional outbursts were still happening, but to a much lesser degree. It was a heartening relief.
When a flyer came home in her backpack advertising an after-school dance class, my daughter responded positively. She wanted to participate. I spoke to the instructor, asking questions about the type of class, the expectations, the structure, and came away feeling like this was a flexible, free-spirited class that just might be a good fit. So, cautiously optimistic, and always willing to try again, I signed her up. 
Finding the right "Recreational Fit"
She's just completed her fifth class, and she is excited to go experience these classes. When I pick her up, her cheeks are flushed and there's a happy, relaxed grin on her face. She's exhausted in an "I-just-let-off-a-lot-of-steam-in-a-healthy-and-productive-manner" way. I recently sat in on a class. My child was in bare feet (footwear is her nemesis), running laps around the gym, and peals of laughter were escaping from her busy little body. It was 'free dance" time, when attendees can do their own thing. When it was time to focus and practice the class dance routine, my firecracker snapped to attention and followed each move.
A New Attitude
I am proud of her progress. She's learning to listen, to focus, to accept things as they are, and that she can't always have her way. I watched in amazement as another kid cut in front of her in line, an offense that previously would have caused a meltdown. I prepared for an explosion, but she simply said "It's not polite to cut in line." This new attitude has even begun to spill over into our home life. She is listening more, she is regulating her emotions more and she is initiating dance sessions with her more-than-willing parents. 
Learning to Be
I've gathered some important information from my child by asking questions about her dance class experience. In her own words, class makes her "really happy and then really tired, but not bad tired."  She likes it because "it's fun and I get to be me." Let that sink in - she gets to be herself. That's why this class works. She can have bare feet and express herself in free dance. At times, she's expected to pay attention, but there isn't the pressure or rigidity that can come with many dance classes. 
Benefits of Recreation
Highly sensitive children can enjoy many benefits from recreational activities. Recreation releases stress and burns energy in a positive way. It's a great outlet for kids to express themselves with their bodies. This class provides my child with an effective coping strategy for her emotions, plus a very healthy and fun workout. So if your child is highly sensitive, and you're unsure if their boundaries will let them experience recreation, take heart. It's a matter of finding what makes sense for your child, that perfect fit. Talk to teachers, instructors, other parents. And once you do, you'll see the payoff of the trial and error. Those flushed cheeks, a sleepy, contented grin and a calm evening are all the kind of medicine that is a thousand times more powerful than any app or any screen I've ever seen.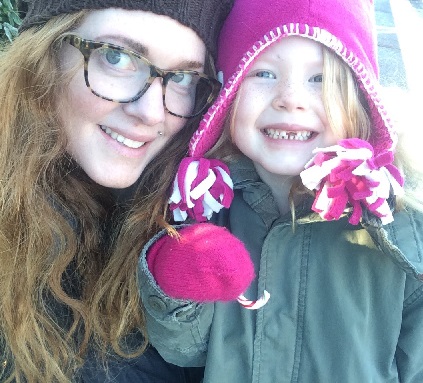 Stephanie E.
Stephanie  is a professional writer and photographer residing in North Vancouver with her husband and five-year-old daughter. She grew up in Ontario, but considers British Columbia to be her true home. Having attended the journalism program at George Brown college in Toronto, Stephanie's writing career has included music journalism works with the likes of Canadian Musician Magazine and Professional Sound Magazine, and she has written blogs and content/copywriting for various fashion, beauty and lifestyle publications and brands around the world.
Stephanie owns The Imperative Image, an affordable photography service for professionals. As a wellness advocate and a proud North Shore resident, Stephanie is thrilled to contribute to the NVRC Active Living Blog.