Give yourself some credit, everyone, we made it through another tough Canadian winter - tough for more than a few reasons.
While some parts of our great nation are still dealing with less-than-ideal forecasts for the next couple weeks (we're looking at you, Eureka, NU, where it was minus-33 degrees last week), spring is officially here for the rest of us. That's right. Those 'it's too cold outside to get active'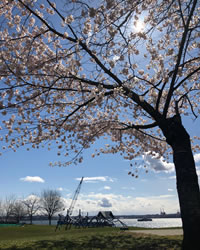 excuses aren't going to fly anymore.
Sure, it might be trickier to get out and about these days than we're used to, but spring is here and summer is just around the corner, so it's the perfect time of year to set some healthy active habits for once things finally get back to normal. 
It's not always easy to get, and stay, motivated to be physically active when you're stuck inside. But we're through the thick of it now in terms of nasty weather, so it's time to start planning ahead and get moving. 
Clean-up a lot more than just your home
The time has come to 'spring clean' your inactive routines and be as active as you possibly can. Regardless of what's happening in the world right now, it's important that both adults and children work toward hitting national guidelines for physical activity in order to stay happy and healthy - even if that means only moving a little bit each day.
You still probably want to tackle that massive pile of leaves that's been around since Halloween, declutter your bedroom closet, or deal with those clogged gutters you've been avoiding, but your spring cleaning shouldn't end there. Check out the following ways you can swap the inactive routines you developed over winter for fresh, active ones:
Unplug to feel charged up - It might seem like a really simple thing, but just take a look around: people are glued to screens everywhere you look, especially given the situation we are currently in and  the weather still less than optimal.

However, now that things are starting to thaw out a bit, pull the plug on your tablets, TVs and phones for a little while (we know you'll eventually plug them back in) and get moving instead. Reap some of the awesome benefits that physical activity has to offer – such as increased focus, improved mood and boosted energy – and leave the technology at home for a bit.

Alternatively, you can try creating morning and evening routines that don't involve screens at all. Lead by example and the kids will follow.

Soak up some natural vitamin D - Unless you were part of the lucky few that get to retreat to warmer climates during our winter, you're likely a part of the two-thirds of Canadians who don't get enough Vitamin D; a vitamin that is critical to promoting and maintaining strong bones as well as supporting the growth of healthy infants (to name a few of its many benefits). 

Luckily, the sun gives this stuff away for free. Even walking along the sidewalk in your neighbourhood or doing laps on your balcony will do! You don't have to be a high-performance athlete or run marathons to enjoy the benefits of being outside, such as feeling more relaxed and less stressed. Just be sure that when you take your movement outdoors,  you're respecting current public health guidelines and maintaining a two-metre bubble around yourself and those around you.

Optimize your sleep - You've probably been hammering that snooze button a lot more frequently over the cold weeks than you usually do, right? Maybe self-isolation has your sleep schedule out of whack? The good news is that you're not alone. It's natural to want to spend more time in bed snuggled under blankets when the weather is rough, but those days are done, for now.

Practice these sleep tips and set that alarm a bit earlier in the morning. Use the extra time in the a.m. to sneak some activity into your day. Morning yoga session, anyone?

The backyard could probably use some love - We already mentioned that ominous-looking pile of leaves before, but that's probably just scratching the surface when it comes to all the yard work you have in front of you over the next few weeks. Instead of putting it off or spending a serious chunk of change on landscaping, clock some active minutes and get that sweat pouring by getting your hands dirty in the garden. In addition to working some physical activity into your day, you'll save cash at the same time. A win-win!
While it is important to be physically active every day, all Canadians should follow their respective public health authority recommendations. The above is considered, to the best of ParticipACTION's knowledge at the time of publication, to align with Canadian public health recommendations. Changes in circumstances after the time of publication may impact the accuracy of the information.
Posted with permission from ParticipACTION. Read more of their blogs here.