This might be a difficult blog to read, but it is an important one that affects the well-being of our community. It is about the pervasive problem of anti-Asian racism that is devastating lives and communities across Canada and the world. We all have a part to play in fighting this ugly problem. If we wish to live in an inclusive comm-unity, it is up to each of us to stand for diversity and act against racism. Here's how.
Difficult but necessary 
As someone who usually writes about the wonderful people, activities and spaces that bring our community together, I hesitated to write this article. Like many Canadians, I find it difficult to address racism. However, the Covid-19 pandemic has revealed the pervasive problem of xenophobia and racism in our country. Anti-Asian racism in Metro Vancouver has surged in the past year. In Vancouver alone, hate-motivated crimes against Asians increased by over 700%. And those are only the reported cases, which are estimated at ten per cent of instances that range from racial slurs to spitting on people, to physical attacks. The targets of these attacks are often our most vulnerable – women, children and seniors.
Obviously, silence has not worked. Being polite and quiet does not stamp out racism. While Asian-Canadians owe immense gratitude to our Asian forebears as newcomers to this country who toiled under tremendously racist policies and conditions, it is time for us to speak up and be visible. It is time for all Canadians to stand up against racism. 
Meet Dr. Gina Wong, Founder of the Asian Gold Ribbon Campaign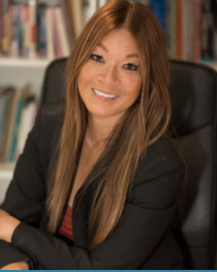 Dr. Gina Wong is a Psychologist, Professor, and Program Director in the Graduate Center for Applied Psychology at Athabasca University. She is also the Founder of the Asian Gold Ribbon Campaign which kicked off this year. More than just a movement, it is a passion project.
"This issue is very personal to me," explains Dr. Wong. "I have been deeply affected by anti-Asian racism." The alarming rise in anti-Asian racism over the past year impelled Dr. Wong to act for social change. As a result, the Asian Gold Ribbon Campaign was born, with the goal to raise and sustain awareness of historic and current anti-Asian racism, help communities stand in solidarity against racism, and to inspire a sense of pride in Asian heritage and culture. 
As a racialized Asian, Dr. Wong grew up in Montreal in a neighbourhood where hers was the only Chinese family. She remembers being kicked, pushed, and called racist slurs, and then as she grew older, being sexualized. "I went from being spit on to being hit on. As a little girl growing up, it really affected my sense of self-worth. I internalized the racism and considered myself less than. Unfortunately, my experience of invisibility and cultural erasure is far too common." 
Dr. Wong says the impact of racism on mental health is devastating, "Victims of hate crimes often suffer from depression, anxiety, post-traumatic stress disorder (PTSD), hyper-vigilance and surveillance. Because they don't feel safe." 
How to combat racism
"We cannot afford to be complacent and silent anymore," says Dr. Wong. "It is up to all of us to educate ourselves about the issues and to understand the unconscious biases that exist in all of us. We need to call out racism and to model for our kids respect for other cultures."
Dr. Wong believes it's vital for Canadians to educate ourselves on the social and historical context of racism in this country, including Indigenous, Black, and other racialized minorities. "The history of racism in this country is longstanding. We need to understand that in order to move on to becoming a more inclusive and equitable society."
And, we need to act against racism. Here are some suggestions:
Reflect on your own experiences and racial biases. Be honest - how do you act (or not act) when no one is looking? Be compassionate. Be vigilant. This is one of the most important journeys of our time.
Listen to other people's stories if they volunteer it. Understand it might be triggering for racialized people to have to keep repeating what happened to them or defending how they feel. Be gentle and be kind with your questions.
Model compassion for our children. Talk to our kids about racism. Here's a great video with Dr. Wong on Anti-Asian racism in Canada: How to have open conversations with kids.
Have honest discussions about racist biases and experiences with family, friends, neighbours.
Recognize that racist jokes are hurtful. Don't perpetuate Asian stereotypes. Learn about the damaging model minority myth. 
Amplify community voices. Celebrate Asian diversity during May Asian Heritage Month and all year-round (e.g., watch Asian shows, read books by Asian authors, enjoy different Asian cultures).
Support Asian-owned businesses.
Speak up against racism and micro-aggressions. If you witness a racist act against someone, intervene if it is safe for you to do so. This can include distraction, calling for help, calling out the racism, and supporting the victim by asking them if they're okay.
If you're racialized, speak up and be visible. Teach our children self-respect and respect for other cultures. Report all hate crimes to police.
Participate in Asian Gold Ribbon Day on Thursday, May 20, 2021! 
Asian Gold Ribbon Day – May 20, 2021
Stand in solidarity against anti-Asian racism by wearing a yellow ribbon or Asian Gold Ribbon Mask on May 20th. Why gold? Dr. Wong explains that gold was chosen as a way to reclaim the colour yellow that was used against Asians ("Yellow Peril") and to elevate it for a sense of pride in Asian heritage and culture.
If you are on social media, post a selfie on social media by tagging @asiangoldribbon and the hashtag #asiangoldribbon. 
Join a webinar to discuss your experiences and share your concerns and ideas for change. Planned sessions include a Let's Talk discussion panel plus a Youth Summit. Information and registration for these free events can be found at Asian Gold Ribbon Day | 亞洲金絲帶日.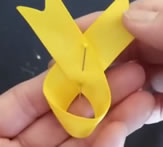 Here's a DIY tutorial to make your own gold ribbon  
High-quality cotton, Canadian-made masks are available in 9 colours for purchase at commUNITYmasks.ca 
"I'm proud to be Asian. I'm not sure I could have said that before," Dr. Wong says, reminding us that fighting racism, both internal and external, is ever-evolving and challenging work. It is also emotional work that takes time, patience, and consistent action to eradicate. But it is necessary work if we hope to create a truly inclusive and diverse community that is safe for everybody. 
Additional information:
Asian Gold Ribbon campaign
Global News: Horgan 'deeply' troubled by 717% increase in anti-Asian hate crimes in Vancouver
TVOntario: What's Behind the Rise of Anti-Asian Racism? 
The Conversation: The model minority myth hides the racist and sexist violence experienced by Asian women
NVRC related post: Wrapping my head around systemic racism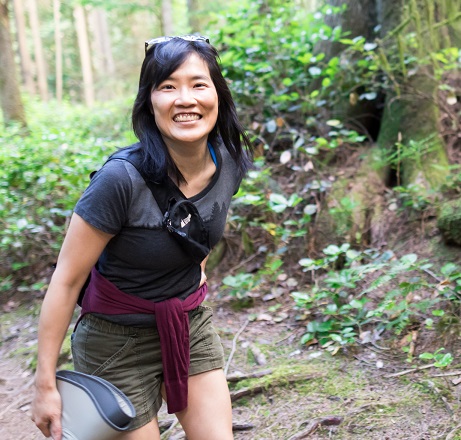 Wiley Ho.
A long-time North Vancouver resident, Wiley works as a technical writer and is the current newsletter editor for the North Shore Writers' Association. She spends her free time reading, hiking and discovering new things to try at North Vancouver Recreation & Culture!