My son Bennett is full of beans. He's always pacing the living room, turning lights on and off, opening and closing the refrigerator, fiddling with objects on the coffee table, or playing chase with our dog around the kitchen island. Bennett has autism and expending energy inside the house is one way he self-regulates (keeps his emotions and behaviours in check).
Of course, these habits drive everyone else a bit crazy, so we encourage him to keep active in more appropriate ways.
Exercise has been shown to reduce aggression and stereotypical "stimming" behaviors (e.g. hand flapping and spinning) in children and adults with autism. It's also been shown to increase focus and improve coordination, balance and strength—areas where children on the spectrum can lag behind. 
Read the study
.
When Bennett goes for a long walk, rides his adapted bike, jumps on the trampoline or swims, he returns calmer and ready to learn or just be. Over the years we've tried everything from therapeutic horseback riding to adapted skiing and have zeroed in on activities that he likes and that offer the right support. Here are some tips for getting started.
Choose the right environment
Is your autistic child a sensory seeker or a sensory avoider? If it's the former, he or she will love lights and noises and won't be fussed by all the splashing at a public pool. If it's the latter, he or she may prefer a quiet, controlled environment like the one at your local dojo.
Choose the right activity
Some parents swear by martial arts for their child with autism, but Bennett's lack of focus and coordination prevented us from even trying. Instead, we chose sports he enjoys, such as swimming, and took a chance on activities based on his interests (he loves all animals, including horses, so we tried riding). We also chose activities we enjoy and can partake in as a family, such as hiking and skiing.
How much support does your child need?
Some activities provide 1:1 support, such as adapted skiing. The
Whistler Adaptive Sports Program
, for example, runs private alpine ski and snowboard lessons for children with sensory or cognitive challenges such as autism, and pairs them with up to three instructors depending on need. 
If the program doesn't quite have the support you're looking for, consider hiring an aide to support your child—most recreation centres, including North Vancouver Recreation & Culture (NVRC) facilities, will accommodate a support worker to participate with your child at no extra cost. The NVRC also offers
adapted swim programs
and private swim lessons for children with additional needs. During the summer, NVRC runs summer camps and offers some
support options
for children with disabilities. 
Canucks Autism Network (CAN)
Bennett has had a lot of success in supported swim classes and ice-skating lessons offered by the
Canucks Autism Network
. The organization runs quite a few sports and culture programs in the Vancouver area, at low cost, from gymnastics to music, and typically provides 1:1 support. What's more, the NVRC partners with CAN to hold a weekly s
ocial gathering for teens and young adults
with autism.
You can't go wrong with nature
Author Richard Louv coined the term "nature-deficit disorder" in his book, The Last Child in the Woods, which talked about the developmental benefits of spending time in the great outdoors. Running or riding a bike outside, building a fort, playing tag in the backyard, or jumping in piles of leaves, is more than just good exercise. Research shows all children benefit in multiple ways beyond physical activity—being physically active outdoors reduces stress, improves focus, helps build social skills, reduces ADHD symptoms, supports decision-making and executive function, and inspires creativity and problem solving. Bennett loves getting outside for hikes and walks; even just spending time in the backyard swinging or hanging out with our flock of backyard chickens helps keep him grounded.
We've supported Bennett with physical activity since he was little and it's now a welcome part of his daily routine—even at school! He definitely benefits from all the fresh air and exercise, and since many of the activities get the whole family moving, it's good for everyone.
Sources: 
Lisa K.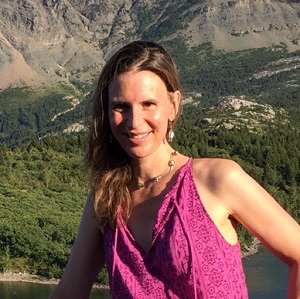 Lisa is a B.C.-based journalist who writes about health, parenting, travel, outdoor adventure and cocktails. Formerly a lifestyle reporter at the Calgary Herald, she is now a freelance scribe for a variety of publications including WestJet Magazine, Best Health, BCAA Magazine, Today's Parent and Just for Canadian Doctors/Dentists, as well as Postmedia newspapers.