Adventurous play – unstructured play that involves some risk – is essential to every child's well-being. It helps children learn, develop and grow their understanding of their own abilities. 
Play is learning
"Children learn as they play. Most importantly, in play children learn how to learn."   - O. Fred Donaldson
We all know this scenario: when a young child falls down and scrapes his knee, he will look for the reaction of his parent (or supervising adult) and match their reaction. If the adult doesn't overreact neither will the child. Most likely he will get up, brush himself off and charge on, having learned a little bit more how to avoid that bump in the road or negotiate that tree root the next time. Being exposed to adventurous play trains the child's ability to make sound judgement and develops physical literacy (see the importance of
physical literacy
).
Benefits of adventurous play
"The playing child advances forward to new stages of mastery." - Erik H. Erikson
Adventurous play is sometimes called risky play. It is defined as thrilling and challenging forms of play that involve a risk of physical injury. Each time a child has a minor accident, learning and adaptation happen. The benefits of adventurous play are numerous. Challenging play:
Promotes independence and problem-solving
Provides direct experience of cause and effect (natural consequences)
Develops coordination and bodily control
Boosts self-confidence and emotional resilience
Promotes self-regulation
Reduces stress and fears
Satisfies natural need for challenge and thrill
Adventurous play is vital for well-being
Since the 1950s we have seen a continuous decline in children's opportunities to engage in free or unstructured play – the kind that is child-initiated where the child chooses what to play, how to play, with whom to play, where to play, and for how long to play. In free play, kids learn to regulate themselves, make up rules and solve their own problems. 
Today kids spend the majority of their play time in structured play – arranged play dates, classes and adult-supervised playground time. Studies show there is little time spent in nature, simply wandering and exploring. Some report the greatest risk kids now encounter come from playgrounds (which are designed to minimize risk).
It shouldn't come as a surprise that with the decrease in free play, there has been a dramatic increase in childhood physical and emotional problems (obesity, diabetes, anxiety and depression). This is a worrying trend many child psychologists attribute to the lack of opportunity for free or adventurous play, which has greatly reduced opportunities for kids to learn how to handle physical obstacles and master their own negative emotions (fear and anger) in challenging situations.
Fortunately, the pendulum is swinging back. Parents, caregivers and educators are increasingly more aware and supportive of the need for adventurous play. The best kind of challenging play balances risk with reward, and involve the following elements:
Freedom to truly play – kids set own rules, exercise self-regulation and problem solve on their own
Opportunity to explore – different settings and environments stimulate learning and growth
High awareness/Low intervention from parents and caregivers – adults lend guidance and support, but step in only when there is real risk for serious injury
NVRC promotes adventurous play
North Vancouver Recreation & Culture (NVRC) promotes adventurous play and summer camp and playground program leasers receive special training in this area. Leaders are trained to provide guidance and support so children can develop their life skills, autonomy and resiliency. They provide experiential learning (learn by doing) and create environments that are child-centred and encourage learning and stewardship of public space.
Ten examples of adventurous play activities 
Tag on a climbing structure - example: Grounders ("It" has eyes closed and can tag people & call out grounders.  Anyone on the ground then becomes "It". Sort of like Marco Polo in the Pool)
Swinging on ropes/tying knots with ropes – example: creating a web and climbing through without touching
Buddy Burner cooking – example: use a Buddy Burner to toast a sandwich
Fencing with sticks
Sardines: a variation of Hide & Seek.  One person hides and then the others seek.  Once they find the "sardine" the players sit together until everyone has found them.
Flamingo Tag: in a confined area, participants stand on one foot and try to knock each other off balance.  The participant to remain on one foot the longest wins
Races in confined spaces: i.e. Duck, Duck, Goose and Pip, Squeak and Wilbur
Climbing a tree/large rock & jumping from a height
Building structures: using scissors, rope, wood, etc.  Example: musical instruments, forts, giant gadgets (tri-pods, ladders, etc.)
Hiking over the suspension bridge, on rocks on the shore, stepping stones in a low creek
Sources and suggestions for further reading on the benefits of risky play: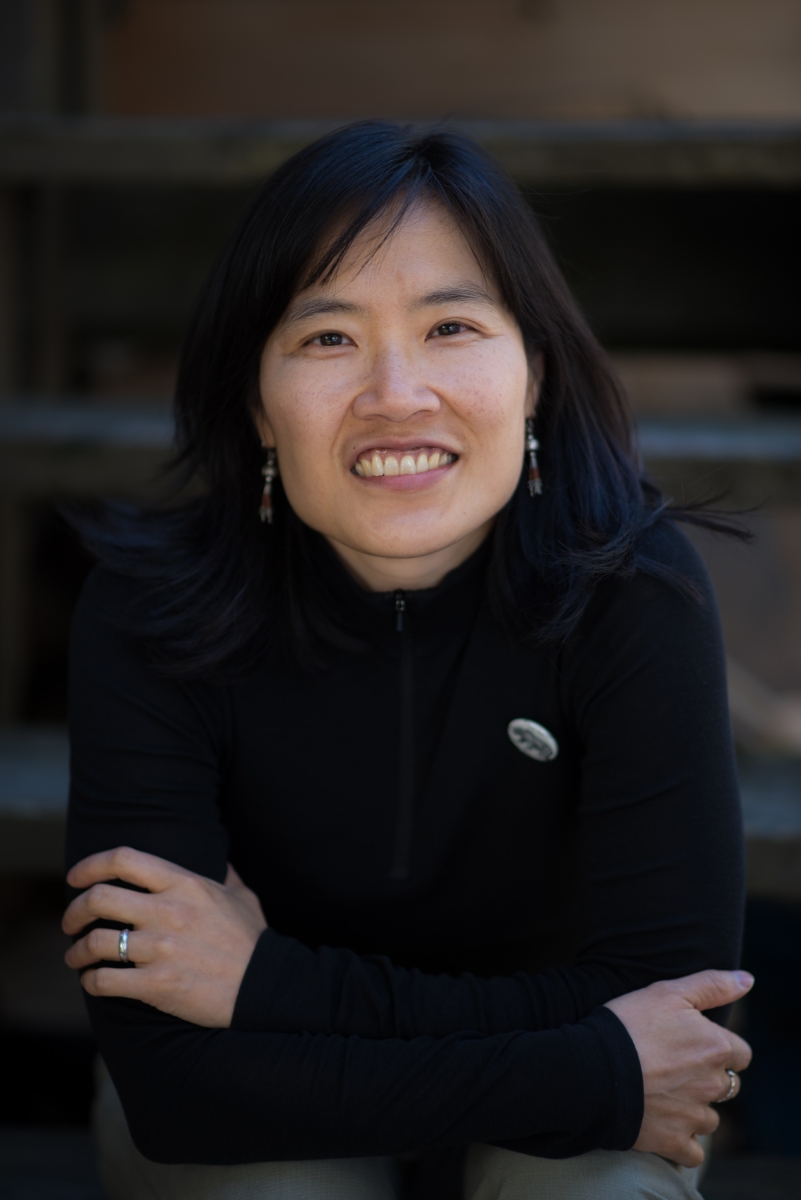 Wiley H.
Wiley is a long-time North Vancouver resident. She works as a technical writer and is the current newsletter editor for the North Shore Writers' Association. She spends her free time feeding her twin passions of creative writing and hiking. She recently discovered a potential third passion - the pottery studio at the Delbrook Community Recreation Centre.