I've been meaning to do an update on my previous blog on Spin Class for some time. Having hiked regularly last summer, my heart and lungs felt in good shape but my knees needed a break. Keen to maintain my cardiovascular fitness and avoid overuse injury, I headed indoors for a noon-time spin class at Harry Jerome's newly renovated Spin Studio. 
Harry Jerome's newly renovated spin cycle studio
The spin cycle studio at Harry Jerome was given a facelift in 2019 with newly painted walls, new flooring and instructor platform. The biggest upgrade, though, is to the equipment. New Schwinn bikes, which the staff call the "Ferrari of spin bikes", have replaced the old ones and come equipped with easy adjustability for riding position, sturdy dials and precise measurements of your workout (e.g. average power, RPM and calories expended).
 
The 45-minute interval training energizer
Spin class is a high intensity workout that incorporates interval training. Interval training is hard work and uncomfortable. But it's uncomfortable for a reason – it is built upon alternating short, high intensity bursts of speed with slower, recovery phases throughout a single workout. This pushes the body to work harder, process more oxygen and recover faster. And it yields amazing results for your cardiovascular health and fitness. 
The spin bike adjusts to anyone's current fitness level and the instructor puts you through a series of timed drills, increasing and decreasing intensities for the entire session. 
When I exercise by myself, I tend to cheat when I get tired. But, in a class where the instructor shouts out "C'mon, dig deep! Earn your lunch!" and everyone around you is cranking hard, you tend to rise to the challenge. The driving beat of the loud music helps to spur you on too. The 30-30-30 drills (spin fast, out of the saddle hill training, recovery) keeps you moving continuously, so the sweat drips fast and the endorphins race.  
After just 45 minutes, I was bathed in sweat and feeling amazing. According to my bike computer, I had burned 450 calorie and averaged 160 watts. Not bad for an intermittent spinner, but overhearing the regulars note their average power in the 200s encouraged me to reach for new fitness targets. Instead of the midday doldrums, the class invigorated me for the rest of the afternoon. 
Benefits of spin fitness
Spinning has become very popular among fitness enthusiasts. And for good reason. The many benefits include:
Cardiovascular fitness, endurance and speed 
High intensity workout with low impact to joints
Setting your own pace while enjoying a ride with other class participants
Core strengthening  
Maintaining or enhancing your cycling fitness no matter the weather outside  
Great cross-training and performance enhancer for other sports
Interval training burns more calories and fat (up to double) than a continuous training workout
Interval training works for all fitness levels to improve speed, power and performance  
Combats workout boredom – each class combines different mixes of drills 
Easy drop in – there are morning, afternoon and evening classes available
Time-saving! Spin classes are very effective at packing in high intensity workouts in a short amount of time.
Incorporate spin into your fitness program for a big boost
Spin classes are a great addition to any fitness regimen, as a way to increase workout intensity, cross train to reduce the risk of injury, mix it up to prevent boredom and save time! Check out the drop-in spin class schedule at Harry Jerome
here
.   
Bring a water bottle and a towel – you will need it!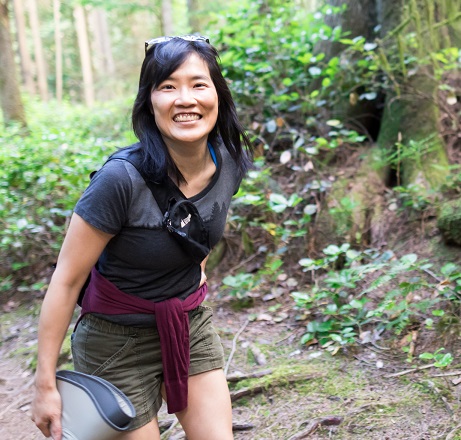 Wiley H.
A long-time North Vancouver resident, Wiley works as a technical writer and is the current newsletter editor for the North Shore Writers' Association. She spends her free time reading, hiking and discovering new things to try at North Vancouver Recreation & Culture!