Meet Liz de Beer: Artist, Teacher and Parkgate's Pottery Studio Manager 
A celebrated ceramic artist who loves interacting with her community, Liz de Beer draws creative zest from her surroundings and from teaching. Liz's lifelong love of clay began when she was a little girl in Africa and her older brother dared her to make "mud cakes" in the living room that was typically reserved for guests. She dared and has loved the feeling of mud between her fingers ever since. 
"At 65 now, my husband asks me when I'm going to retire, but I can't. I just love, love, love working in ceramics and teaching pottery."
From South Africa to the West Coast of Canada
Liz grew up on a farm in South Africa, attended art school and earned her BFA with a ceramics focus. In 1997, Liz immigrated to Canada with her husband and two children. Right away, she found her pottery people. Liz met fellow ceramics artist and instructor Louisa Leibman at the former Delbrook Studio, where Liz picked up her art and began teaching pottery to teens and kids. She discovered great delight in teaching and has taught all over the North Shore, including community recreation centres and schools. Since 1999, Liz has been an instructor and the studio manager at Parkgate Community Centre. 
In 2006, after their children finished school, Liz and her husband Jan de Beer, a notable upcycle artist, moved to Langdale on the Sunshine Coast, where they still admire the lush scenery to this day. When asked if she minds commuting to the Parkgate Studio every weekday to teach, Liz says, "Not at all. I can't get enough of the greenery and I love my students."
The joy of teaching and co-creating
Following provincial health guidelines, NVRC spaces were closed for several months last year and reopened in a limited capacity last fall. After the doors reopened, Liz felt joy and happiness reflected back to her in her students and studio members. 
"I saw how much my students missed clay and community," says Liz. "I noticed they started making amazing new work. We all did. It was a newfound appreciation, a rethink. I believe art is really helping us through this Covid time. It's teaching us to make do with what we have. We don't need the best (situation) to do our best. Yeah, we have so much fun."
Liz has taught students from adults to children as young as four. She says she loves how natural kids are about what they create and how unconcerned they are about what others think. She says the joy in shaping something out of a lump of clay is what we all need to keep in our hearts. To that end, she created simple clay creation videos available on YouTube. Here's how to make a clay elephant. You can watch all of Liz's videos here.
Bold and beautiful art
When asked to describe her ceramic signature, Liz says, "I love it all, but I would say it's carving through clay to present a picture." Liz's beautiful work often employs sgraffito, the technique of applying a layer of slip to the item and carving images, much like the technique used in woodblock printing. 
 While Liz makes everything from functional pottery to large vases, every piece is individual. "Each piece speaks to me and I speak to them. Once I make something I like, I don't want to make a copy."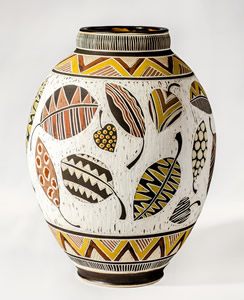 Liz's designs are influenced by her childhood in Africa and her life on Canada's west coast. From scenes of the African savanna to the flora and fauna of BC's rainforest, Liz's work represents the environments she has called home. A well-established artist, Liz's work has been displayed in numerous exhibits and collections, including the North Shore Credit Union's permanent collection, the Seymour Art Gallery in Deep Cove, Granville Island and more. She also has her own Klaywerk Gallery on the Sunshine Coast, where she hopes to be able to welcome visitors once again, as part of the Annual Sunshine Coast Art Crawl October 22-24, 2021. 
Liz is currently carving big thrown porcelain vases and, of course, teaching. Her classes are  always full and the Parkgate studio space, where she maintains a "kindness policy," is much beloved. Liz likes to challenge the studio members by assigning monthly themes. February was "goblet month" and March is "hand-built nesting bowls in threes." 
Chatting with Liz, it's immediately clear that her love for pottery and creativity is unceasing and ever-joyful. She says art has always sustained her through difficult times. As a breast cancer survivor, Liz worked and taught between chemotherapy treatments. She says her art and being able to work got her through. "Life happens," says Liz. "We need to get out of the box and try new things." She applies the same philosophy to creating art. "I like to experiment with new clays and glazes and then introduce them to my students. I want us to take the chance. What's the worst thing that can happen? You can always fix it or recycle it."

Where to find Liz's creations 
Liz's artwork can be purchased at the Seymour Art Gallery in Deep Cove, the BC Gallery of Ceramics on Granville Island, the Gibsons Public Art Gallery and at the Windows at the Water Gallery in Gibsons. When life returns to normal, Liz also welcomes studio tours at her Klaywerk Gallery on the Sunshine Coast. View her work at lizde Beer.com.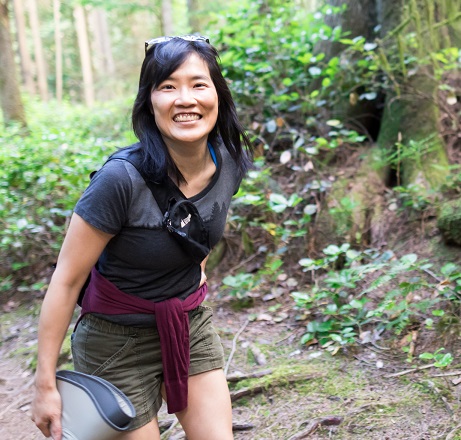 Wiley Ho.
A long-time North Vancouver resident, Wiley works as a technical writer and is the current newsletter editor for the North Shore Writers' Association. She spends her free time reading, hiking and discovering new things to try at North Vancouver Recreation & Culture!