Play is essential to children's healthy development. Both structured and unstructured play help kids develop cognitive, physical, social and emotional well-being. NVRC offers two excellent programs for toddlers, preschoolers and their parents: Toddler & Me (guided play) and Indoor Play Time (unstructured play). Come and play with us!
The importance of both free and guided play
Young children develop optimally when they can engage regularly in both free play and guided play. In free play, children practice moving at their own pace and discover their own areas of interest. With guided play, they learn to listen, to share and interact with their peers. 
"Play is the highest form of research," Albert Einstein once said. Pediatric studies agree, suggesting different forms of play contribute to every aspect of a child's development to help them reach for their full potential. The many benefits include:
Healthy brain and body growth
Physical dexterity, competence and self-confidence
Emotional well-being and resilience in new situations
Strong child-parent/caregiver bonds
NVRC is serious about play and provides two different programs for young children and their caregivers: 
Indoor Playtime (parent participation 0-5 years) – $2 Drop-in
Unstructured playtime in the gym for some active fun (e.g., riding toys, basic climbing equipment, soccer, floor hockey, basketball). One parent or guardian can accompany 1-2 preschoolers. View the schedule for drop-in times and locations.
Toddler & Me with Amy Hammond (parent participation 0-5 years) – registered program
Toddler & Me is a play program for children and their parent/caregiver. Join Amy for songs, crafts, ride'em toys, indoor climbing equipment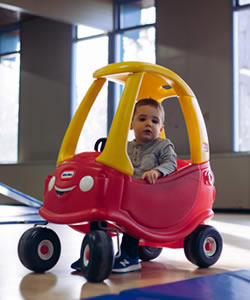 and trampoline time! Families with a child registered in the program may bring an infant sibling up to 12 months to the same session, free of charge (please contact 604-987-7529 to reserve space). For locations and registration codes, go to Early Years Playtime (0-6yrs PP) Booking Page. Book-A-Visit sessions are available for select days and times. Registration for these sessions begins at 9am on the Monday, one week before. View the Book-A-Visit Todder & Me sessions.
Amy Hammond welcomes all families with preschoolers. Having worked with young children for over seventeen years, she loves bringing kids of different ages, cultures, and abilities together in circle time and guided play. She encourages parents to participate in the singing, crafts and games. 
The popular program helps kids learn how to share, participate in group play, try new activities and express themselves – skills that prepare them for school later on. 
"Kids love it when they come. Some call it Amy's House," says Amy, laughing. "Sometimes they don't want to leave Amy's House! Over the years, I've enjoyed many groups of kids. It's also beautiful to see the love in the faces of their caregivers – parents, nannies, grandparents. I love seeing everyone playing together. It makes me happy."
What parents are saying
About a year ago, Ana Rocha started taking her 22-month-old daughter to Toddler & Me at Mickey McDougall. "It was so good to have a place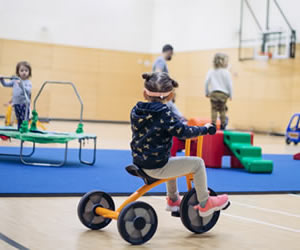 to take my baby during the pandemic. I loved that she could be with other kids her age. Amy leads with a different craft activity each time for the kids – and plans special themes for Thanksgiving or Valentine's Day. I think the program is very good for families. It helps our kids be part of the community and gives them a good routine in a familiar place." 
Christa, mother of 23-month-old Frey, commends the drop-in sessions, "The space is fun and safe for the kids with age-appropriate toys and equipment. It's also nice to connect with other moms there."
Erica Althoff, mom to 10-month-old Jackson, enjoys both programs. She says, "The drop-ins (Indoor Playtime) are a good and affordable space for kids to play together. The registered program (Toddler & Me) is wonderful because you can put it in your calendar and it becomes a regular event. It's a casual and welcoming atmosphere where it's okay to arrive a bit late or leave a bit early. You really get to know the other parents too. I've made some great friends there and I've been recommending the program to all my mommy friends!"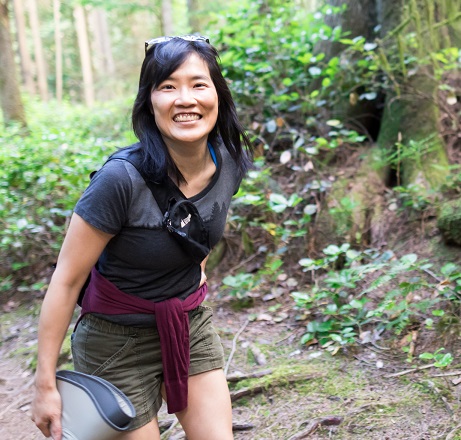 Wiley Ho.
A long-time North Vancouver resident, Wiley works as a technical writer and is the current newsletter editor for the North Shore Writers' Association. She spends her free time reading, hiking and discovering new things to try at North Vancouver Recreation & Culture!