If you're feeling a little winter-lethargic like many people and need some motivation to get into shape again, a fitness challenge can help. Committing to an interesting new challenge is a great way to kickstart your fitness. Since it takes at least a month to train the brain into a new habit, 30-day challenges are a good way to build focus.  
There are excellent, free fitness apps to choose from, from step trackers to online workouts. The following list provides some interesting challenges to consider. Once you find one you would like to try, commit to it for 30 days. Set aside the time in your calendar/phone/day timer and record your progress. If you fall off the wagon one day, no big deal. Be kind to yourself but also be firm. Get back to it the next day and restart your challenge. 
1.    Daily Walk Challenge
There is nothing more basic and beneficial than simply going for a daily walk. Set yourself a goal (e.g., one hour or 10,000 steps) and head out the door rain or shine. You will feel better for it. There are many free walking workout apps that show speed, distance and route.  Here are just two that work on Android and Apple products: Map My Walk and Walkmeter Walking & Hiking GPS by Abvio
2.    The 30-minute Family Fitness Challenge
Exercise as a family 3 times a week. Practice a sport together. Go for a bike ride. Throw a frisbee. Turn up the music and dance!
3.    Daily Squat Challenge
The squat is a dynamic strength training exercise that requires muscles in your upper and lower body to work together simultaneously. Squatting provides many benefits to the body, including strengthening the core, releasing lower back tension, improving mobility and flexibility, and preventing injury. There are different squats you can try, from the basic squat to the barbell squat. Here's a tutorial for good form: 4 Ways to Do a Squat - wikiHow Life. Get your squat on!

4.    The 30-day Plank Challenge
How do you train and strengthen your upper and lower abs, obliques and lower back all at the same time? The plank. Make sure your form is correct (neutral neck, shoulders over elbows, core tight, don't allow your back to sway) and stop before you compromise form. Start with 20 seconds for a couple of days, then go up by 10 second increments. You can do this while watching tv, listening to music or even while scrolling your phone. Set a timer and be amazed at how strong you'll be in a month. 
5.    Running Challenge
Set a distance target (e.g., 5k, 10k, half marathon) and build up your kilometres slowly. Joining a run clinic can help to improve form and accountability. If you're interested in trail running, there is a free clinic on April 14, 2021 at 6:30pm. Sign up here: Kintec - Kintec Running Clinic
6.    Hydration Challenge
Research indicates the majority of people don't drink enough water. Every single cell in your body needs water to work properly. Being well-hydrated helps with fitness activity, mental clarity, energy, eating less, and even healthier skin. So, how much water should you drink every day? Turns out there is no single answer. It depends on exercise, environment and overall health, but the Mayo Clinic provides the following guidelines (includes water, other beverages and food):
•    About 15.5 cups (3.7 liters) of fluids a day for men
•    About 11.5 cups (2.7 liters) of fluids a day for women
For more information on staying hydrated, check out Water: How much should you drink every day? - Mayo Clinic
7.    Flexibility Challenge
You've probably heard of Yoga with Adriene by now. She is the fun and popular international yoga teacher with millions of views on her YouTube channel. Here is her accessible 30-day Yoga Camp series
8.    Everest in a Month Elevation Challenge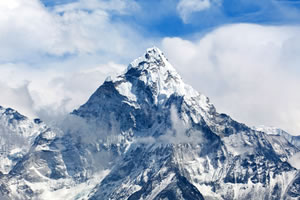 If you love heights, this challenge is for you. To reach the summit of Mount Everest, which is officially 8,848.86 m (29,032 ft) in 30 days, climb 300 m (984 ft) a day. By the end of a month, you'll have climbed the equivalent of Everest! You can achieve your daily elevation with a combination of stairs and hills. Everest in a Month is an app to measure your step height and rate to determine how many steps and how long it will take you each day. You can also join the Facebook group with over five hundred members Everest in a Month | Facebook. 
9.    The Push-up Challenge 
Complete a set of push-ups every day for a month. You can do them anywhere and challenge your friends in a virtual session. Join the #pushupchallenge on Facebook.
10.    Eat healthy and sleep healthy
No fitness regimen is complete without good nutrition and high-quality sleep. Eat a balanced diet and get your optimum sleep (most people need between 7 to 9 hours a night). Commit to a month and then keep going. The reward is more energy and feeling great!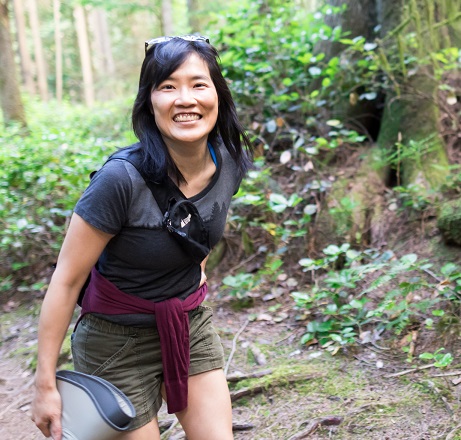 Wiley Ho.
A long-time North Vancouver resident, Wiley works as a technical writer and is the current newsletter editor for the North Shore Writers' Association. She spends her free time reading, hiking and discovering new things to try at North Vancouver Recreation & Culture!