As we slowly re-emerge from the pandemic crisis, it is fitting to acknowledge and appreciate our public parks. As difficult as the last year has been, it would have been so much worse without our parks, trails and greenways. Our local parks are where we can exercise, relax, gather safely with others, connect to nature and heal. Celebrate our outdoor spaces this June and check out some excellent NVRC outdoor programs this summer!
NVRC programs 
It is a joyful fact that North Vancouver is one of the most active and healthy communities in Canada. Some of the credit can be attributed to NVRC and its passionate mandate to improve the health and well-being of individuals, families and communities. Since 1970, NVRC has welcomed local residents to its diverse and inclusive recreation, fitness, and arts programs. Even during the worst of the pandemic, NVRC facilitated as many programs as safely possible, in accordance with public health safety guidelines. This summer, NVRC is pleased to be expanding programming once again, including fitness classes, summer day camps, and more! 
Ongoing fitness classes and programs include:
Programs starting soon that are still accepting registrations:
Dryland Conditioning Camp for 8-12yrs & 10-14yrs
These camps are designed for those who like to move and develop healthy wellness habits.  The focus is for participants to learn correct strength and conditioning technique and skills that will assist them on their path of life-long participation in physical activity, and to share techniques for injury prevention and proper strength training to empower every body! Taught by talented and qualified Fitness Staff, participants will learn how our bodies adapt to training as they train. 
Dryland Conditioning Camp 10-14yrs
ID: 98258
Jul 19 - Jul 23
1-3pm
Sutherland Artificial Turf Field
$106.60
ID: 98259
Aug 16 - Aug 20
1-3pm
Sutherland Artificial Turf Field
$106.60
Dryland Conditioning Camp 8-12yrs
ID: 97159
Jul 12 - Jul 16
11:30am-1:30pm
Karen Magnussen Community Recreation Centre
$106.60
ID: 97160
Aug 9 - Aug 13
11:30am-1:30pm
Karen Magnussen Community Recreation Centre
$106.60
Yoga Hatha Outdoors
Balance your mind and body with classical postures. Improve balance and flexibility while clearing and relaxing your mind and body. Bring your own yoga mat and blocks.
These classes are a great opportunity for parents and caregivers to stretch, breathe, and take a break after dropping off their children for day camp at Princess Park. 
| | | | | |
| --- | --- | --- | --- | --- |
| ID: 99973 | Tuesdays, Jul 6 - 27 | 9:15-10:15am | Princess Park | $51 |
| ID: 99974 | Tuesdays, Aug 3 - 24 | 9:15-10:15am | Princess Park | $51 |
A BIG shout-out to North Vancouver parks and staff!
Speaking on behalf of lovers of the outdoors, I feel deeply grateful and privileged to live so close to nature and stunning wilderness. The District of North Vancouver manages over 3000 hectares of parkland, greenway and open space, in addition to the City of North Vancouver's diverse range of parks and trails. 
From NVRC outdoor fitness classes to mountain and water sports, dog walking to napping and picnicking in the park, there are countless ways we can recreate close to home. For all the parks and recreational opportunities – plus the amazing parks staff, volunteers and stewards – THANK YOU!
Check out all the parks in North Vancouver:
District of North Vancouver parks
City of North Vancouver parks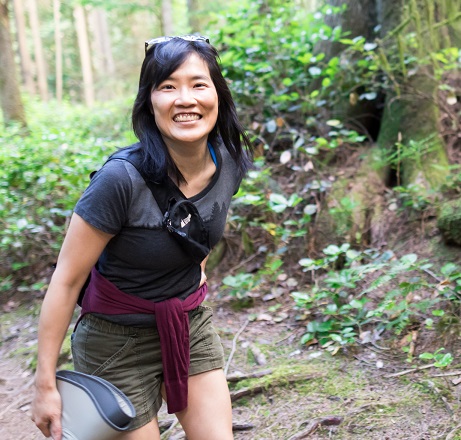 Wiley Ho.
A long-time North Vancouver resident, Wiley works as a technical writer and is the current newsletter editor for the North Shore Writers' Association. She spends her free time reading, hiking and discovering new things to try at North Vancouver Recreation & Culture!