High school students from Kenneth Gordon Maplewood School in North Vancouver are learning lessons for a lifetime during weekly workouts at Ron Andrews Community Recreation Centre.  It's all part of the Active Living Program, led by Neil Pinkerton, the school's director of counselling services.
 "I think this program is amazing," Neil said.  "I have watched the students transform into healthier, happier, more productive people as they experience how exercise improves their physical and emotional wellbeing. They inspire me with their commitment and enthusiasm."
The benefits of fitness 
As soon as I met the students I knew exactly what Neil meant.  In spite of torrential rain, the teenagers were lined-up outside, fifteen minutes early for their 8:30am fitness session. I chatted with them while we waited to be invited inside.  Rhys, a grade 12 student, was more than happy to tell me why he would never miss this weekly workout at Ron Andrews.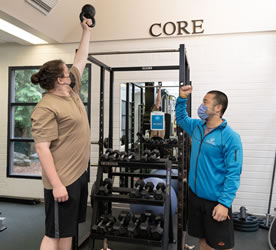 "This program has helped me with life," Rhys explained.  "I feel better overall and I can focus better at school.  The workouts have also helped me stay in shape during COVID when there is nothing else to do."
Rhys plays rugby, football and wrestles, all activities that were suspended during the pandemic. He's not the only student who uses the fitness centre to stay in shape so he can enjoy other sports safely.
"I'm a mountain biker," said Vanya, a grade 11 student.   "The workouts help build my cardio and make it easier to handle the wipeouts." He smiled.  "They also lift away the stress.  I feel happier and healthier now."
This glowing feedback is even more meaningful because it is coming from students whose needs have not been met through other schools or programs.  Kenneth Gordon Maplewood School specializes in educating and growing confidence in students with dyslexia and other learning disabilities.  The private school focuses on building skills for a lifetime and removing obstacles to learning.
Morning workouts make a difference
The Active Living Program, in partnership with North Vancouver Recreation & Culture, was launched a few years ago as a pilot project for grade 11 and 12 P.E. credit.  Neil Pinkerton took the program over in February 2021 and redesigned it as an independent credited course, rather than as part of the regular P.E. program.  This year they moved the fitness centre sessions to the morning.  That means students meet at Ron Andrews every Thursday at 8:30am and start their day with a workout.
"The morning schedule is working much better," Neil explained.  "We've found that it's more challenging to get kids motivated in the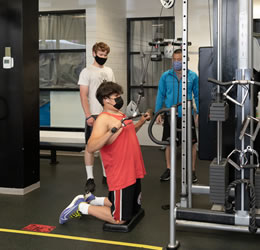 afternoon.  By starting the day with a workout, the students are experiencing all the benefits of exercise.  They love the workout, it gets their blood flowing early.  By 9:30am, they have already accomplished something very productive for themselves and they get to see the benefits throughout their school day.  There is all kinds of research, both formal and anecdotal to back this up, and we've been hearing about this as a society for many years.  But I see the evidence in the students themselves, and they do too.  They look healthier and report that they feel better and are more productive when they are in class on Thursdays."
Bryce Martin, Fitness Centre Supervisor at Ron Andrews, shares Neil's enthusiasm for the Active Living Program.  He works with the students to make sure they know how to use the equipment and are working out in a safe and healthy way.  
"I've noticed a big difference since the kids have started coming in the morning instead of after lunch," Bryce said.  "Starting the day with exercise seems to be working really well for them."
Personal program and accountability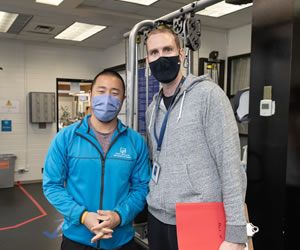 Approximately 12 students participate in the Active Living Program.  There is an exercise tracking sheet which the students complete each session, but Bryce explained that they try not to make it too structured.
"Neil and I are here to offer advice and direction if needed, but the students are accountable to themselves and are expected to make the most of the opportunity," he said.  "It's great to see them arrive in the morning, excited to be here.  They are establishing a healthy habit that will serve them well for the rest of their lives.  It's also cool to get them used to coming to a community recreation facility, so they know and experience what is available to them."
On Tuesdays the program is based at the school, where students can choose an activity that interests them.  Neil focuses on core strength and body posture through a warm-up workout but encourages the kids to find what works for them.  The goal is for the students to find an activity that they will continue after graduation.
"The students have varied interests," Neil explained.  "One student is a walker, another has chosen skateboarding and, as you heard, Vanya likes to mountain bike.  They track their activity – some of which is done during class time, for others, like mountain biking, they do on their own time.  They key is finding what works for them."
Making a difference in students' lives
Kyrel was so inspired he built his own home gym.  He wakes up early every morning to workout there. Except Thursdays, when he enjoys exercising with his classmates at Ron Andrews.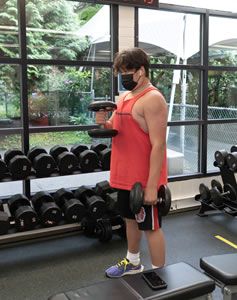 "I like being here with the others," Kyrel said.  "This program is great.  I feel better and find it easier to stay focused in my classes after I've worked out."
Each student has their own program and reasons for staying fit, but they all agree that it's more fun to workout together at Ron Andrews on Thursday mornings.  They offer each other encouragement and benefit from the guidance provided by Neil and Bryce.  
"We talk about self-care and the benefits of exercise, but now they are experiencing it," Neil said.  "This program has made a real difference in the lives of these kids.  It's also been a fun and unique way for me to connect with them."
With only one month left in the school year, the students are already looking forward to participating in the Active Living Program again next year.  They also have the skills and commitment to stay active and healthy throughout the summer, and for the rest of their lives.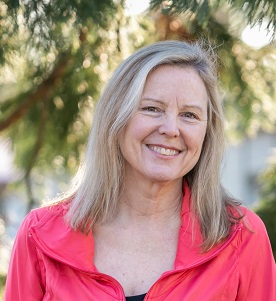 Michelle Perrault
A North Shore girl at heart, Michelle has fond memories of Saturday night skates at the NVRC ice rink (now Harry Jerome) and swimming lessons at William Griffin (now Delbrook) pool. More recently, she enjoys hiking and biking the trails of Mount Fromme and the Seymour watershed. She lives in Lynn Valley with her two adult children, two dogs and wonderful friends and neighbours.