Who knew bootcamp could be so much fun!
After an active outdoorsy summer, the sudden change in weather has come as a bit of a shock to the body. Not wishing to lose my fitness gains over the summer, I dropped into a Bootcamp 3 fitness class. 
Described as "a high intensity class that will challenge you with intervals of cardio and strength training," this class did not disappoint for a full body workout. Not only was it challenging, I had a great time! Who knew bootcamp could be fun?
An upbeat, relaxed atmosphere
On a stormy Tuesday evening I dropped into a 5:45-6:45 pm Bootcamp 3 class at Delbrook. Regulars were already in the gym warming up and catching up with each other. 
 
Lesley, our instructor, breezed in right on time and got everyone warming up to funky dance mixes from The Beatles to Maroon 5. She offered traditional warmup exercises (jogging or marching on the spot) and fun dance moves, encouraging everyone to wiggle, wobble and not worry about looking silly. "Who cares, no one's watching," Lesley laughed. "And if they are, that's their problem, right?"
Lesley reminds me of the actor Jamie Lee Curtis – lean, fit, fun and mischievous. She has an easygoing manner but is a stickler for good form. Throughout the intense hour-long class, she kept the atmosphere buoyant and made sure everyone did their exercises right, reminding us to take easier variations rather than compromise proper alignment. 
I found myself laughing a lot, which was a great help since laughter eases hard work. During a tough arm routine using resistance bands, Lesley called out special encouragement: "C'mon, raise those arms – up, up, up! Get your sexy shoulders on!" 
What is bootcamp fitness?
Bootcamp workouts vary, but they always include cardiovascular training (dance/aerobics/calisthenics), strength training (weights) and speed elements (drills). Classes often involve circuits and interval training – bursts of intense activity alternated with lighter activity and brief recovery. 
The mantra for bootcamp could be: Frequency, Intensity and Variety
The class I attended was set up with exercise stations at each end of the gym: large ball, resistance bands, hand weights and chair (for inclined and triceps pushups). Lesley demonstrated exercises for each station, always offering high and low impact variations. 
We alternated cardiovascular training (jumping jacks, jogging, dancing and skipping) with a circuit of strengthening and balancing exercises (pushups, lunges and dips). Lesley kept time for us and cheered us on. We finished up with floor exercises (core work and light stretching). 
To keep things fresh and the body (and mind!) agile, instructors vary each bootcamp class. One class might emphasize calisthenics and body-weight exercises while the next session might stress dance and weights. Doing different combinations of exercises keeps the body guessing, so the muscles don't get used to the same movements and loads – the hallmark of any effective fitness regimen. 
I had a blast during the fast-paced, energizing hour. Leaving the gym, I felt strong and balanced. I'll be back for more bootcamp fitness – and sexy shoulders!
Benefits of a bootcamp workout
Bootcamp fitness aims to work the entire body and build strength, endurance and speed. The many benefits of a bootcamp workout include:
An everchanging and challenging workout – reduces boredom and the dreaded "fitness plateau"
Requires little equipment
Includes circuit training, which is a timesaver, incorporating many different exercises into a short time
Includes interval training to improve strength, endurance and speed
The multi-directional exercises help to increase range of motion, balance and agility, all of which increase your Physical Literacy to help you enjoy and sustain different activities
Depending on fitness level or energy, the intensity of each exercise can be scaled up or down
Each class is a metabolism booster and fat burner
Class camaraderie – it's motivating and fun to work out with others!
Drop-in classes
If you're looking for a high intensity class to keep you in great overall condition, bootcamp fitness might be just what you need! Drop-in classes are available at various NVRC locations. Click
here
to find a class near you.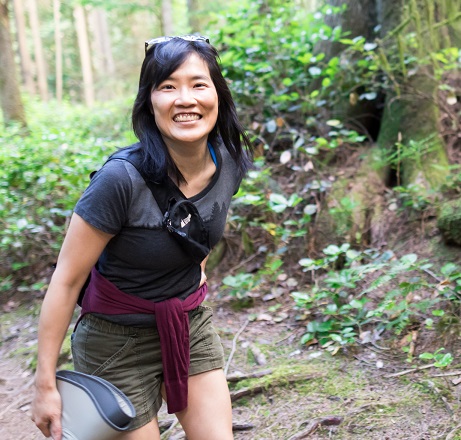 Wiley H.
Wiley is a long-time North Vancouver resident. She works as a technical writer and is the current newsletter editor for the North Shore Writers' Association. She spends her free time feeding her twin passions of creative writing and hiking. She recently discovered a potential third passion - the pottery studio at the Delbrook Community Recreation Centre.