I recently picked up a FLEX10 Pass, which allows me to try any of the 150+ drop-in fitness classes each week at NVRC facilities. This is great because I like to try different fitness routines and to mix it up. Not having been to an aerobics class in over 20 years, I decided to check out a cardio class and see how aerobics have evolved.
The music and the moves
I dropped in to a 7:30am Monday morning Cardio 3 class at Delbrook Community Recreation Centre. The instructor that morning was Diana, one of NVRC's passionate and longstanding fitness instructors. 
Up-tempo music filled the gymnasium, spurring the class participants to move. "I'm So Excited" by the Pointer Sisters made me grin and step it up. Our entire workout was accompanied by pop music from 1980s classics to the latest hits. 
Using hand weights and traditional choreography of moderate to high impact moves, Diana led the dozen participants through exercises designed to get the heart pumping and strengthen the muscles. She showed us variations from high to low intensity and instructed everyone to go at our own pace.
With lighthearted encouragement, Diana led us through various step, jog, sidestep, jump and crossover moves that raised our heart rate for over half an hour. She prompted us to pay attention to proper body alignment and core engagement. The cardio workout was paired with upper body conditioning. Working both upper and lower body at the same time hones agility, balance and coordination. In other words, it was a total body workout. 
I huffed and puffed and sweated alongside the others. There were grimaces of intense concentration all around as we ramped up for the finale with sliders, a speed skating exercise, to target the underused adductors (inner thigh muscles). After that we grabbed some water and slowed down for the final fifteen minutes of class, focusing on arms and core with wall push-ups and floor exercises. A short stretch rounded off the hour. Everyone applauded mutual congratulations before dispersing to enjoy the rest of the day!
The benefits of aerobics exercise
Getting regular cardiovascular exercise is good for us. According to ParticipAction, adults ages 18-64 should get 150 minutes of moderate to vigorous-intensity aerobic activity per week, in bouts of 10 minutes or more. It is also beneficial to add muscle and bone-strengthening activities using major muscle groups, at least 2 days per week. 
NVRC's Cardio classes serve up these recommended aerobic and strength training elements, and provide many health benefits, including:
Strengthens heart and lungs – improves circulation and cardiovascular stamina
Improves mental agility – helps protect memory and makes you feel more alert
Releases endorphins that boost mood
Boosts metabolism and helps burn fat
Wards off viral illnesses – aerobic exercise activates the immune system and makes you less susceptible to colds and flus
Manages chronic conditions – aerobic exercise controls blood sugar, lowers blood pressure and helps with pain and range of motion
Helps you age better and live longer – studies show that people who participate in regular aerobic exercise live longer than those who don't exercise regularly
Improves Physical Literacy and enables you to engage in all physical pursuits
Cardio 1, 2, 3
I enjoyed my Cardio class. It was an energizing, full-body workout in one compact hour! I love that the classes are drop-in and require no prior registration or planning. 
NVRC offers three levels of cardio classes, depending on your fitness level or desired intensity:
Cardio 1 – This classic aerobics class will get your body moving by combining simple choreography and resistance training followed by a relaxing stretch component. This class is great for people beginning or returning to physical activity or for those who prefer low impact, low intensity exercises.
Cardio 2 – This class incorporates traditional choreography of high intensity, moderate to high impact moves with a variety of conditioning exercises.
Cardio 3 – This class incorporates traditional choreography of high impact moves as well as low impact alternatives mixed with a variety of conditioning exercises.
To find a drop-in fitness class, visit the NVRC website and search Drop-In Schedules by location.
Weights and fitness equipment are included. Bring your own mat, water bottle and towel. Leotards and sweatbands optional!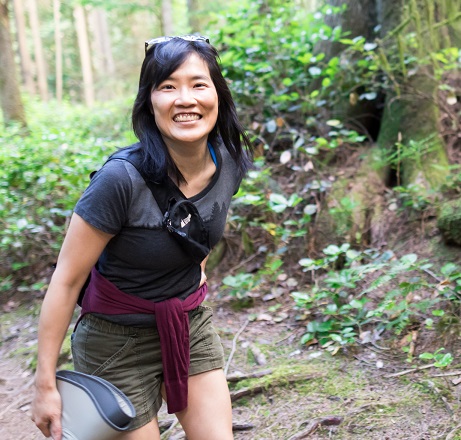 Wiley H.
Wiley is a long-time North Vancouver resident. She works as a technical writer and is the current newsletter editor for the North Shore Writers' Association. She spends her free time feeding her twin passions of creative writing and hiking. She recently discovered a potential third passion - the pottery studio at the Delbrook Community Recreation Centre.