What many people don't know is that all NVRC swimming instructors and lifeguards are highly trained and certified. They undergo extensive training and qualifying examinations before becoming certified with the Lifesaving Society – BC & Yukon. The rigour of the training conditions them to become lifesavers, both in and out of the water. 
The role of lifeguards and their lifesaving skills 
Katryna Gavin is the Aquatic Supervisor at NVRC's Ron Andrews pool. She has been lifeguarding and instructing swimming since she was 16. She credits being a lifeguard with helping her put herself through university, make great connections, and ultimately bringing her back now to a career in the aquatic environment she loves. 
 
Thankfully, most incidents at community pools involve minor scrapes, cuts and nosebleeds. Occasionally, there are more serious injuries. Rarely, there are life-threatening incidents – but when they happen, lifeguards provide a vital lifesaving service. 
 
Lifesaving incident
In November 2018, Katryna and her colleagues were called into lifesaving action at Ron Andrews Community Recreation Centre, when a regular swimmer suffered a cardiac arrest and sank to the bottom of the pool. Fortunately, Katryna and her team knew exactly what to do and leapt to the rescue. After the swimmer was pulled out of the pool not breathing, they used cardiopulmonary resuscitation (CPR) and an automated External Defibrillator (AED) and to get the person breathing again before the ambulance arrived. This quick first response by the lifesaving staff made a difference. Not only was tragedy averted that day, the person is back to swimming laps at Ron Andrews today!
Benefits of becoming a lifeguard
The benefits of being a lifeguard include:
Ability to assist in life-threatening emergencies, both in and out of the water (Katryna says 70% of the time her assistance has been on land)
The rigorous lifeguarding training is a great discipline and a great addition to any resume (universities and employers look very favourably on the training because they know becoming certified represents deep commitment, leadership skills and ability to work under pressure and in a team)
Employment opportunities – there is a current national shortage of certified lifeguards, which means employment opportunities are great!
Great wages – wages for instructor/lifeguards start at $24.39 per hour and go up from there with experience. Most post-secondary institutions have pool facilities, so it's a great way to put yourself through college and university! 
Flexible work schedule – lifeguards can work full-time or part-time at different pools. 
Dynamic work environment – every day brings different challenges and situations 
Steps to becoming a lifeguard and swim instructor
The courses listed below are requirements for becoming a lifeguard and swim instructor for NVRC. The courses are offered at Ron Andrews and Harry Jerome Community Recreation Centre pools.
Lifeguard Training
| Certification Required | Re-certification Required |
| --- | --- |
| Bronze Medallion | No |
| Bronze Cross | No |
| Standard First Aid  | Every 3 years  or if you are employed as a lifeguard, every 2 years |
| CPR 'C' Certificate | Every 3 years  or if you are employed as a lifeguard, every 1 year |
| | Every second year |
Swim Instructor Training
Certification Required
To Teach
Re-certification Required
Lifesaving Instructor 
Canadian Swim Patrol
Bronze Star
Bronze Medallion
Bronze Cross 
Every second year
Water Safety Instructor

Red Cross Program
Every second year
Swim 4 Life Update
School-age Learn to Swim program
Every year through professional development opportunities
For more information on steps to become a lifeguard and swim instructor,
click here
.  
Is lifeguarding for you?
Training to become a certified lifeguard and swimming instructor is a serious commitment in time and money. Depending on when you start and whether you go full or part-time, full certification can take from 1 to 4 years. The full cost of all the courses total approximately $2,000. However, the training provides invaluable lifesaving skills (in and out of the water) and can lead to a rewarding career in lifeguarding and swimming instruction. 
The essential qualities for lifeguarding include:
Being a team player – must be able to react and coordinate in a team environment during an emergency
Being a strong communicator – be able to communicate clearly in an emergency
Love the water (of course!) and teaching swimming 
Love teaching kids how to swim – all lifeguards start off teaching kids
If you're unsure whether lifeguarding might be for you, Katryna, the Aquatics Supervisor at Ron Andrews, suggests volunteering with an NVRC swimming class. This is the best way to observe Instructor Guards in action; watch the team interaction; and, get a feel for the work environment. Find out more on our
volunteering
page.  
The earlier you start, the more second-nature it becomes. Katryna recommends that kids get started as early as 12 years old and work gradually through the program, so that by 16 they will be ready to become Instructor Guards.
 
There is no doubt that the training to become a lifeguard is rigorous and challenging. But, if you love water, helping others learn to swim, and possibly saving lives, lifeguarding is for you! 
Sources: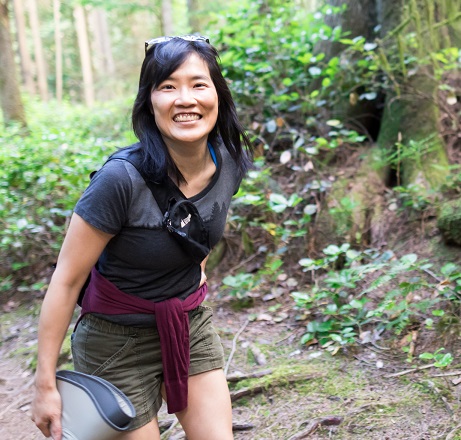 Wiley H.
Wiley is a long-time North Vancouver resident. She works as a technical writer and is the current newsletter editor for the North Shore Writers' Association. She spends her free time feeding her twin passions of creative writing and hiking. She recently discovered a potential third passion - the pottery studio at the Delbrook Community Recreation Centre.