Get outdoors to recharge and reconnect to wonder.
The forested trails and mountains of the North Shore offer some of the most powerful antidotes for these stressful times. Here is a compilation of some of the best resources available in our own backyard.
The need for calm and rejuvenation
I keep hearing we are living in unprecedented times, and we are. Some days, I find myself struggling for emotional balance. Self-care is more necessary than ever. I find regular exercise helps. Even more so, hiking in the trails and up and down mountains. 
I have a fridge magnet with the logo "Get Outdoors! for the world's best fun and robust health." The reminder is a good one. The forest has magical powers that can help us recharge and reconnect to awe. 
The many benefits of hiking include:
Improve mood and fight depression – Research shows that being in nature soothes our nervous system, lowers blood pressure and stress hormones, and increases endorphins, our body's natural painkiller.
Light therapy – Natural light and sunshine (Vitamin D) protects the body from many ailments.
Workout for the eyes – Being outside naturally exercises your eyes by making them focus on objects at varying distances.
Reduce risk for obesity, heart disease, diabetes, cancer and dementia.
Sleep quality – Exercise and fresh air team up for deeper, more restful sleep.
The hiking essentials
Most trails on the North Shore are now open; however, please remember to remain 6 feet from other trail users (single file to pass). For the latest in trail and park availability, check District of North Vancouver and District of West Vancouver websites. 
Being prepared is key to enjoying our mountains safely and responsibly. Besides sturdy hiking shoes, North Shore Rescue recommends the following essentials:
Warm clothes – waterproof jacket and hat
Water and food
First-aid kit 
Compass or GPS unit
Cell phone with fully charged battery 
Pocketknife
Matches or lighter
Signaling device – whistle or bear bell
Light – flashlight or headlamp
Shelter - tarp
Easy and family-friendly hikes
North Vancouver and West Vancouver offer a variety of accessible hikes for the whole family, including:
Fisherman's Trail 
Capilano Regional Park
Rice Lake
Lynn Headwaters Regional Park (Lower Lynn and Cedars Mill Trail)
Lighthouse Park
Whyte Lake
Dog-Friendly North Shore Hikes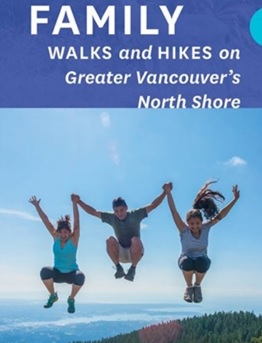 For more great family walks and hikes on the North Shore in one easy-to-follow guidebook complete with detailed descriptions, colour maps, and trail commentary, pick up a copy of Family Walks and Hikes on Greater Vancouver's North Shore by North Vancouver's own Harrison (Harry) Crerar, who has climbed most of the North Shore peaks. The book is available at North Vancouver libraries, in bookstores, and online. 
Medium difficulty hikes
Here are a few suggestions for longer outings that require stamina and involve more elevation gains/losses:
Mt. Seymour Provincial Park (Dog Mountain, Mystery Lake, Dinkey Peak, Mt. Seymour)
Waterfall Hikes (Norvan Falls, Kennedy Falls)
Old Buck, Baden Powell and Bridle Trail Loop
Strenuous hikes
Here are some of the more difficult hikes that involve longer distances and steep grades:
Lynn Peak
Baden Powell (segment including the "Seymour Grind")
Three Chop Trail 
Grouse Grind/BCMC (note: the Grouse Mountain Skyride requires advance booking during Covid-19)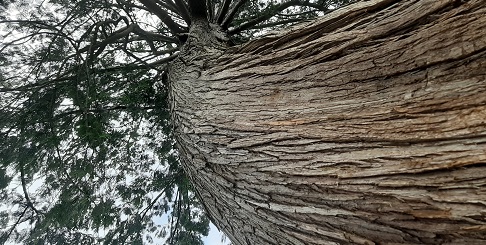 The therapeutic forest
If you are not feeling the most energetic right now, I sympathize. These are challenging times. On my low-energy days, I practice forest bathing. I am a big fan of shinrin-yoku, literally "taking in the forest atmosphere," the practice of immersing yourself in the healing powers of trees. It's a term that emerged in the 1980s in Japan but this form of ecotherapy is not new. It involves simply walking into a wooded environment and taking it in. It can be as easy as sitting at the base of a beautiful tree and being still for some time. Allow your body to let go. Close your eyes. Listen for the birds. Taste the air. Breathe deeply and reconnect with natural wonder.
Stay safe and be well, everyone!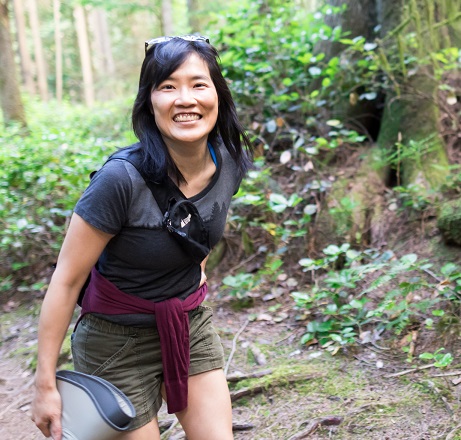 Wiley H.
A long-time North Vancouver resident, Wiley works as a technical writer and is the current newsletter editor for the North Shore Writers' Association. She spends her free time reading, hiking and discovering new things to try at North Vancouver Recreation & Culture!