This is a love story. Many moons ago, I arrived in Canada with my family and very little English. I started grade 3 but couldn't express myself to play with the other kids. Noticing this, my teacher led me gently to the school library, where I was shown shelves of illustrated books to help me learn to read. I borrowed everything I could. I learned to read. In time, I made new friends and told them stories.
Research shows many health benefits to reading, including mental stimulation, relaxation and stress reduction, vocabulary expansion, and improved focus and memory. 
During this long and difficult period of social isolation, reading is the perfect activity. I can immerse myself in new ideas and imagine fresh possibilities. Mine has been a lifelong love affair with reading and writing, and I have our amazing public libraries to thank for it. Having access to vast collections of books, magazines, music, movies, technology and learning tools is an incredible resource. And this resource is free to everyone in the community!
Today, public libraries are so much more than places to borrow books. They provide a wide range of services and programs that have kept pace with the digital age. 
Recently, I spoke with Carys Brown of the Capilano Branch of the North Vancouver District Public Library, to learn more about the many services available. Carys described each one with great enthusiasm, underscoring the joy and care that librarians take in helping the community they serve. "We would love to see everyone in the community come and use our common resources," says Carys. "We have so much to offer." 
Here is a list of just some of the amazing programs and services available at your public library that you may not know about:
Read, watch, listen
From classics to the latest releases, physical books are available for loan, and many titles are available as e-books and audiobooks (you can download free apps like Libby to your mobile device). As well, there are extensive collections of music CDs, films and tv on DVD and streaming format.
Public computers, software and free Wi-Fi
All libraries are equipped with computers, many of which are loaded with Microsoft Office software. All you have to do is enter your library card number and your PIN to use the computers. Or bring your own device and connect to the free Wi-Fi.
Research and Interlibrary Loans
Whatever your topic of interest, you can look it up on the library databases and online resources. If an item you are looking for is available at another branch or library anywhere in British Columbia, you can make a request to borrow the item. Loans are available for 2 or 3 weeks (no renewals). 
Kanopy (NVDPL)
An on-demand streaming video service which provides access to educational titles, including award-winning documentaries, training films, and block theatrical releases – on a broad range of topics. Adult users have access to 4 plays and 1 course per month. Kanopy Kids is unlimited and includes animated books for children ages 2 and up, plus learning content for math, science and language. Watch and learn from home. This resource is a pilot program through December 31, 2021. 
Solaro (NVCL) – Math, Science and English tutorials for grade 3-12 students 
Specifically designed for grade 3-12 students in BC, these online tutorials in math, science and English are accompanied by study guides, customizable flash cards, practice questions and trackable progress.
Lynda.com – online learning tool
Great for upgrading your job skills, this online education database offers over 5,000 video courses by top experts in web design, business/marketing, software development, photography, graphic design and more. Create an account and access anywhere with your library card. This resource will soon be renamed to LinkedIn Learning. 
Mango Languages
Over 70 self-paced language learning courses and dialects. The courses are delivered by native speakers. Create an account and access anywhere with your library card.
Think and Socialize – Author Talks, Book Clubs, Film Clubs, English Conversation Corners and Philosopher's Cafes
Currently, all sessions are on Zoom with links posted on library websites. A big perk of Zoom is nearly unlimited attendance, so more people may participate than with in-person gatherings. Whether it's a book, film or current event you'd like to discuss, these sessions are a wonderful way to connect to community and learn from each other. Sessions are facilitated by librarians or community members. 
Technology Skills
Sign up for a session online for a one-on-one tutorial for electronic resources – or call to register. 
LaunchPads tablets for Lloan
Tablets for children with pre-loaded educational content and library apps are simple and 100% secure with easy-to-use interface. There's no download time and no need for Wi-Fi. You can borrow a tablet to enjoy at home. 
Library Takeout (NVDPL) 
For those community members with vulnerable health, this service offers quick pick up. Place an order online or request items over the phone and staff will grab, checkout, and bag items for you, and have them just inside the library for quick pick-up. This service is for everyone! Anyone can make a request for a curated bag of goodies - based on your interests, the library's expert staff will choose for you! 
Staff Lists and Next Reads
NVCL shares selections by genre: NVCL - Your next reads
NVDPL shares recently reviewed books and staff lists: NVDPL BiblioCommons

For February Black History Month, here are some recommended non-fiction titles for essential reading:
•    The Skin We're in: A Year of Black Resistance and Power, by Desmond Cole
•    The Tradition, by Jericho Brown
•    Black Matters, by Afua Cooper
•    The Hanging of Angelique: The Untold Story of Canadian Slavery and the Burning of Old Montréal, by Afua Cooper
•    I've Been Meaning to Tell You: A Letter to My Daughter, by David John Chariandy
•    Membering, by Austin Clarke
•    Dreaming of Elsewhere: Observations on Home, by Esi Edugyan
•    Running Uphill: The Fast, Short Life of Canadian Champion Harry Jerome, by Fil Fraser
•    Saga Boy: My Life of Blackness and Becoming, by Antonio Michael Downing

North Shore Authors Collection
All three North Shore libraries (North Vancouver City Library, North Vancouver District Public Library and West Vancouver Memorial Library) celebrate and promote the literary talent of North Shore authors by showcasing locally created content on their shelves, connecting local authors and readers.
Creation Station (City Library) and StoryLab (Lynn Valley Library) - on hold
Tell your story in a podcast, music, digital images, or film. Due to Covid-19, both facilities are currently not accepting bookings, but when things open up again, these are amazing facilities for creating art with digital media technology. 
Help with active and healthy living  
If you're looking for a bit of inspiration for active living and healthy cooking, head to your local library. There are shelves of exercise DVDs for all levels of fitness plus inspiring cookbooks and magazines for new recipes. 

You can even cook together with other food enthusiasts via Zoom. Put a cookbook to the test with NVDPL's Cooking the Books Cookbook Club. Info here. Or armchair travel to "Save the world's gastronomical traditions" and follow the slow food movement. Free Capilano Universe Lecture on March 11, 2021 @7:00pm – 8:45pm. Register here. 

NVCL compiles a great list of wellness information and resources, from fitness and hobbies to eating well and mental health, including where to find extra support if you need it: NVCL- Staying happy and healthy.
A world of discovery, learning and entertainment awaits you at your public library. And it's all free with your library card. Anyone who lives in North Vancouver with proof of residency can obtain a library card. With current health and safety protocols in place, our libraries are open. Visit your local public library today!
If you live in the City of North Vancouver, check out: www.nvcl.ca 
If you live in the District of North Vancouver, check out www.nvdpl.ca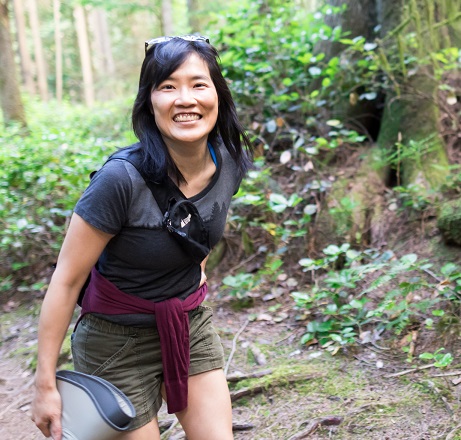 Wiley Ho.
A long-time North Vancouver resident, Wiley works as a technical writer and is the current newsletter editor for the North Shore Writers' Association. She spends her free time reading, hiking and discovering new things to try at North Vancouver Recreation & Culture!