Reclaiming the plaza with positive energy.
It was love, not violence that brought the community together in the aftermath of the March 27, 2021 attack in the Lynn Valley plaza.  This terrible event claimed the life of one young woman, injured several others and sent shockwaves of sadness across the country.  Within hours and for weeks after, love reigned as a caring community reclaimed the space with hundreds of bouquets, chalk drawings and messages of support.
More recently, that love is on display figuratively and literally with a collaborative community art installation at the Lynn Valley Library.  The Lynn Valley Community Healing Project, supported by the North Vancouver District Pubic Library(NVDPL)  and North Vancouver Recreation and Culture (NVRC) provided a unique opportunity for individuals to express their love by cross-stitching a felt "X" on fabric squares that have been joined together to form the giant letters L O V E now on display across from the entrance to the Lynn Valley Library.  
The initiative is led by artist Berene Campbell, a modern quilt designer, teacher and community project coordinator.  Berene lives in North Vancouver and uses her work to bring people together to make the world a kinder, more peaceful place.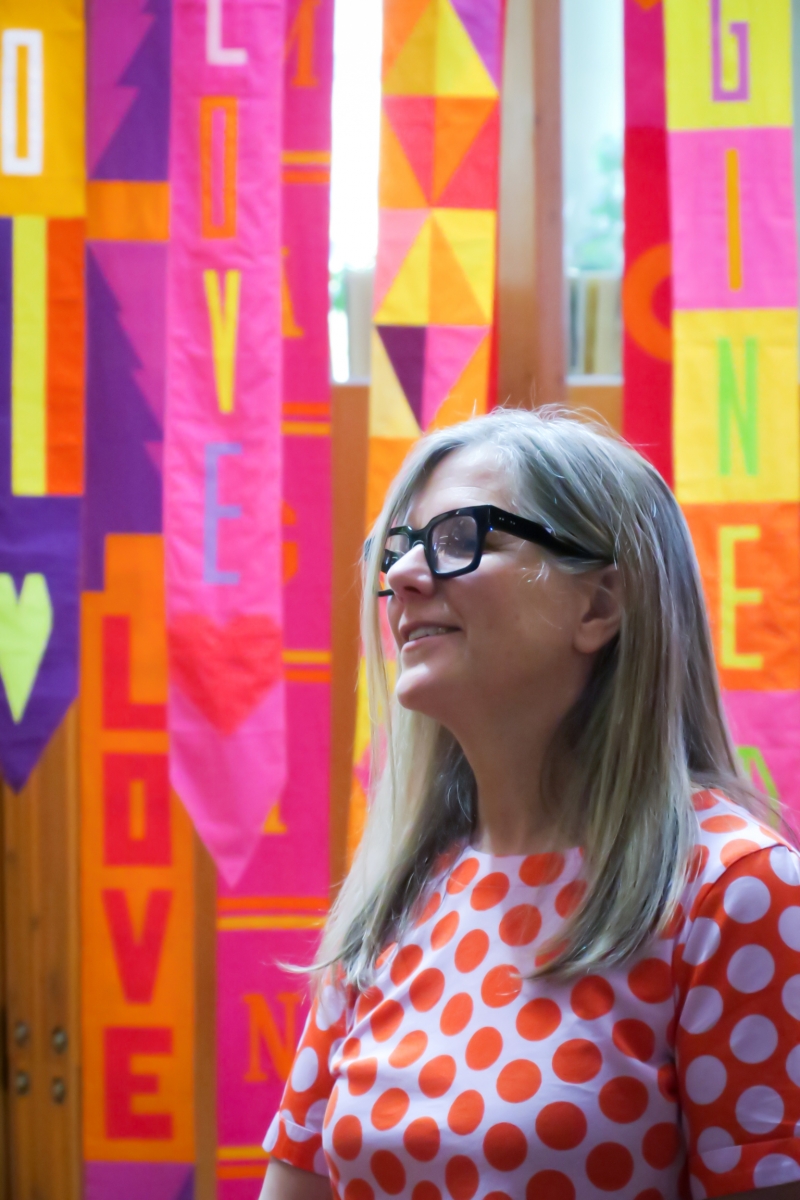 "I wanted to bring positive energy back into the plaza," Berene explained.  "This was a space where people used to feel safe and comfortable.  Events like this (March 27 attack) shake our sense of security.  This installation is about community rallying together to bring positivity back into the space.
And did we ever rally.  The initial goal was for approximately 700 squares to be completed for the project, more than double that number was received.  This enabled the creation of additional designs of hearts, using the cross-stitch "Xs", including one portable heart that can be used as a backdrop for photos.  There were even enough "Xs" to frame and share with local merchants, many of whom assisted victims and bystanders during the attack.
"I wanted the people who were directly impacted, victims and their families, those who witnessed the tragedy and those who helped, to see how much the broader community cares for them.  This expression of love makes people feel safe again, and helps to counter the fear and anxiety connected to the event," Berene said. "The response has been amazing." 
The Lynn Valley Love Community Healing Project cross-stitch kits were available for pick-up at the Lynn Valley Library. Patterns were also available from the artist's website which enabled participation from across Canada and the United States. "People want to help," Berene said. "It's healing for those who contribute and for those who are recipients of those thoughts and efforts. The collective energy in community projects is incredibly powerful. That is what this project is about."
I had a powerful emotional response when I visited the Lynn Valley library to check out the new art installation.  It is amazing to realize that each one of those small "X's" represents an individual who put their thought and effort into creating that giant message of LOVE.  I felt honoured to be part of such an incredible initiative, even if my sewing abilities left much to be desired.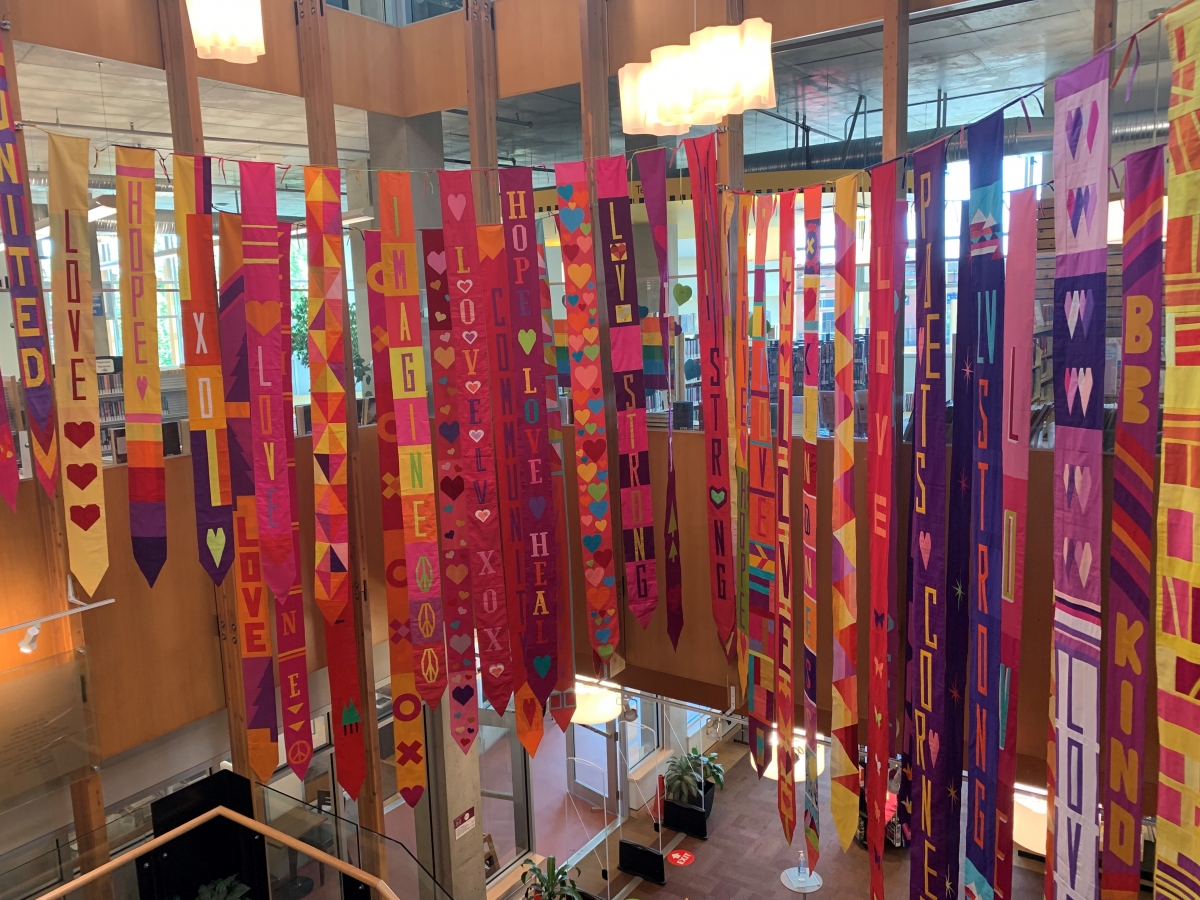 The Lynn Valley Love Project includes The Stairwell of Love inside the library, where local quilters, along with those from across Canada and the United States have contributed 68 stunning, colourful, vertical banners that are on display.  Each was designed to inspire hope and healing.
In addition to the Lynn Valley Love Project, several other initiatives celebrate love at the Lynn Valley Library.  Artist Caroline Liggett and the United Way of BC lead the Love Conquers All Community HeART installation, which comprises more than 100 individually painted wooden blocks, each with a heart and its own story.
A beautiful quilt by Barb Craxton hanging in the holds pick-up area inspires feelings of love and comfort, and a colourful painting by artist Diana Zoe Coop captures the spirit of the flowers that were left in the plaza.  Those flowers are also celebrated in the soil that was created as they composted, now used in the planters placed in the plaza by the District of North Vancouver.  
"The response has been incredibly heartwarming as people come to the library to see the art installations and identify the cross-stitch square they created by their own hand," said Jacqueline van Dyk, North Vancouver District Public Library's Director of Library Services.  "While it is important to remember the tragic events that happened on that day, the community's outpouring of love illustrates that Lynn Valley won't be defined by it. The initiatives and contributions that Lynn Valley has received reflect the courage, strength and vibrancy of our neighbourhood.  We will be defined by love."
And the love keeps on coming.  St. Clement's Anglican Church provided funding to launch the Caring Communities Fund.  Donations contributed through this initiative will be used to expand resources offered by the library to help the community build resilience, foster kindness and encourage connection.  This includes educational resources to help build understanding of critical issues in our community.
The Lynn Valley Love Community Healing Project highlights our strong, resilient community spirit.  It also reminds us of the love and support that surrounds us.  More information on these and other initiatives can be found on the North Vancouver District Public Library website and on NVRC's Public Art Collection webpage.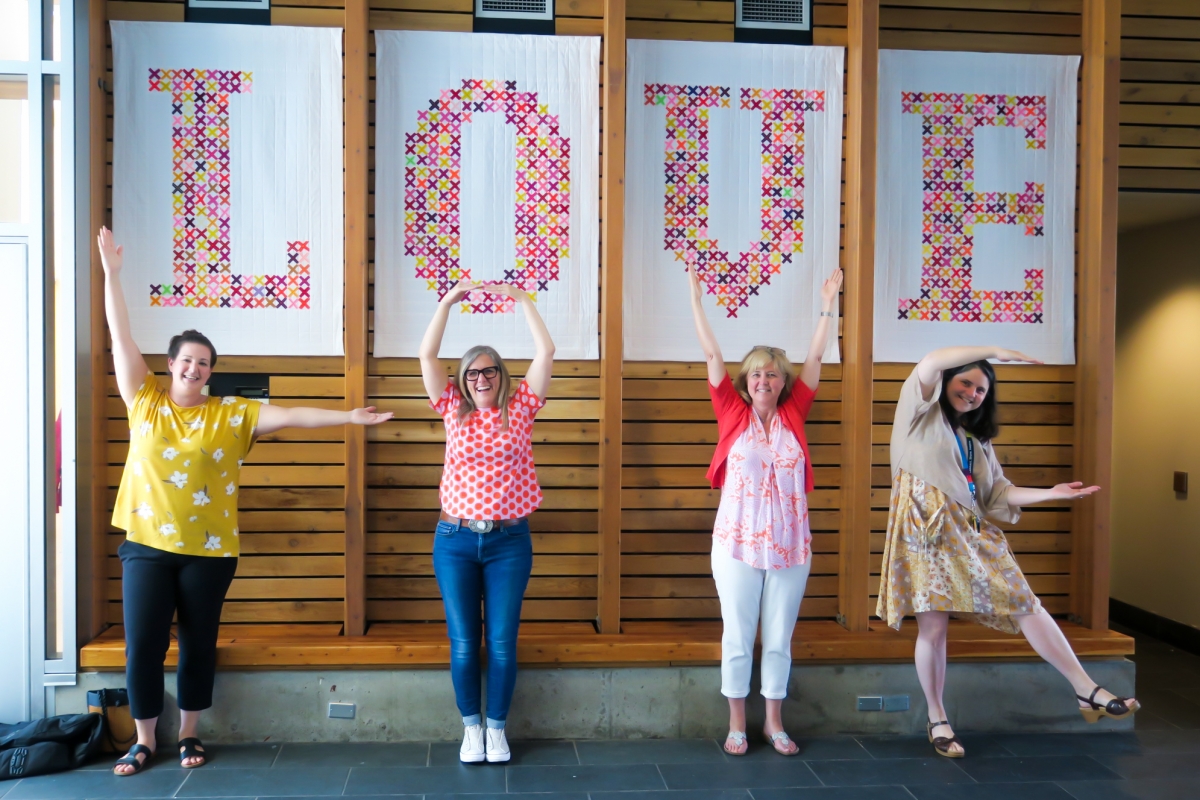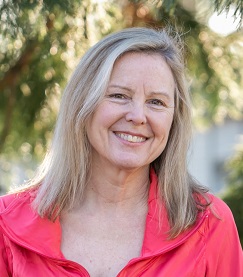 Michelle Perrault
A North Shore girl at heart, Michelle has fond memories of Saturday night skates at the NVRC ice rink (now Harry Jerome) and swimming lessons at William Griffin (now Delbrook) pool. More recently, she enjoys hiking and biking the trails of Mount Fromme and the Seymour watershed. She lives in Lynn Valley with her two adult children, two dogs and wonderful friends and neighbours.