Fun, whimsical and full of laughter are what you can expect around Pamela Westerman. A self-described "lunatic with colour," Pam's paintings are playful and vivacious. A multi-media artist, she loves textures, colours and exploration, all of which she brings to her art classes. "I love teaching," she says, "it's so fun to see someone who thinks they're not an artist and show them that they are!" Pam's infectious energy and sense of fun are what make her classes popular with school-aged kids and adults alike. This spring she is teaching classes at Parkgate Community Centre, John Braithwaite Community Centre and Lion's Gate Community Recreation Centre. Read on and find a class for the artist in you.
An artist brimming with colour
From oils, acrylics and watercolour painting to quilt blocking, tie dying and art journaling, Pamela Westerman's eclectic approach to art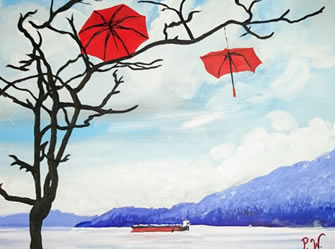 embodies her zest for life. She loves to explore different art concepts, media and techniques, and believes art should be freely expressive and joyful. Her exuberant style is reflected in her professional paintings as well as her teaching style. "Art is a verb to me," Pam says, "it is the practice of creativity."
Ever since she could hold a pencil Pam has been making art. By two years of age, she was able to draw a remarkably realistic horse. For as long as she can remember, Pam says she has been fascinated by patterns, colours and drawing. But Pam's early artistic training began in photography and she studied at Langara College. She would use that training to become a professional photographer, specializing in weddings and portraits of families with special needs children. Her openness and warm laughter have a way of putting people at ease and engaging them – qualities that would make her a natural teacher.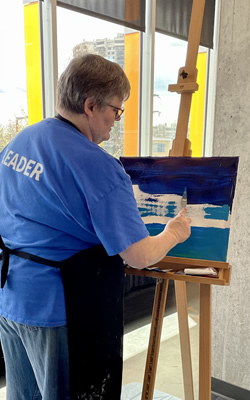 Pam remembers always wanting to take photos "to stop the moment" so that she could draw the subject or scene later. Her entry into painting came in 2013 when she took a course in oil painting at John Braithwaite Community Centre. She's been painting ever since. 
Pam enjoys exploring different mediums, including sketching, painting, decoupage, collage, fabric art, and mixed media. "There isn't anything I don't want to try. I work in whatever makes my heart happy." Currently, she is honing her palette knife technique to create bold and textured paintings. "I always add more colour than is necessary," she says laughing, "because you can never have enough colour in life."
Her paintings have been exhibited and sold at art crawls. Professionally, Pam never paints the same idea twice. She tells the story of an original painting (Umbrellas in Burrard Inlet) that was sold to a couple who flew it to the States. Except the painting didn't survive the trip and was ruined in transit. When the couple contacted Pam to repaint it, she said no. "I never remake originals. The light, the materials, the mood can never be the same again." She is pensive for a second before erupting into laughter. "I have too many ideas in my head for one lifetime and I need to get them out. I collect visual arts concepts like other folks collect figurines."
 
Her biggest art influences include Vincent Van Goh, Emily Carr, Leonid Afremov, her own photography and life itself. A thyroid cancer survivor, Pam's passion for life is expressed in bold lines, brilliant colours and a deep sense of joy. Next to her easel sits a painted sign: Art is a breath for the spirit.
Pam's teaching style
Pam has been teaching art since 2017. Her popular classes and workshops are offered for school-aged children and adults. On occasion, she helps at other NVRC locations when needed and for special art workshops, such as for the Canadian Autism Network and the North Vancouver Disability Resource Centre.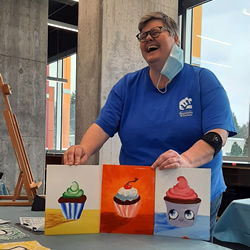 "I'll go everywhere for art," Pam says with a big laugh, "I think art is for everyone." Her inclusive, fun and quirky style has garnered her the nickname "Pamda" by her younger students. 
In her classes, Pam introduces various art techniques and themes but always encourages students to explore "whatever makes your heart happy." She believes that when students are free to be themselves, the art follows naturally. "When I teach a theme, everyone will end up with something different. That's because we are all unique!" She emphasizes that the process is much more valuable than the product. Above all, she wants her students to have fun and let go of the notion of not being artistic enough.
"You don't need 'talent' to take my class," says Pam. "I'll take you step-by-step. Don't you fret!"
Check out Pam's panoply of classes!
This spring Pam is offering a variety of classes for school-aged kids and grownup kids!
School age
Art Adventures 8-12yrs, 3:30 – 5:00pm
Explore your creative side. Learn a different art theme each week and have fun doing it. Class will utilize a variety of mediums including Watercolour, Tempura, Acrylic, Patterning and more. Take home a new masterpiece you'll be proud to hang on your wall each session. 
Tuesdays 3:30 – 5:00pm, Lions Gate Course ID # 138489
Thursdays 3:30 – 5:00pm, John Braithwaite Course ID # 138970 
Art Journals 8-12yrs, Wednesdays 3:30 – 5:00pm, Lions Gate
Explore different artistic techniques such as watercolour, zen tangling, painted paper, drawing & calligraphy to create an art journal of the world around you. Course ID# 138492
Art Exploration 8-12yrs, Fridays 3:30 – 5:00pm, Lions Gate
Use highlights & shadows with extreme effects to create unique images with colour contrast. Course ID# 139316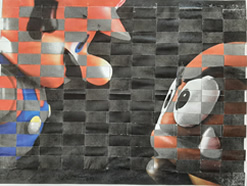 Video Game Art 8-12yrs, Fridays, 6:00 – 7:30pm, Lions Gate
Create your own video game art by learning how to draw & paint your favorite characters & images from games, including Mario Bros. Minecraft, Roblox and Among Us. Pam welcomes suggestions from students! 
Course ID# 139317
Mixed Media Art Exploration, Saturdays, Lions Gate
Create mixed media projects through the use of watercolour, collage & stamping. A new spring theme will be explored each week. 
6-9yrs 10:00 – 11:30am, Course ID# 139353 
9-12yrs 1:00 – 2:30pm, Course ID# 139354 
13-16yrs 3:00 – 5:00pm, Course ID #139358
For One-Day Art Workshops (Saturdays) for ages 5-13, please visit: Arts Workshops School Age
Adult
Fabric Art & Quilt Blocking, Tuesdays, 10:00am – 12:00pm, Lions Gate
Learn how to take a vintage art form and apply it in contemporary new ways to make something unexpected, delightful and useful! A variety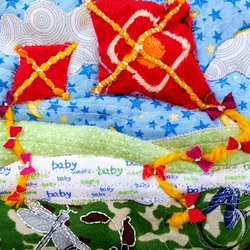 of different textile art techniques such as quilt blocks, wearable art and decorative fabric arts will be explored. Supplies will be discussed during the first class, including upcycling old fabrics. "Even if you've never sewn before, Pam's here to help!" Course ID# 138485 
Express Yourself Through Multi-Media, Wednesdays, 10:00am – 12:00pm, Lions Gate
Think art adventures! Express yourself with creative art projects that will explore your developing interests and strengths. Through the use of a variety of techniques and art mediums you will embrace your artistic voice. Course ID# 138490
Art Journaling, Wednesdays, 1:30pm – 3:00pm, Lions Gate
Explore different artistic techniques such as watercolour, zen tangling, painted paper, drawing & calligraphy to create an art journal of the world around you. All you need is a pencil and a sketchbook to start! This is an excellent course for discovering the art in everyday surroundings and learn some great techniques to express your observations. Course ID# 138491
Watercolour Beginner
Learn the basics of watercolour painting, including wet on dry, water wash, wet on wet, resists, and masking. Pick up so many skills that you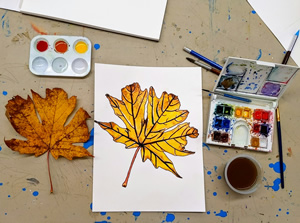 can make your own art cards forever. New follow-along painting each session to demonstrate skill taught. 
Thursdays, 10:00am – 12:00pm, John Braithwaite, Course ID# 138999
Thursdays, 6:00pm – 8:30pm, John Braithwaite, Course ID# 138997 
Fridays, 1:30pm – 3:00pm, Lions Gate Course ID# 138494 
Acrylic Paint Like the Masters, All levels, Tuesdays, 1:30pm – 3:00pm, Lions Gate
Take your paintbrush for a walk in the spirit of Ted Harrison, experiment with colour like Van Gogh, and create your own surrealist-inspired artwork like Picasso. You'll be painting like a master in no time! Supplies will be discussed during the first class. Course ID# 138487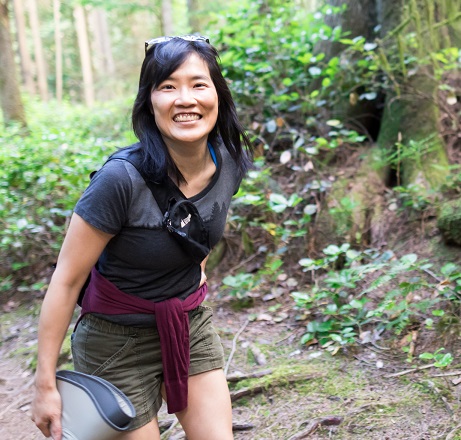 Wiley Ho.
A long-time North Vancouver resident, Wiley works as a technical writer and is the current newsletter editor for the North Shore Writers' Association. She spends her free time reading, hiking and discovering new things to try at North Vancouver Recreation & Culture!