I hear giggles echoing down the stairway as I'm escorted through the hall up to the Lonsdale Licensed Preschool located above NVRC's Memorial Gym on East 23rd Street.  I'm worried the children will become self-conscious when I enter the room, especially when they can't see the smile behind my mask. The reality of COVID-19 means they don't get many visitors.  I need not worry, they are so engrossed in activities they are completely oblivious to the strange woman chatting with their teacher.  
Despite the gloomy day outside, the classroom is bright and cheerful.  Tables, carefully spaced apart, are surrounded by children working on crafts, some assisted by an attentive adult.  Other youngsters are on the floor playing together with an assortment of toys. Natural light shines through large windows that line one side of the room.  The space is buzzing with happy noise and activity.
Helen Reeves, the manager of the preschool smiles enthusiastically as she motions in the direction of the children gathered on the floor, "At this age, learning to socialize is more important than learning to write your name," she said. "We teach our children how to listen and interact well with others."
Play-based curriculum
Helen emphasises the importance of preschool in preparing children for kindergarten.   Together with Shiraz D'Mello and Jan McCallum, her two co-teachers, Helen teaches children to cope in a classroom.  She explained that Lonsdale Preschool takes a play-based approach to learning, focusing on self-expression through arts, culture and movement.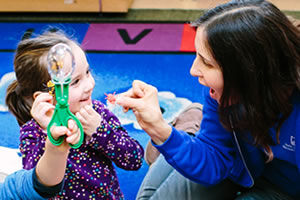 "My co-workers and I work hard to create a fun and caring environment where everyone feels welcome," Helen explained.  "We support our children to grow socially, emotionally, physically and intellectually."
She acknowledged that first-time parents often have difficulties leaving their children at preschool.  "We are honoured that they trust us with their children and take that responsibility seriously.  Our goal is to reassure them and show them that we know just what to do. We always find a way to help children and parents get over separation anxiety.  We do whatever it takes in a warm and loving way."
Often, Helen will text the parent a photo of their happy child, who ten minutes ago was sobbing uncontrollably as they said goodbye.  "The photos say it all," Helen smiled. "I often take pictures during the day and send them later that evening, so parents can see what their children are up to and how happy they are." She is careful to protect everyone's privacy and only photographs individual children.
Connecting in a special way
This commitment to parents and children is one of the reasons Renee Claude chose Lonsdale Preschool for her daughter Chloe, even though there were other options that were more convenient. 
"I checked out several schools before deciding on Lonsdale Preschool," Renee said.  "We went for a play there one day to try it out and I saw how Helen connected with each child in a special way.  I knew immediately that this was the perfect place for Chloe."
Like many parents, Renee was worried about how three-year-old Chloe would handle being separated from her. "Chloe and I were in tears saying goodbye.  Then, a few minutes after leaving, I received a photo of Chloe having fun with Playdough.  Helen is so warm and loving.  I knew everything would be okay."
When asked about what she loves best about preschool, Chloe, who is now four, was quick to respond: "Making friends." 
Licensed professionals, NVRC resources
As well as the loving, supportive environment, Lonsdale Preschool's connection to NVRC offers additional benefits for the children who go there.  These include access to the gym, safe outdoor space to play and recreational facilities such as the ice skating arena.  This ensures many options for burning off energy.  
"We are very fortunate to have access to so many resources," said Helen.  
Lonsdale Preschool is a licensed preschool, which means its teachers are certified in Early Childhood Education and regular inspections ensure specific standards are met.  Helen graduated from the Early Childhood Education Program at Capilano College (now University) 18 years ago. She started work immediately at Lonsdale Preschool and has never looked back.
"Lonsdale Preschool is like my baby," Helen laughed.  "We've grown together." 
At first, when her son was young, Helen worked three mornings a week.  She started full time in 2003 when she took over as manager and is still as passionate about her job today as she was when she started almost two decades ago.
"There's nothing about my job I don't love," she said.  "I love circle time and I especially love seeing the children grow and gain confidence.  Many come back to say hello years later, that is very heart-warming."
Of all the things she loves about Lonsdale Preschool, it's the children that mean the most to Helen.  As I looked around the room at all the happy faces, it's clear the feeling is mutual.
Spaces still available
NVRC operates three licensed preschools including Lonsdale Preschool, Delbrook Preschool and Sandpiper Preschool.  All three preschools offer morning and afternoon classes and all have some spaces available.
Open Houses in November 2020
Families looking at January enrollment can come out and visit the licensed preschools and talk with the teachers at the following open houses:
 Families must register in advance for a designated timeslot either online or by calling 604-987-7529.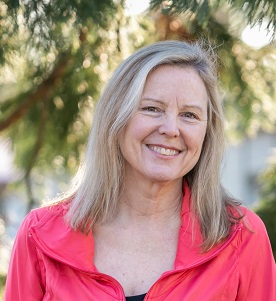 Michelle Perrault
A North Shore girl at heart, Michelle has fond memories of Saturday night skates at the NVRC ice rink (now Harry Jerome) and swimming lessons at William Griffin (now Delbrook) pool. More recently, she enjoys hiking and biking the trails of Mount Fromme and the Seymour watershed. She lives in Lynn Valley with her two adult children, two dogs and wonderful friends and neighbours.