Tammy Chapman manages a busy schedule of work, school, and an outdoor workout most days. She credits a daily meditation practice for her focus and energy. "Meditation really helps me to separate the noise of the outside world and bring me back to inner calm," says Tammy. "Even when I'm busy at work, I can take a 30-second break to focus on my breath. Even a short practice helps a lot." 
Benefits of meditation
Life is filled with stressors but these past two years of a global pandemic have made things feel extra chaotic. While we know that we must tend to our mental health, it can be tough when we're already feeling overwhelmed. The good news is calm can be restored with one mindful breath at a time.
The benefits of meditation are well-researched. Neuro-imaging of the brains of regular meditators show that their grey and white matter change significantly over time, especially in the areas that govern emotional regulation, attention, memory, and tactile or body awareness. At the physiological level, meditation slows down our breathing, lowers blood pressure, and strengthens our immune response. The most common benefits include:
Mindfulness and self-awareness
Inner calm
Improved energy, focus, creativity, intuition, and spirituality
Appreciation of life 
Compassion and gratitude for others
Good night's sleep
Free therapy
Incorporating daily meditation into a busy life
Tammy Chapman leads an active and passionate life. She works in the hospitality industry, makes time for her love of the outdoors, and is currently pursuing her dream of becoming one of Canada's first tequila sommeliers. 
"I love the outdoors, travelling, and tequila," Tammy says with a big laugh. She is taking a certification course to pursue her dream of one day hosting tequila tasting rooms much like for wine tasting. "The agave plant is so interesting and it takes 8-12 years before it can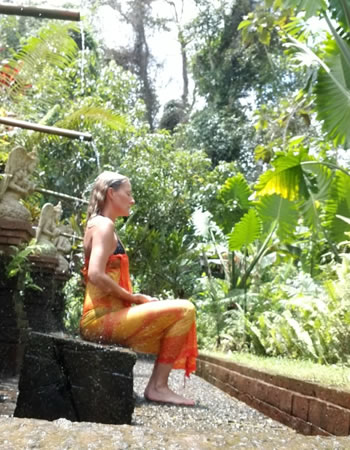 be harvested to make tequila. Maybe some day, agave will get the same respect as the grape. I hope to help make that happen." 
An avid runner and hiker, Tammy often takes to the North Shore seawall and trails for long workouts. And, she meditates for about an hour every day. It may seem counter-intuitive but Tammy says making time for meditation is what allows her to do everything else.
"I discovered the power of meditation about eight years ago," says Tammy. "It's really helped me increase my self-awareness, happiness, and spirituality. It even helps me identify and loosen the sticky spots in my body after exercise and a long day of work." 
As her practice deepened, Tammy has sought out meditation retreats and travelled and volunteered around the world. Her favourite is a one-week silent retreat in Bali. "A lot of people are not comfortable with silence. Sometimes silence can bring up discomfort, but it also brings a deeper understanding of ourselves and new insights."
Tammy looks forward to being able to travel again. In the meantime, she meditates at home, at work, and sometimes in the car: "You can meditate anywhere. Take just 30 seconds to focus on your breath. The more practiced you are, the easier it is to access that inner calm." 
Smiling helps too. When we smile, our facial muscles send a signal to our brain to release feel-good chemicals like serotonin, endorphins and other natural painkillers. Tammy says, "When I'm feeling agitated or dealing with a cranky customer at work, even behind my mask I will smile. It's like another meditation."
Tips for starting a meditation practice 
Tammy's advice for newcomers to meditation is to start slow. "I think people jump in too quickly. Start with just five minutes. Even just one. It all helps to bring the awareness inwards," she says. "Also, every day will feel different and that's normal." 
Here are some suggestions for a regular meditation practice:
When you first wake up, smile and take 3 breaths. Pay attention to your body as you inhale and exhale. Feel the air going in and out of your chest and abdomen. Be present in your body and in the moment. 
Take a full body scan before bed, which helps to work through the day's stress. Notice where you feel tight or uncomfortable. Focus your breath there.
If you fall asleep easily, sit up for your practice. 
Set a timer for 1 minute, 2 minutes, 5 minutes, 10 minutes. Work up slowly. 
Listen to calming music.
Be patient. It takes practice to learn to quiet the mind.
Try a walking meditation. Focus on your footsteps or the sound of birds.
Read The Miracle of Mindfulness by the Zen master Thich Nhat Hanh.
Try a meditation app. Many apps offer free trials, e.g., Calm, Headspace, and Let's Meditate. 
Attend a yoga class. Yoga helps connect the body and the mind, by focusing on breathwork and mindfulness. NVRC offers registered yoga programs, including Gentle Hatha, Yoga Flow and Yoga Fusion. Learn more.
Finally, Tammy reminds everyone of the importance of being present in our daily lives. "That's all we have is the present. Meditation helps. It won't be perfect every time you practice. It never is, but that's okay. If you have an off day, ask yourself why it's not good today. Listen deeply and let it go. Meditation is not about blocking negative feelings; it's about learning to cope and bring more energy, compassion and love back to your life. Meditation is amazing. It's very energizing."
Additional information:
The Miracle of Mindfulness: An introduction to the Practice of Meditation, by Thich Nhat Hanh, 1999. Available at North Vancouver City and District Libraries.
What meditation can do for your mind, mood, and health - Harvard Health
Is meditation associated with altered brain structure? A systematic review and meta-analysis of morphometric neuroimaging in meditation practitioners - PubMed (nih.gov)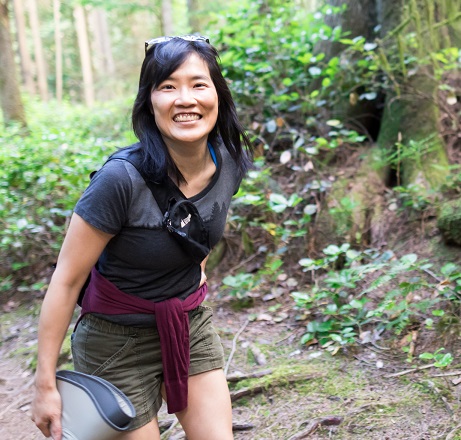 Wiley Ho.
A long-time North Vancouver resident, Wiley works as a technical writer and is the current newsletter editor for the North Shore Writers' Association. She spends her free time reading, hiking and discovering new things to try at North Vancouver Recreation & Culture!