Asian-Canadian cultures are as vibrant as they are diverse across this country. From the first settlers of over two hundred years ago to today, our communities are enriched by the deep contributions from Asian Canadians, their cultures, languages, and experiences. May is Asian Heritage Month. To celebrate, free festivals and events are happening all month and everyone is invited!
Which Asian cultures are represented in Canada?
Asian heritage in Canada is diverse. According to the last Census of Canada (2016), almost 22% of Canadians were born outside Canada with many from Asia. 
Asian cultures in Canada include:
East Asia: China, Japan, Korea, Mongolia, Taiwan
South East Asia: Brunei, Cambodia, Indonesia, Lao PDR, Malaysia, Myanmar, Philippines, Singapore, Thailand, East Timor, Vietnam
South Asia: Bangladesh, Bhutan, India, Maldives, Nepal, Pakistan, Sri Lanka
Western Asia: Armenia, Azerbaijan, Bahrain, Cyprus, Georgia, Iran, Iraq, Israel, Jordan, Kuwait, Lebanon, Oman, Qatar, Saudi Arabia, State of Palestine, Syria, Turkey, United Arab Emirates, Yemen
Central Asia: Afghanistan, Kazakhstan, Turkmenistan, Uzbekistan, Tajikistan
The importance of remembrance and reflection
This year, the celebration of Asian heritage feels especially important. Despite being a multicultural country, the prevalence of anti-Asian xenophobia and hate crimes throughout the COVID-19 pandemic has been devastating. More than ever, we need to stand together against racism, fight against it, and celebrate diversity in our communities.
The history of Asians in this country goes back to 1788 with the first Chinese settlers who helped to build a trading post in Nootka Sound, followed by Chinese labourers who completed the Canadian Pacific Railway in 1885. The settlement history of various Asian groups in this country is fraught with racism, racist policies, and generations of suffering which continue to the present day. For a historical overview of the Asia-Canada timeline, check out: Asia-Canada | The Canadian Encyclopedia. 
We can all help fight against intolerance and racism by calling out bigotry, stand up for people being harassed, teach our children kindness by modeling it, and celebrate other cultures. 
Celebrating Asian Heritage Month 
Several festivals are happening throughout May for Asian Heritage Month with free and virtual events. Join in the fun and deepen your appreciation of Asian diversity!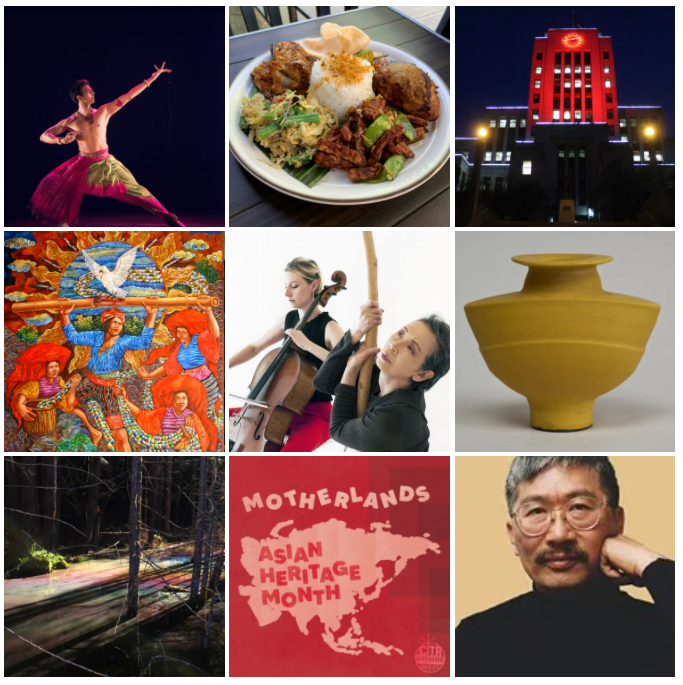 ExplorAsian Festival celebrates its 25th Anniversary with a virtual Opening Ceremony on May 1, 8pm. Free to register Webinar  Registration - Zoom. Featuring local Asian-Canadian Artists Vince Mai and Sujit Vaidya. 

Month-long celebrations include play readings, musical performances, walking tours, speakers, arts showcases and much, much more. Download the full festival guide. 

ExplorAsian is the flagship festival of the Vancouver Asian Heritage Month Society (explorasian.org). Since 1996, VAHMS has worked closely with local Asian-Canadian communities and organizations to celebrate Asian-Canadian arts and culture in the Metro Vancouver area. 

Celebrate Asian-Canadian lit with LiterASIAN, a festival featuring authors and cultural activists from across the Asian diaspora. This year's theme is GlobalAsian: from Grassroots to Globalization and will be broadcast live across the world. Begins May 1. Check out the full 2021 Schedule. 
Book lovers unite! Asian Canadian authors bring a world of diverse stories. Don't forget to browse your local library or bookstore to discover a new Asian author. Here is a list of brilliant books by Asian Canadians: 2021 – Read Canadian Asian Heritage Month
Enjoy Asian cinema! Check out these curated lists of some awesome Asian films:

Some of The Best Asian Movies on Netflix  – requires Netflix subscription
World Cultures | Knowledge.ca – free to subscribe
Kanopy - Stream Classic Cinema, Indie Film and Top Documentaries – free with library card

Support your favourite local Asian restaurant and order some takeout!
Whichever way you decide to celebrate Asian Heritage Month this May, please remember to stand up for diversity and cherish each other for a strong and vibrant community.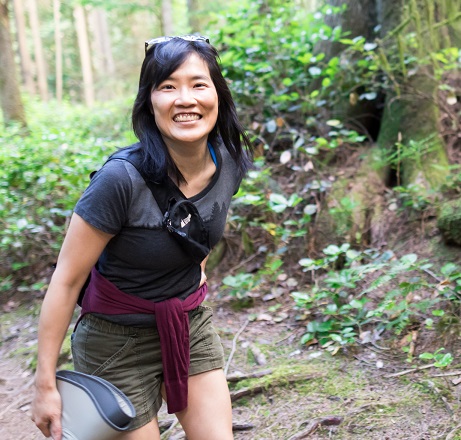 Wiley Ho.
A long-time North Vancouver resident, Wiley works as a technical writer and is the current newsletter editor for the North Shore Writers' Association. She spends her free time reading, hiking and discovering new things to try at North Vancouver Recreation & Culture!