"You have to try and help make a tough situation better and help out where you can"
On July 24, 2018, a devastating fire in the Lions Manor seniors housing in Deep Cove led to the quick evacuation of the 66 residents who call it home.
Jumping in to help
Amidst the shock and panic, one local teenager jumped in to help.  16 year old Aidan Harding was out with some friends at Deep Cove about to go kayaking when he noticed the fire.  He knew that one of his friend's relatives lived in the building. Although his first feeling was panic, Aidan quickly calmed down and then decided he needed to help. Before the fire department arrived, he courageously helped the victims of the fire by guiding people to safety.  He also worked with police to direct traffic which enabled emergency services to get in and do their job.  Aidan had trained in traffic management a year before for a job in construction so he was able to put his skills to work.  He remained at the site of the fire for four hours helping out alongside many other community members.
When asked about what it was like to see the seniors after the evacuation Aidan says,"It was really sad as many of them didn't understand what was going on. The hardest thing I heard was when a man in his 90's said to his daughter, 'I need to go back. When can I go home?'"  She had to let him know that he wouldn't be going back for quite a while.
After the fire
Aidan's commitment to helping didn't stop when he left the scene of the fire.  Later that night, instead of going home, he went up to Parkgate Community Centre and helped staff set up the reception centre for the displaced residents.
In the days following the fire, Aidan continued to help out every afternoon after finishing his work as a summer camp leader at Parkgate in the mornings.  He did whatever was needed, from blowing up air mattresses to helping set up and take down the sleeping room, to helping residents fill out their insurance papers. 
Recognition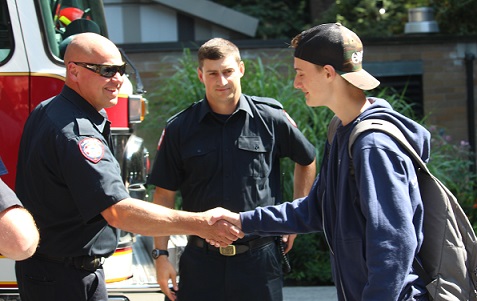 On Wednesday August 1, Aidan Harding was honoured by the District of North Vancouver's Fire & Rescue Services for his bravery and service during the Lions Manor fire in Deep Cove.  They held a special recognition ceremony at Ron Andrews Community Centre and presented Aidan with a letter of commendation from Fire Chief, Brian Hutchinson. The letter stated, "Your efforts to assist and support the displaced and affected residents of the Lions Manor in Deep Cove are an outstanding example of a compassionate and caring citizen. Your calm demeanor, professional attitude and willingness to help, deserves recognition."
Aidan's response to the recognition has been one of humility. He said, "It's awesome to be recognized but not necessary.  Sure I helped out the community but people do these things every day.  The best reward was when the seniors from Lions Manor smiled when they saw me at Parkgate."
Previous emergency response
What many people don't know is that Aidan helped save the life of a complete stranger from an overdose downtown on Burrard Street last year.  Just two weeks after completing his Emergency First Aid, CPR and AED certification, Aidan found a man collapsed on the sidewalk who was barely breathing with only a faint heartbeat.  Aidan immediately blocked off traffic and began CPR while waiting for Emergency Services to arrive. Soon the man's heart was beating more regularly and by the time the ambulance arrived, he was sitting up.  Aidan's motto is, "You have to try and help make a tough situation better and help out where you can."
More about Aidan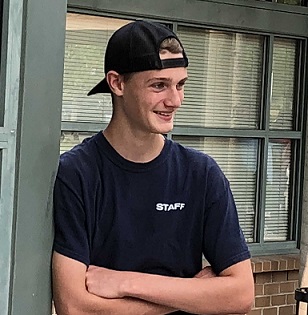 Aidan has done a lot of community service including volunteering with Parkgate Community Services Society (PCSS) and North Vancouver Recreation & Culture (NVRC) as a younger teen.  In the past two years he has worked for NVRC as a camp leader and at Parkgate Community Centre near his home in Deep Cove.  He's really enjoying the experience of working with kids and says, "If you learn to work with kids you can also work with adults."
Aidan is heading into his final year of high school this fall at Seycove Secondary in Deep Cove.  His future plans include continuing to work for his community through NVRC.
Parkgate Community Services Society & North Vancouver Recreation & Culture 
Responding to the Lions Manor Fire & Supporting Evacuees
This story would not be complete without recognizing the outstanding response to the fire by Parkgate Community Services Society (PCSS) staff and the North Vancouver Recreation & Culture (NVRC) staff who work at Parkgate Community Centre.   
When the fire first broke out, PCSS staff immediately went down to the Cove to begin helping the seniors and arrange for their bus to shuttle the evacuees up to Parkgate. As Erin Smith, PCSS Seniors Coordinator explains, "These are our seniors who we have relationships with.  Many Lions Manor residents take part in PCSS bus trips, shopping trips and Parkgate's Tuesday night dinner program.  We wanted to do whatever we could to support them through this challenging time."
Parkgate became the evacuation reception centre the day of the fire before residents were taken to the Mickey McDougall Community Recreation Centre for emergency lodging.  NVRC staff worked hard to coordinate the facility space and support the evacuees at Parkgate. 
The following night, some residents returned to Parkgate Community Centre where a sleeping room had been set up.  PCSS staff also jumped in to provide practical support by shopping for toiletries for all the residents and also cooking meals.   By day three, PCSS, a registered charity, set up a donation fund where the community could donate money through their My Parkgate website.  To-date, $50,000 has been raised to help the individual residents.  
Erin Smith credits the community for coming together to support those affected by the fire. "The whole community has been amazing.  My heart is filled with gratitude.  At the same time there's lots of hard work ahead but there is nothing more important than doing this work."    A special BBQ at Parkgate Plaza put on by District of North Vancouver fire fighters on Saturday, August 11 raised $6,500 in four hours and was supported by PCSS, Cobbs Bread, Two Rivers Meats, Bean Around the World, Deep Cove Lion's Ladies, Seymour Lions, Lynn Valley Butts, and a large number of volunteers.  As well a special fundraising dance was hosted by the Deep Cove Yacht Club that same day and raised over $20,000 thanks in part to the generous donation of silent auction items by local Deep Cove merchants.
Back at Parkgate, Erin Smith is currently working with Mount Seymour Lions Club and BC Housing to look for longer term accommodation for the displaced residents.   With Metro Vancouver's housing crisis, it's no easy job but they have found housing for three people so far and they will continue searching.
Parkgate Community Services Society & North Vancouver Recreation & Culture
This story highlights the important and valued partnership we, the NVRC have with Parkgate Community Services Society (PCSS) at Parkgate Community Centre. Together NVRC and PCSS are working to create a healthy, caring and connected community.
PCSS is a registered charity that has been serving the community since 1983.  It currently provides a broad range of child, youth, family and seniors programs and services out of Parkgate Community Centre, the Seymour Youth Centre, and other community locations. Visit their website or more information.