Learn how this stay at home Dad makes life work on and off the ice.
Blair almost didn't become an NVRC Skate Instructor.  The night before he was to start teaching with NVRC three years ago, he broke his collarbone while playing his favourite sport hockey.  Fortunately, he healed up fast and began his job as a skate instructor in January 2016.  
It was perfect timing for this stay at home dad to take on some work outside the home.  His kids, then 7 and 9 were in school full days and he was looking for a job that would give him the flexibility to still be there when the kids came home.  
On Being a Skate Instructor
Blair has always loved being on the ice.  He's been a hockey player and skater for over 40 years and has also coached his kids' hockey teams.   He loves the freedom of skating and the way it feels like you are floating or flying on the ice. Looking back, he can see how his being a skate instructor was meant to be.   He jumped on the chance to take the instructor course when he received an email about it from the local hockey association and then applied to work with the NVRC.   Soon he was teaching Parent & Tot, Preschool Learn to Skate, Tiny Tot Hockey and some Adult lessons too. He still can't believe he gets paid for doing something so fun.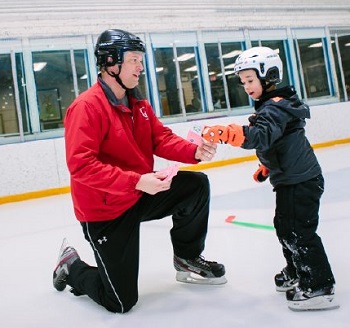 Best Part of the Job
Besides having a great work/life/family balance, Blair says the best part of his job is being with the preschoolers and seeing how fearless they are on the ice and how willing they are to try new things. He said, "It's so satisfying to see them improve and progress through their lessons.  It's amazing to see them become proud of themselves and happy with what they've learned."  Blair appreciates the great people he gets to work with at NVRC and the fun, active environment.  "It's a great way to make a difference and make some money while still being able to be there for my kids."
Blair also enjoys running into his skating students out in the community.  Recently, he was tobogganing with his family at a local North Van park when two kids ran up to him to give him a hug.  He finds it humbling to know he's made an impression in their lives.  He went on to say, "I just hope the kids have fun, get some exercise and develop a lifelong love of skating."
Fun Facts About Blair
In addition to playing hockey, Blair loves to snowboard and hike on the North Shore.  He's a very active Dad and has kept his kids busy with sports and recreation programs.  He even took part in his daughter's Pink Petal Ballet Parent and Tot class a few years ago.  Prior to being a stay at home dad, Blair worked in the film & television industry for over seven years including a stint doing sports highlights for SportsNet in Toronto. When he takes a break from all his family and work responsibilities, he enjoys watching Stranger Things on Netflix. Oh, and he also loves to indulge in pizza and sushi!