Imagine leaving a nursing career behind to do what you really love? Well Jeanelle Hazlett did just that.  In fact she's turned her passion into full time work as a fitness instructor, running coach and personal trainer.  And she's also an elite trail running athlete who competes in trail runs across North America.
Falling in Love with Running
Jeanelle started running in high school, mainly for recreation and to stay healthy. In university, she joined a triathlon club where the coach immediately saw her talent and suggested she consider racing.  Jeanelle enjoyed challenging herself, but never saw herself as competitive; she preferred to run for herself and to see how far she could go.  Still, the coach had planted a seed that would sprout in just a few years.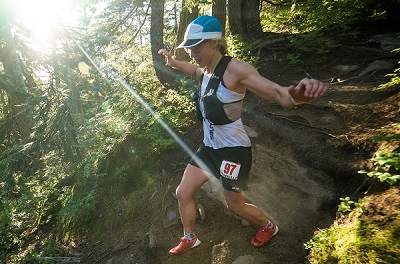 Discovering Trail Running
In 2015, she and her husband moved from Alberta to North Vancouver where she was introduced to trail running on the local mountains.  "I loved it and started doing races to get familiar with the local trails," said Jeanelle.  It was a gradual build for Jeanelle who started out with a 14km race followed by the Iron Knee 25km race.  She found herself placing in the top 10 at most races and realized she was a pretty good trail runner. 
The Knee Knacker Race
In 2018, Jeanelle ran the famous Knee Knacker 48 km trail race for the first time. The Knee Knacker runs along the Baden-Powell Trail from Horseshoe Bay to Deep Cove.  It's become so popular that people enter a lottery and only those who are randomly picked get to race.  Jeanelle was lucky.  Her name was picked the second year she entered and she said, "It was exceptionally amazing to be part of it".  What made the gruelling race easier was the unending support of community members and volunteers cheering her on all along the course.  It took her 5 hours and 56 minutes and her time led to her 3rd place finish.  She said, "I've never been happier to have placed 3rd.  The women who placed 1st and 2nd have both been racing for 4+ years and I aspire to get to their level."
Overcoming Challenges
The Knee Knacker race represented a lot of hard work and determination for Jeanelle. She ran it less than six months after breaking her foot while running the North Face Race in California in 2017.  Her road back to racing was slow and difficult and she remembers just going for short walks when she was able to finally put weight on her foot.  She never lost sight of her goal to get back to running and now that she is back in her groove she is excited to have a good finish to 2018 and stay injury free.
Building Community
"What's cool about trail running is that it's such a community.  There's so much heart in trail running," said Jeanelle. That's one of the reasons Jeanelle started a trail running community in North Van.  The Pacific Northwest Trail Runners (PNWT) meet twice a week to run and there's 10 – 20 people every run.  The group also supports trail running pioneer Gary Robbins and his Coast Mountain Trail Series by doing pre-runs of his races.  PNWT has raised over $1,000 to support North Shore Search & Rescue.
Leading Fitness
Jeanelle's life beyond running is very busy these days. She's made her passion for fitness her work as both a certified personal trainer and a certified fitness instructor.  She's been leading fitness classes with North Vancouver Recreation & Culture for over 2 ½ years and currently leads a number of spin cycling classes at Delbrook Community Recreation Centre including her favourite Spin & Core on Tuesdays and Thursdays at noon.  
Advice for Others
"My passion is fitness and connecting with people and helping them to live healthier, active lives," said Jeanelle.  Her advice for people who want to improve their fitness is to "find something you love to do and go after it.  Try new classes or working with a trainer until you find your thing.  Keep pushing forward step by step."
Future Plans
Jeanelle has high hopes to keep running strong.  She plans to keep pushing herself in her own training and find more ways to encourage others with their running and fitness.  She explained, "What excites me the most about running is that if you're determined and you love it, the more you train, you will always see improvement and become a little bit stronger and a little bit faster."
She closed our interview with these words, "I love sharing fitness!  My motto is 'Show up, let's do it and see what happens'."
To view the classes which Jeanelle teaches, click here.
For more information on NVRC drop-in spin and fitness classes, click here . 
For registered fitness programs, click here.