"I love volunteering with the kids!"
When you meet Kevin, you can't help but notice his high energy and enthusiasm for volunteering. Kevin has volunteered with NVRC for the past three years helping with camps, special events and the recently launched Play Program on Thursdays, afterschool at Delbrook Community Recreation Centre.
Getting started as a volunteer
Kevin, a grade 10 student at Handsworth Secondary School, first learned about the volunteer opportunities with NVRC at his school when NVRC's Volunteer Programmer, Meh Najak gave a presentation.  In the past three years he has more than fulfilled his school's requirements for volunteer hours and he keeps on volunteering because, "It's so much fun!"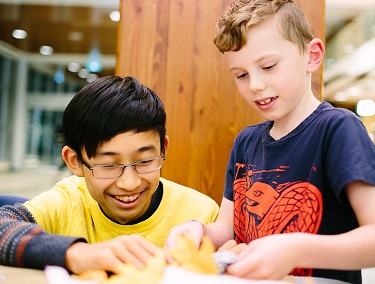 Best part of volunteering
Kevin's best volunteer memories are out trips with day camps in the summer.  He enjoys leading the kids and taking part in the wide range of activities that camps offer. When asked what he loves the most, Kevin said, "I like helping people, it's a natural thing for me to do. "  He went on to say, "The kids are so enthusiastic.  They bring a lot of fun to daily life and they brighten your day!"
Benefits of volunteering
Kevin appreciates all he's learned as a volunteer.  "I feel very accomplished after volunteering and I feel more confident about my skills including time management and patience.  Kevin also has enjoyed volunteering with people from different cultures who speak different languages.  He's learned how to be very adaptable.
When he's not volunteering, Kevin can usually be found playing soccer, badminton or running.  He also reads all sorts of history related books and likes to hang out with his friends doing sports.
Interested in volunteering with NVRC?  Visit our Volunteering  webpage now.